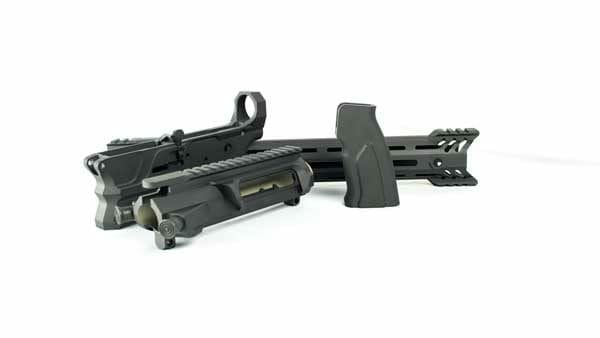 WASHINGTON, Utah -(Ammoland.com)- Cobalt Kinetics, a manufacturer of premium performance and precision engineered rifles, announces the release of build kits and parts packages for AR-15 Rifles.
Much of the appeal- and the main reason for the broad commercial success of the AR15 is its ability to be modified, customized, and personalized by anyone. Interchangeable parts and accessories allow the home-builder to build a truly unique weapon. Considering the size of the entire AR accessory market, the DIY gunsmith can achieve millions of unique configurations.
Cobalt Kinetics offers the fixed and adjustable billet stocks (as seen on the EDGE and TEAM rifles), billet pistol grip and the PRO buffer system (OEM kit on TEAM rifles). The four muzzle devices used on all of Cobalt's guns have been available for a few months now. And the add-on polymer magwell funnel that comes standard on all TEAM models can now be added to any cobalt receiver.
The BAMF receiver set is available for those seeking to build their own rifle with Dual Drop functionality. Of the greatest interest, is the complete chassis kit- the BYOB, or "Build Your Own BAMF." The BYOB includes the upper, lower, grip, handguard, and (optional) stock. Basically, it's just an EDGE rifle or carbine furnished without the internal workings.
Both the BAMF receiver set and BYOB chassis come pre-loaded with the patented Dual Drop internal mechanism. The company has even put together some "packages" that boast significant discounts over buying the parts separately.
The "AR Performance Upgrade Kit" includes the Pro brake, PRO buffer system and a unique, low-profile adjustable gas block- everything to negate recoil and maximize speed and control.
The entire line-up of parts can be had in any color- as long as it's black. Or one can certainly make an appeal to the Khaos Kinetics custom shop if any sort of special treatment desired.
The quality and performance of Cobalt's firearms and components are undisputed. These fine weapons have been used to great success in the hands of professional competition shooters and domestic law-enforcement. Cobalt rifles have made appearances at international competitions in 7 countries. This kind of presence can only be earned by demonstrating true quality and performance.
Cobalt's engineers and designers are constantly improving and revising the product to stay ahead of the market norm and maintain the company's position at the head of the pack.
Cobalt Kinetics Now Offering Parts Packages, Build Kits for AR-15

"Initially there was a lot of reservation about releasing our proprietary parts for widespread use. Our concerns were for the owners of our product- that the value and exclusivity of their Cobalt rifles could be somehow diminished. The actual response to our kits and parts out there has been very positive- we find that many consumers of our chassis kits and upgrade parts already own Cobalt rifles- now they're looking to build unique configurations and styles with the quality and performance of the Cobalt rifle. A lot of people buying our parts are big fans of the brand- but our complete rifle either isn't in their budget, or they have a non-Cobalt rifle they really like, that they want to upgrade. These customers are now able to modify their AR-15s with much of the performance of our complete guns. We're thrilled to get that kind of demand and feedback from a loyal market." Skylar Stewart, Vice President of Cobalt Kinetics stated.
About Cobalt Kinetics:
Cobalt Kinetics designs and builds firearms with bold aesthetics, cutting-edge technical innovation, state-of-the-art engineering and meticulous precision.
Cobalt Kinetics was founded out of dissatisfaction with the unending rows of the same black rifle on every gun shop wall across the country. The real issue with the "black rifle" is that there is little differentiation in the market and very little true innovation. Cobalt Kinetics broke from tradition and re-imagined firearm design and intent. Form and function could be enhanced by applying a careful balance of science, engineering, and art to the gun. Functions unique to Cobalt's rifles such as the Dual Drop and Cobalt Advantage Reloading System demonstrate this unique new approach. At Cobalt Kinetics, flaws in the original AR-15 design have been corrected and advancements have been implemented while maintaining ultimate precision, absolute durability and bold aesthetics. Cobalt is driven to create firearms that are more effective, more reliable and more rewarding to the owner.
For more information, visit their website.