In the first part of my .300 Blackout article series, I explained the reasoning around my assertion that the cartridge is one of the best produced in our era and why it will be with us far longer than other passing fad calibers. In this article, I am going to do a relatively novel comparison between the most advanced .300 Blackout AR-15 I could build, the Bakelite rifle from my prior article, and an off-the-shelf weapon that was essentially designed around the cartridge, the SIG SAUER MCX Virtus.
U.S.A. –-(Ammoland.com)- I understand that there are people, mostly bloggers passing for writers looking for a controversial click, that push these flavor-of-the-day cartridges and the ideas behind them with words like 'BREAKING'. You know exactly what I'm talking about, friends. It's the constant and relatively annoying 'look at my 6.5 and how it blows the .308 out of the water' types and the armchair logisticians that want to rearm our military with the .280 British or something obscure or ahead of its time in 1935. I have a prediction for all of them: the .300 Blackout will outpace and outlive all of them.
The reason for this prediction is simple: it is useful. This may seem like a rather bland generalization, but there are not great advancements or revolutionary products being made in 6.5 Grendel or 6.8SPC these days. When I say that the .300 Blackout is useful, I mean that in a literal sense. The other calibers and weapons designed around them have suffered from everything from non-standard chambers to non-standard proprietary parts such as mags and bolts.
The MCX is a fairly new design in the annals of weapons development, but that doesn't mean that there have not been significant advances made in its short history. The gun has had several iterations in the past few years and the newer features have only made it better and better.
The limitations of the AR-15 are few, but they do exist. The blessing of an AR is that you aren't tied to individual features and calibers. I don't need to explain it to you here, but the AR is a modular platform that can adapt to almost anything. The system isn't perfect, but it has arrived at a point of general saturation in our culture that it is a national staple and is as critical to the modern American as the Winchester rifle was to our ancestors. The AR, in other words, has become synonymous with America in the early 21st century.
With the prevailing popularity of the AR-15, SIG took a risk when they introduced the MCX. There have been dozens of AR alternatives that have come and gone, some good and others not so good, and all have had to come to terms with the fact that the AR-15, and for a lesser part the AK-47, set the standard.
The .300 Blackout is arguably the most useful cartridge to come out of the last decade, and the MCX is probably the best platform for it. That is not to say that the AR-15 is a bad choice. The AR-15, much like the state-of-the-art rifle I built, is a gun that is essentially adapted to the cartridge where the MCX I have for this article is designed around it. The MCX has features that take full advantage of .300 BLK and they waste no space or energy to do so.
The major advantage of the MCX is that it has no buffer assembly and instead relies on a dual-spring assembly that is contained in the upper receiver. The weapon also features a gas piston instead of a direct impingement setup like on the AR-15. This combination, which is somewhat of a hybrid between the AK and AR systems, takes advantage of the best of both worlds and allows for a feature set that can't be found on either competing parent systems.
So why does the .300 Blackout have a disadvantage in the AR and not the MCX? The problem I have with the AR, and I'm not alone, is that the AR with a DI gas system is filthy and a waste of space. The .300 BLK uses what are essentially magnum pistol and shotgun powders and these powders have the tendency to be far dirtier than comparable rifle powders. You should know that a clean AR is a happy AR, and a clean .300 BLK is paramount to performance. I've shot AR rifles for years and years and was genuinely surprised how dirty my .300 build was compared to the others I'd used in 5.56mm and even .308 Win.
The MCX runs far cleaner and cooler. The thickness of the upper receiver and corresponding rigidity allow for stunning accuracy while not sacrificing performance. I was genuinely shocked at the kind of accuracy I was getting from the MCX and, upon further reflection, I shouldn't have been so riled.
Most AR-15 rifles in the caliber feature 1:7 or 1:8 twist barrels. This is a common thing as these twist rates are suitable for anything from 16" down to 8" or so. The interesting part of the MCX is that it uses an even faster 1:6 twist. This choice comes from the evolving idea that short-midlength barrels need a faster rate than was previously thought. A faster twist rate allows for better stabilization of a variety of loads on one gas setting. My Bakelite AR, despite being about as advanced as an AR can get, cannot reliably cycle subsonic loads unsuppressed. The MCX can easily do this and I experienced no reliability issues, even when I alternated subs and supers in a single magazine.
In point of fact, I did an experiment where I loaded alternating 1000fps 220gr SIG subsonic factory loads and 2800fps+ Lehigh Defense rounds in a new Magpul .300 Blackout magazine and fired them at 100 yards on the same target. The Lehigh loads grouped about an inch directly at point of aim, while every other subsonic round, making very little noise in the process, dropped due south by a factor of 10" and managed a group size matching their supersonic brethren. The gun didn't miss a beat.
I did test the same ammo in my previous article in the MCX, but did not find a significant variation in muzzle velocity out of the 16" barrels. If anything, most changed gun-to-gun by about 25fps. The slightly thicker profile and faster twist paired with a more rigid upper receiver allowed me to shrink groups by about 10%, in general, over the AR-15. I have the data here, in the same firing order as the previous article. The .300 Blackout is a great supersonic cartridge and, as you can see here, the MCX can take advantage of it completely.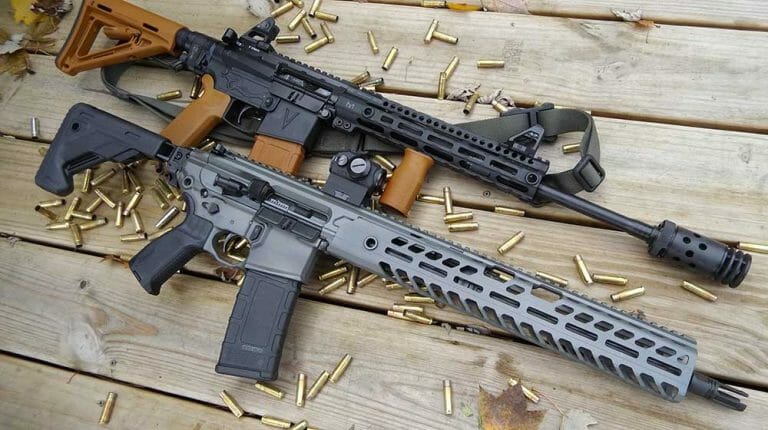 The shooting was done the same day as the Bakelite rifle over an Oehler 35P chronograph on a 75 degree day five feet from the muzzle.
Sig Sauer 125gr OTM————————-2140fps, 1"
Sig Sauer 120gr Elite Hunting————–2281fps, 1.3"
Hornady 110gr VMAX Black—————-2453fps, 1.2"
Fort Scott 115gr Solid————————2202fps, 2.2"
Lehigh 78gr HVCQ—————————-2843fps, .95"
Black Hills 125gr——————————2138fps, 1.8"
HSM 125gr Softpoint————————2179fps, 2.3"
Armscor 147gr FMJ————————–1890fps, 3.9"
So what does all of this mean for the discerning shooter? It means pretty much what you guessed it means in that the .300 Blackout is continuing to mature to a point where the weapons made for it are outperforming the ideas that fostered it. I sure do like the AR I built, but it isn't a gun that has features meant for its chambering. You can think of this in the same way as our old cowboys did when the transition was being made from cap-and-ball to metallic cartridges. Sure, an 1860 Army could be converted to use cartridges, but a Single Action Army built around metallic cartridges did the job better.
Do I believe that the MCX is a truly better rifle than the AR-15? Yes and no. It is, in my opinion, a better platform for .300 Blackout and, since .300 Blackout is fast becoming the cartridge of choice for the future, it deserves a long and hard look. The AR is a perfect platform for the 5.56mm and it will continue to be just that well into the next half of the century. Since the MCX exists, the .300 Blackout AR will essentially be a compromise, just like cartridge conversion revolvers. They will work, but if you are planning on going for a dedicated .300 Blackout, the MCX makes the most sense.
I do not believe that the MCX will become the next US service rifle, but variations like the Rattler, a 5.5" gun with an even faster 1:5" twist, will certainly take the place of 5.56, 9mm, and .45ACP in compact fighting guns. I do not have a Rattler on hand, but based on the features alone it represents a step forward in thinking and delivers a 300+ yard capable system that can fit in a briefcase. This is not possible with a 5.56mm AR. These features are only possible thanks to the .300 Blackout and the fact that it can, even out of a 5-8" barrel, deliver supersonic performance close to an AK-47 and near-silent subsonic ability that allows for around four times the range of a suppressed 9mm or .45ACP.
My time with the SIG MCX Virtus, the Bakelite AR, and the variety of .300 Blackout cartridges I had on hand gave me new prospective on the changing times we are in. The prevailing belief of many of my contemporaries is that the future is high-speed, low drag. Their belief is that ballistic coefficient and loadout weight is what we should be looking at, but they are wrong. The .300 Blackout is the round to have, no matter how hard the 6.5 and 6.8 guys kick and scream. If you need to be convinced of this, do yourself a favor and get behind a .300 Blackout SIG MCX Virtus, a good scope, and some Lehigh Defense 78gr loads and line up at 500 yards.
The future is now, friends, and that future is .30 caliber.
Special thanks to:
Brownells
V7 Weapons
Faxon Firearms
LAW Tactical
SilencerCo
Hornady
Sig Sauer
Magpul
ScalarWorks
Lehigh Defense
HSM
Armscor
Black Hills
Fort Scott Munitions
---
About Josh Wayner: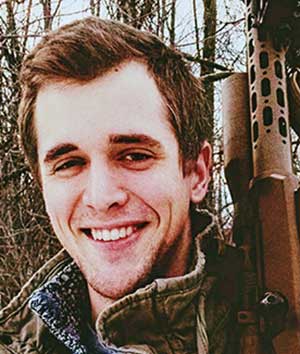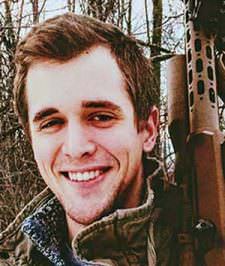 Josh Wayner has been writing in the gun industry for five years. He is an active competition shooter with 14 medals from Camp Perry. In addition to firearms-related work, Josh enjoys working with animals and researching conservation projects in his home state of Michigan.