MISSOULA, Mont. -(Ammoland.com)- The California Department of Fish and Wildlife recently instituted a new program to stiffen the penalties for the poaching of deer, elk and other big game species, one that the Boone and Crockett Club views as a win for the state's wildlife, wildlife officials and sportsmen.
"Poaching is the illegal killing of game animals and other wildlife," said Boone and Crockett Club President Ben Hollingsworth Jr. "Poachers are not hunters. They are thieves. The Club supports any measure that deters poaching, as I believe all sportsmen would support as well."
Now under California's Fish and Game Code (FGC) section 12013.3, the fine for the illegal take of what the state has determined as a mature, trophy animal is significantly stiffer than the previous fine. California's Code of Regulations (CCR), Title 14, section 748.6 outlines what constitiues a mature, trophy animal.
"What used to carry a fine of $1,500, along with other penalties and privileges lost for the poaching of a deer, can now cost up to $5,150," explained Lt. Chris Stoots, communications officer for California Department of Fish and Wildlife, Law Enforcement Division. "Our agency and the citizens of California value our wildlife. I think this new law sends a clear message that poaching will not be taken lightly or tolerated."
The Boone and Crockett Club just concluded a two-year research project titled "Poach and Pay" to determine how many states are now using a higher restitution system for the poaching of mature, trophy animals, how these systems are working, and if they can be improved.
"Wildlife is a public trust resource and our state agencies work hard, dedicating time and resources to managing these resources," Hollingsworth Jr. explained. "Law-abiding sportsmen do their part by cooperating in this management, following the rules when it comes to the opportunity to harvest a special animal, and reporting on poachers. Mature animals on the landscape means we have balanced, healthy game populations. People illegally targeting these animals represent a serious issue that requires serious actions."
Some states have adopted using Boone and Crockett's universally accepted scoring system for big game to establish higher restitution penalties for the thief of a trophy.
Others, like California, have adopted a system based on the number of antler points, or length of horn for species like pronghorn and bighorn sheep, although California did borrow some language from Boone and Crockett to develop their measuring standards.
The Boone and Crockett Club will only accept an illegally-taken animal into its big game records program if that animal has been confiscated and is owned by a state or provincial wildlife agency, and entered by that agency on behalf of its citizens. The poacher's name is not listed in these records.
Hollingsworth Jr. said, "We do this because our records reflect successful wildlife management and conservation efforts. The results of these efforts are a matter of historical record. These animals and the states that produced them should be recognized."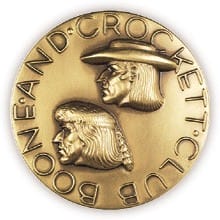 About the Boone and Crockett Club:
Founded by Theodore Roosevelt in 1887, the Boone and Crockett Club is the oldest conservation organization in North America and helped to establish the principles of wildlife and habitat conservation, hunter ethics, as well as many of the institutions, experts agencies, science and funding mechanisms for conservation. Member accomplishments include enlarging and protecting Yellowstone and establishing Glacier and Denali national parks, founding the U.S. Forest Service, National Park Service and National Wildlife Refuge System, fostering the Pittman-Robertson and Lacey Acts, creating the Federal Duck Stamp program, and developing the cornerstones of modern game laws. The Boone and Crockett Club is headquartered in Missoula, Montana.
For details, visit their website.