MISSOULA, Mont. -(Ammoland.com)- Long considered the "The Book" of big game records, Boone and Crockett Club's "Records of North American Big Game" is the nation's most complete big game records book, cataloging the greatest big game specimens taken in North America.
The Boone and Crockett Club is the world's foremost authority on native North American big game and its 14th edition is now available for purchase.
With the addition of 5,000-plus new entries and nearing the 1,000-page mark, for the first time in history, this new edition is split into a two-volume set for easier reading and handling.
These one-of-a-kind records books continue their long-standing reputation as the official keeper of big game records of North America and features more than 32,000 trophy listings, including B&C final and gross scores with detailed measurements, plus hunter, location and year taken.
Since 1932, this historic title has offered a statistical celebration of wildlife management and conservation successes in North America. The new edition continues that trend with four new World's Records since the previous edition for Alaska-Yukon moose, pronghorn, Rocky Mountain goat, and bighorn sheep. The volumes contain over 350 color field photos of fair chase hunters with their record-class animals.
The new volume also contains entertaining chapters and photo essays that every outdoorsman will enjoy. The 14th edition includes updates on the current status of mule deer and thin-horn sheep with special photo essays about hunting in Alaska and chasing lions in the Rocky Mountains.
Sportsmen will also appreciate the special sections on historic firearms, many owned by B&C members, including Club founder Theodore Roosevelt and Gifford Pinchot, plus Grancel Fitz.
There is also a special chapter acknowledging the sportsmen who were responsible for gifting the nation Denali National Park more than 100 years ago.
For 130 years the Boone and Crockett Club has insisted upon the highest ethical standards in fair-chase hunting, habitat stewardship and science-informed wildlife management-and has documented the contributions of these principles through big game records that date back to the late 1880s.
"Sportsmen have always cherished the largest of our big game species for their beauty, size and difficulty to hunt," said Julie Tripp, director of publications for the Club. "But what lies beneath is the fact that without proper population and habitat management we would not have the number of animals aging to maturity like we do today. This new records book is proof of successful conservation of which hunting has and continues to play a critical role."
"Records of North American Big Game" is available in a hardcover collector's set ($200 plus S&H), with limited quantities remaining, and is now also available in a paperback set ($80, plus S&H). Order directly from the Club online or by calling 888-840-4868.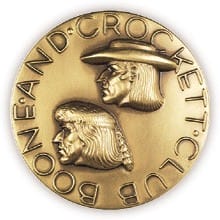 About the Boone and Crockett Club:
Founded by Theodore Roosevelt in 1887, the Boone and Crockett Club is the oldest conservation organization in North America and helped to establish the principles of wildlife and habitat conservation, hunter ethics, as well as many of the institutions, experts agencies, science and funding mechanisms for conservation. Member accomplishments include enlarging and protecting Yellowstone and establishing Glacier and Denali national parks, founding the U.S. Forest Service, National Park Service and National Wildlife Refuge System, fostering the Pittman-Robertson and Lacey Acts, creating the Federal Duck Stamp program, and developing the cornerstones of modern game laws. The Boone and Crockett Club is headquartered in Missoula, Montana.
For details, visit their website.