Tom Claycomb reviews the Buck Selkirk Knife and thinks this solid well built blade is a better skinning knife than a survival knife.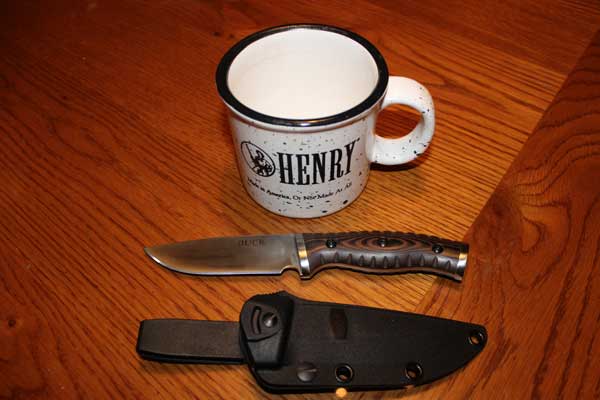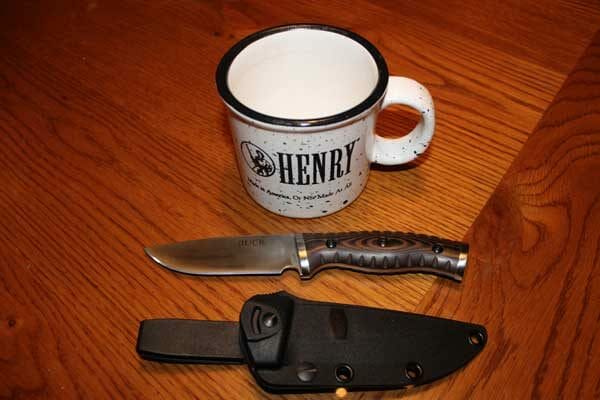 USA -(Ammoland.com)- I recently obtained one of the new Buck Selkirk knives. I got it because it appeared to be a good skinning knife.
It has a drop point blade but also has enough of a point so it should work alright for cutting the pattern (The pattern is the initial cut you make to open the hide down the midline and out each leg to the hooves).
It is a heavy little stout looking knife. The handle has notches cut in it like a gunfighter would have on his pistol butt which aids in gripping. The back of the Buck Selkirk knife handle dips slightly down for an ergonomic feature which will reduce wrist fatigue if skinning multiple animals per day.
I didn't realize it until I was doing a little research on their website and noticed that the Selkirk family is made up of four models. Two straight blades and two folders. One folder is smaller weighing in at only 4.5 oz. compared to the larger at 7.5 oz. And their blade lengths are 3 ¼ and 3 9/10 respectively.
I'm testing the small Buck Selkirk Knife which boasts a 4-inch blade, but I only measure out the cutting surface at 3 ¾-inches and weighs in at 6.4 oz. The full-size Selkirk has a blade of 4 5/8 inches and weighs 7.6 oz. The larger one comes with a Firestarter whistle tool.
The handle is brown/black Micarta which resembles a wood handle. The sheath is injection molded polypropylene and can be worn horizontal or vertical.
The Buck Selkirk Knife Skinner blade is listed as a survival knife or for general use. To me with the drop point blade, it more resembles a hunting knife, but it is a stoutly built knife and feels slightly heavy in your hand for as small as it looks. I would suggest that if it is going to be listed as a survival knife that it should have a clip point.
If you are one to look at reviews, you'll notice that there are some negative ones which as far as I can determine strictly due to it being produced in China. I understand that mindset. I'm all for building items in America.
I've worked with a lot of companies on designing products, production and manufacturing over the last 40 years, so I've seen this happening across all fields of production.

There are two big factors that are forcing companies to send production overseas:

Us consumers have forced companies to go overseas by buying cheaper products.
Another huge factor is the over-regulation by our government.

For instance, two years ago I was working with a knife company on designing a boning knife. It cost us $14.00 to produce it in one of the current production plants. The President flew to China and they'd produce the same knife for $7.50. What would you do?

Customers in America would buy boning knives from another company than us if we didn't produce our knives in China because we'd be too high. So, you go broke or you move to China. That's the two options. We as consumers are the ones that created this mess.

So what's a company to do? I've seen this with numerous companies and businesses. They have to produce a few products in China to have a low price point or they're missing a huge market, namely, a lot of people buy on price only with no regard to quality.
This is a more in-depth subject than I can cover in this short article, but sometime I'll see if AmmoLand will let me write a more in-depth article on the China subject. But let's close by saying, to my knowledge Buck makes over 80% of their knives in America, I assume this one is produced overseas to compete in the cheaper knife markets. I am not associated with Buck Knives, so I can only imagine this to be the case.
Overall the Buck 853 Small Selkirk knife does an excellent job for the way I use knives, and it has held an edge well. For the price point, it is a great value.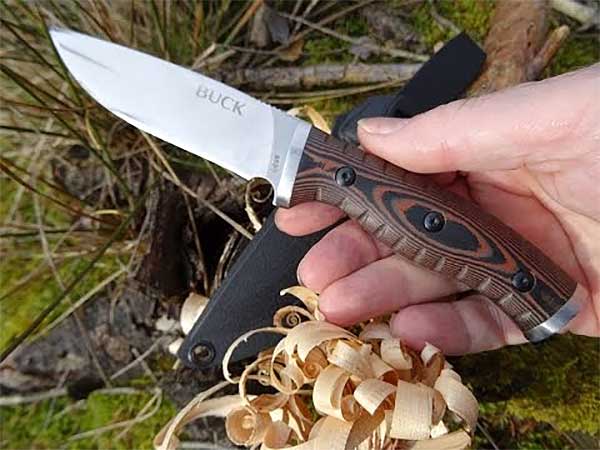 Buck Selkirk Knife SPECS:
Blade length is listed as 4-inches.
Wt.-6.4 oz.
Blade thickness is .125"
Steel-The knife is made out of 420 HC which has the wear resistance of high carbon alloys and has the
corrosion resistance of chromium stainless steels.
Has a Rockwell hardness of Rc 58
Sheath-the knife seems to snap firmly into the sheath, so I don't perceive there being any worries with
it falling out while hiking or encountering small tumbles.
Blade Style-It has a drop point design.

Tom Claycomb
About Tom Claycomb:
Tom Claycomb has been an avid hunter/fisherman throughout his life as well as an outdoors writer with outdoor columns in the magazine Hunt Alaska, Bass Pro Shops, Bowhunter.net and freelances for numerous magazines and newspapers.
"To properly skin your animal you will need a sharp knife. I have an e-article on Amazon Kindle titled Knife Sharpening for $.99 if you're having trouble."
.
---
Bonus Buck Selkirk Knife Video Review:
Some of the links on this page are affiliate links, meaning at no additional cost to you, Ammoland will earn a commission if you click through and make a purchase.