A binary trigger like the Franklin Armory BFS Trigger works as its name suggests, by two separate actions of the trigger. The rifle fires normally with the first squeeze and then fires a second shot upon its release as it returns to the forward position. This action is accomplished by moving the selector to the third position so that the rifle has three modes: safe, semiautomatic and binary.
U.S.A. –-(Ammoland.com)- The concept is not new, trap shooters have been using triggers that fire on release for decades and back in the 1980s there were a few binary triggers floating around the gun show scene. However, Franklin Armory has taken these to a new level.
Franklin Armory BFS Trigger
They sent us one of their Binary triggers to give it a good test and evaluation.
Franklin Armory's BFS (Binary Firing System) trigger requires a more detailed installation process than most. We advise reading the instructions over several times and ensure you understand how the unit is installed. We also advise giving the company CEO's YouTube installation video a once over before and during installation and do it on a laptop, PC or stream it to your flat screen television as resolution may not be the best on your smart phone.
The company advises attaching the included sticker to the lower on which you are using, or you can have the third position's marking engraved.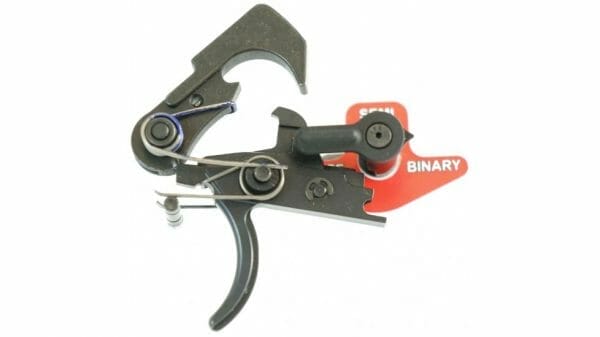 Our rifle is a one built from a parts kit we imported from Guatemala back in our Century Arms days (with a few thousand others). The lower is a DPMS standard lower from the late 1990s with Century's markings by a variance, of course; all the parts were from decommissioned Colt M16-A2s that we imported as parts kits.
We removed the hammer and trigger and installed the BFS We set out to the range with a mix of Aguila 55 grain and 62 grain FMJ.
In semiautomatic mode we immediately noticed the difference in the trigger. It was no match grade, by any means, but a huge improvement over the factory DPMS hammer and trigger.
Performance took a little getting used to. Franklin Armory's BFS unit runs a bit fast for some shooters who have reported stoppages by out running the bolt. We suffered no such failures and are running a standard M16 carrier with a standard rifle buffer in our rifle.
Franklin Armory BFS Trigger – The Good
The Franklin Armory BFS trigger performs as advertised. This is about as close to three round burst as you can get without buying a real M16-A2.
We honestly prefer it to an actual tri-burst trigger and found it to be more accurate as well as pleasant to shoot.
Installation is not that bad if you carefully read the instructions carefully and understand what you are getting into beforehand. We read them over at least three times before attempting the install.
At one time you had to buy a complete rifle or lower receiver with the trigger installed, but thankfully Franklin offers the BFS trigger as a stand-alone part.
Franklin Armory BFS Trigger – The Bad
There's always a little bad to go along with the good and the BFS is not for civilian sales in CA, DC, IA, NJ, NY, or WA. This is due to how these state laws define a machinegun, which differs from the federal level.
The price point can be a stickler for some and if you like a real crisp trigger in your rifle as opposed to a polished military grade version, there is that aspect. All things considered, the MSRP is still much less than a full auto machinegun at around $400-$500.
Franklin Armory BFS Trigger – The Reality
Franklin Armory's BFS III represents a unique take on the concept of what we refer to as a "full auto simulator". You are not truly firing fully automatic, it just seems like it.  The fun factor makes it a very attractive substitute for a real machine gun.
Earlier generations of the BFS sometimes required fitting with certain lowers and even though the BFS III is a drop in unit; it may not work in a polymer, carbon fiber or 80% lower receiver. Be smart and buy a mil-spec lower as they are probably at their lowest prices as of this writing.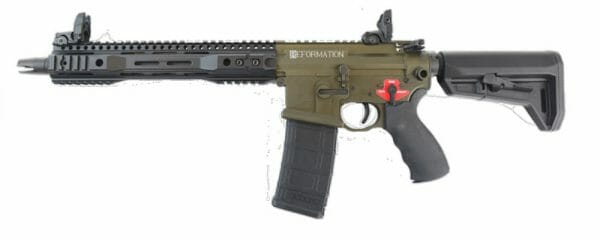 The company is working on other versions of the trigger as well as other firearm designs. We will take a future look at their BFS intended for the Heckler & Koch family of firearms as well as the recently announced Reformation that promises to be a real game changer with regard to how certain firearms are classified.
---
---
About Mike Searson: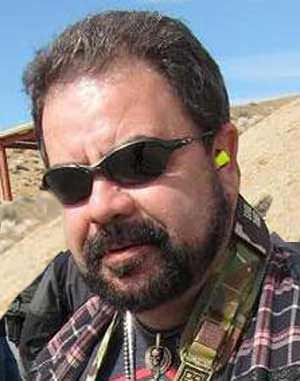 Mike Searson's career as a shooter began as a Marine Rifleman at age 17. He has worked in the firearms industry his entire adult life as a Gunsmith, Ballistician, Consultant, Salesman, Author and was first certified to teach firearms safety in 1989.
Mike has written over 2000 articles for a number of magazines, websites and newsletters including Blade, RECOIL, OFF-GRID, Tactical Officer, SWAT, Tactical World, Gun Digest, Examiner.com and the US Concealed Carry Association as well as AmmoLand Shooting Sports News.