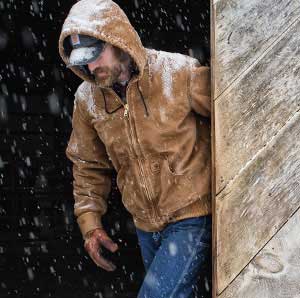 (AmmoLand.com) WEST POINT, MS – Mossy Oak, America's No. 1 camouflage brand, joins Carhartt, America's premium workwear brand since 1889, in a partnership that establishes Mossy Oak as the primary camouflage of Carhartt.
Mossy Oak and Carhartt are reuniting to give hunters and outdoor enthusiasts the necessary apparel to meet the various needs and demands of their environment. Hardworking men and women familiar with the quality, durability, and comfort of Carhartt gear, will now be able to experience the rugged outdoors while also wearing true-to-life Mossy Oak camouflage.
"We are so excited and optimistic about this partnership with Carhartt," said Toxey Haas, founder and CEO of Mossy Oak. "In my opinion, and I'm a brand guy, sincerely, two of the most compatible brands in the entire outdoors space have come together. We are so closely aligned with similar values of hard work and living the best life possible outdoors. Carhartt is a brand that I identify with; I work outdoors and can count on my Carhartt apparel to fit well and hold up. Mossy Oak and Carhartt, together, will continue to be the go-to outdoors and hunting brands for many years to come."
Carhartt products featuring Mossy Oak Break-Up Country® and Mountain Country™ camouflage patterns will be available in fall 2018 and will include the all-new Stormy Woods Rain Suit, the Buckfield Jacket, Buckfield Pant, and the 8 Point Jacket, among others. In total, 27 Carhartt styles will feature Mossy Oak camouflage patterns.
"What's remarkable about our new relationship with Mossy Oak is that it is so much more than best-in-class camo patterns," said Tim Humes, Senior Manager of Rugged Outdoors and PPE at Carhartt. "With their extensive platform of brands and media content that support our consumer's lifestyle, they are truly a great business partner. Along with the history and heritage of a great family business Mr. Haas has built, we feel very confident that we're giving our retail customers and our Carhartt consumers the best products possible to pursue their passions in the outdoors."
 About Carhartt, Inc.
Established in 1889, Carhartt is a global premium workwear brand with a rich heritage of developing rugged products for workers on and off the job. Headquartered in Dearborn, Michigan, with more than 5,000 associates worldwide, Carhartt is family-owned and managed by the descendants of the company's founder, Hamilton Carhartt. For more information, visit www.carhartt.com and follow @CarharttNews on Twitter.
 About Mossy Oak
According to Southwick Associates Annual Hunt-Shoot Report, 2016, Mossy Oak is America's no. 1 camouflage brand.
 Carhartt is an officially licensed partner of Haas Outdoors Inc. Haas Outdoors Inc. is headquartered in West Point, Miss., was established in 1986 and is home of Mossy Oak. For more than 30 years, Mossy Oak has been a leading outdoors lifestyle brand that specializes in developing and marketing modern camouflage designs for hunters and outdoors enthusiasts. The Mossy Oak Brand and patterns can be found on a multitude of products worldwide. Haas Outdoors Inc. is the parent company of Mossy Oak, BioLogic, Mossy Oak Productions, MOOSE Media, Nativ Nurseries, Nativ Living, GameKeepers, GameKeepers Kennels and Mossy Oak Properties. Mossy Oak is the official camouflage of the National Wild Turkey Federation, Ducks Unlimited, Quality Deer Management Association, and Mack's Prairie Wings and the official pattern of B.A.S.S., MLF and Cabela's Collegiate Bass Fishing Series.
 Follow Mossy Oak on Facebook, Twitter, Instagram, Google+, Pinterest and YouTube.