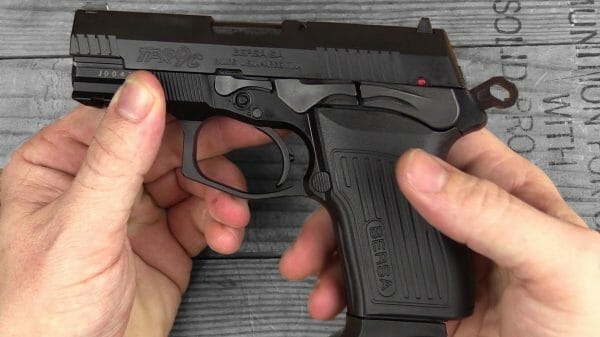 USA – -(Ammoland.com)- If you're tired of tiny guns that are great for carrying, but no fun on the range, or have been looking for more capacity you're not alone.  It seems the age of the single-stack 9mm is ending and now double-stacks in that magic 10-12 round capacity in 9mm are en vogue.  Higher capacity than the singles while retaining an overall size that is easy to carry.  Bersa is available in the US thanks to Eagle Imports and has just released the new TPR9C which offers 13 + 1 capacity in 9mm.
The TPR9C offers more capacity than much of the competition in the same size class while also offering the traditional hammer-fired action.  Traditionalists will appreciate the weight and feel of an all-metal handgun, crisp single/double-action trigger, and an ambidextrous decocker.  More details on the specifications to follow, but let's get to the point: How does it shoot?
In the video below we run ten different loads ranging from 65gr to 165gr.  Not all guns work with all loads, so it's always interesting to see how a handgun new to market performs.  It's even more interesting to see how such a gun performs fresh out of the box.
While testing wasn't performed in ideal conditions, the TPR9C ran flawlessly.  My hands are larger than average but the compact Bersa was comfortable to wield.  Critics and fans alike will take notice that the gun is a little wider than other options.  That extra width makes for more distribution of recoil and more contact with your hand.  This translates to a more pleasant shooting experience.  Combine that width with the aluminum frame and this compact shoots handles more like a full size.
For a closer look at the construction and design of the TPR9C see the video below.
For those who like to judge by the numbers specifications below are taken directly from the product webpage.  An interesting note is that the barrel lengths are different depending on the caliber.  Back when the Springfield XDS was released we were all excited about such a tiny handgun in .45 ACP.  Some of us later realized .45 ACP needs velocity to perform and moved away from that gun.  It seems the engineers at Bersa understand physics and so have lengthened the barrel for heavier cartridges.
| | |
| --- | --- |
| Caliber | 9 mm, .40 S&W, .45 ACP |
| Action | DA/SA |
| Capacity | 13+1 (9 mm), 10+1 (.40 S&W), 7+1 (.45 ACP) |
| Barrel Length | 3.25″ (9 mm), 3.6″ (.40 S&W). 3.6″ (.45 ACP) |
| Front Sight | Interchangeable Sig Sauer Type |
| Rear Sight | Interchangeable Sig Sauer Type |
| Finishes | Duotone, Matte Black |
| Grips | Textured Black Polymer |
| Construction | Alloy Frame / Steel Slide |
| Safety | Intergal Locking System, Manual, Firing Pin |
| Weight | 23 oz (9 mm), 23 oz (.40 S&W),  27 oz (.45 ACP) |
| Length | 6.5″(9 mm), 6.5″ (.40 S&W),  6.8″ (.45 ACP) |
| Height | 4.75″ (9 mm), 4.75″ (.40 S&W),  5.1″ (.45 ACP) |
| Width | 1.45″ |
Overall construction is good and the gun provides all the features of a full-size handgun in a more portable package.  It is heavier and wider than others, but that translates into more comfort on the range.  The TPR9C is not a tiny pocket gun, but rather a compact that will also serve well on the range.  There's just something reassuring about a handgun that feels solid, and considering many of us own handguns for reassurance, the TPR9C is a great option.
---
About Graham Baates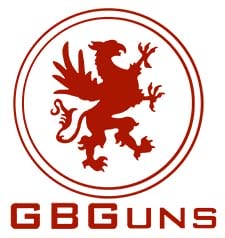 "Graham Baates" is a pen name used by a 15-year active Army veteran who spent most of his time in the tactical side of the Intelligence community including tours in Afghanistan and Iraq. Post-Army Graham spent some time in the 3-Gun circuit before becoming a full-time NRA Certified defensive handgun instructor and now works as an industry writer while curating a YouTube channel on the side. Visit Graham on Youtube .