GRINNELL, Iowa –-(Ammoland.com)- Brownells is again looking for a gunsmith customer to appear on the cover of its signature catalog, unofficially known as the gun industry's "Bible."
To find that gunsmith, the 79-year-old company has launched its "Big Book Cover Contest" searching for the ideal gunsmith for the Brownells Catalog #71 cover. Professional gunsmiths of all ages and disciplines are encouraged to submit a photo of themselves repairing and/or building firearms in their workshop.
Gunsmiths who wish to be considered may enter the contest by emailing their photo to [email protected] In the email, Brownells asks they include their name, name of their business, full address and a contact phone number.
Gunsmiths may also enter by posting on their Facebook or Instagram accounts and using hashtag "#bigbook71." Brownells will contact those who enter the contest via the social media hashtag.
In addition to appearing on the 12″ x 9″ cover of the monster catalog, the winner will also receive a $500 Brownells gift card, and will be the subject of a short article inside the catalog outlining their professional background, shop location and specialty.
"Featuring a gunsmith on our Big Book cover pays homage to those who work on guns for a living," said Ryan Repp, Brownells Director of Content & Communications. "It's a fun way to give back to those who helped build this company and recognize them for it."
In 2017, Tom Lumb, owner of Cedar Knoll Gunwerks of Springfield, Missouri, was featured on the cover of catalog #70 holding a S&W Model 23 Outdoorsman. Tom specializes in full metal-and-wood restorations of vintage cartridge guns.
The cover photo contest ends March 2, 2018.
---
About Brownells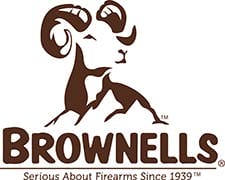 Serious About Firearms Since 1939™, Brownells is the world's leading source for gun parts and accessories, ammunition, gunsmithing tools and survival gear. With a large selection of both common and hard-to-find items, and an extensive collection of videos, articles, and gun schematics, Brownells is the expert for everything shooting-related. Committed to maintaining our great traditions, Brownells has more, does more and knows more – and guarantees it all, Forever. For more information or to place an order, call 800-741-0015 or visit Brownells.com. Stay up-to-date with Brownells on YouTube, Facebook, Twitter and Instagram.