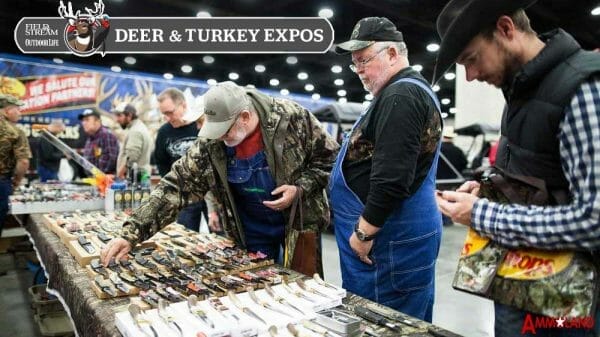 PEWAUKEE, Wis. – -(Ammoland.com)-The annual Ohio Deer & Turkey Expo returns to Columbus for three days of all things deer and turkey hunting March 16-18 at the Ohio Expo Center.
The state's premier consumer expo for hunting and outdoor enthusiasts features the latest strategies, trends and techniques in hunting while providing a look at innovative new equipment, accessories, clothing and more. In addition to hundreds of hunting and archery exhibitors and outfitter booths, attendees will gain access to interactive activities, seminars and displays:
Local hunters can enter their best deer from any season for display and official scoring by the Buckeye Big Buck Club, plus the chance to win awards.
Entry into the contest costs $20 for scoring and display, while pre-scored trophies can be entered for $10. All entries include a three-day pass to attend the expo.
Renowned archer Byron Ferguson returns to the Deer & Turkey Expo with his Archery Trick Shot Show. This performance showcases his incredible shooting abilities with a traditional bow, such as hitting flying targets while blindfolded.
At various trial ranges throughout the expo, attendees can test new bows, try their hand with an airgun and challenge their hoverball-shooting skills at a fast-paced shooting game featuring moving targets.
Hunters, both novice and advanced, will benefit from seminars led by field experts on topics like increasing buck movement, training hunting dogs and implementing high-tech tactics.
Attendees who crave adventure can brave the Live Game Animals and Predators experience, a unique opportunity to get up close and personal with terrifying North American predators — such as the cougar, bobcat, wolf, and both black and grizzly bears — for a nominal fee.
Tickets purchased at the door will be $15 for adult one-day, $20 for adult two-day, and $5 for youth ages 6 to 15. Children five years of age and under gain admission free of charge. A complimentary subscription to either Field & Stream or Outdoor Life is included with adult ticket purchases.
The Ohio Deer & Turkey Expo returns to Columbus March 16-18, hosted at the Ohio Expo Center, 717 E. 17th Ave. Daily event hours are: Friday, 2 p.m. – 9 p.m.; Saturday, 9 a.m. – 7 p.m., and Sunday, 9 a.m. – 4 p.m.
For more information or to purchase tickets, visit www.deerinfo.com/ohio-deer-turkey-expo. Tickets purchased online in advance are available at a discounted rate.
The Ohio Deer & Turkey Expo is sponsored by Ozonics, Snyper Hunting Products, WCOL 92.3 and The Sportsman's Box.
About Deer & Turkey Expo
Located in the heartland of America, the Deer & Turkey Expos present new products and learning experiences for hunting enthusiasts. Including everything from bow trials and archery trick shooting, to trophy deer and more, the Deer & Turkey Expos provide the unique opportunity to meet and learn from the most knowledgeable experts in the hunting industry.