Tom explains why you cowboys and cowgirls need stockman knives in your jean pockets.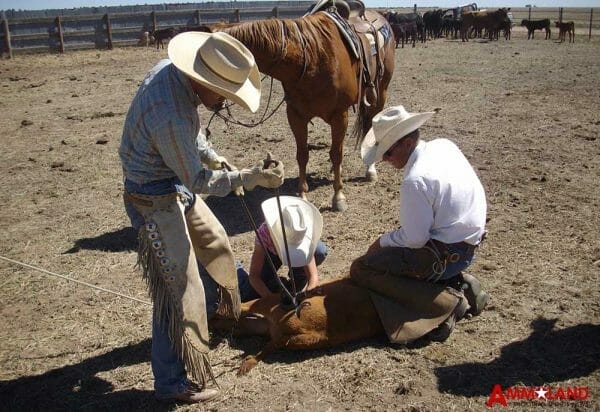 USA – -(Ammoland.com)- Ok, it's time to write an article on a knife for you cowboys out there, the Stockman Knives. Of course, just like any group, one knife won't fit all. I've dropped out of the world of rodeoing, cowboying and raising cattle but am still a little active on the sidelines.
I've noticed the last decade or two a bunch of cowboys are also carrying folding lock blades just like everyone else. And why wouldn't they? Of all people, they probably need them the most. How many times when roping a calf, having a branding or whatever else occurs on the ranch does someone almost get tangled up in a rope with a mad cow on the other end?
Over 45 years ago when I started rodeoing an older cowboy that helped me get started told me to carry one of the first big locking folders I had ever seen. I think it was called a G96. He said I'd need it for protection while traveling. I cleaned his horse stalls and he bought me my IRA card (International Rodeo Assn.) and talked me into jumping into the pros. I then jumped into the RCA, which is now the PRCA. I wish I had of skipped the IRA. It was pretty crooked.
So yes, cowboys carry fold up lock blades but today we want to talk about a knife that all ranch cowboys use, especially in the spring on brandings and round-ups.
The Stockman knife. A stockman knife will have a traditional slip joint that has double ends. Most have three blades and two springs inside that help the blade stay closed or open.. Here are the purposes of the three different blades.
CLIP POINT BLADE-This blade is used on the ranch for everything from cutting hay twine to punching holes in a latigo, to opening a can of beans in a line shack.
SHEEPFOOT BLADE-This blade was designed for trimming sheep's feet. The dull back and point allows you to apply pressure with your thumb or finger without getting cut.
SPEY BLADE-This is the perfect design to castrate bull calves. On some of the big ranches out West what we do is gather all the cattle in the spring off the pastures and BLM land and congregate them into one big herd. In the old days they held them in a circle and roped the calves off of the herd. Now we gather them all into some powder River Chutes and open one end and cut the cows off.
We'll set up maybe three branding irons in the opening and have cowboys and cowgirls rope a calf and drag it out to a branding iron. A group of cowboys will be at each branding iron. One will flip the calve, untie it and two will hold it down.
In the round-ups I help with one cowboy/cowgirl will work all three stations cutting the bull calves. The cowboys holding down the calf will holler if they have a bull calf and the cutter will go castrate him. If there's a really good bull calf that the rancher likes he'll leave it as a bull to be a future herd bull. Usually one cowgirl will be running back and forth vaccinating the calves.
So with all of this going on in one tight spot it can get hectic. Invariably while cutting a bull calf he will get a leg loose and kick someone, a cowboy will rope a wild calf and drag him up wiping out everyone or something will happen. With that said, you can see why it's smart to castrate with a spey blade. You're not as likely to get cut when a rodeo explodes. So Spey blades are necessary in a cowboy's life.
Then of course over time small, medium and large stockman knives have developed. To me, a small one is nonfunctional. They're more of a gentleman's pocket knife. I like the latter two. You'll have to decide for yourself which you prefer. The large or the medium sized. I could argue for either. Not that it effects the functionality one iota but I favor the look of the old yellow handled Stockman knives.
For this article I'm testing two manufacturers, Case XX and Bear & Son Cutlery. Both appear to be stout enough knives that will hold up to a cowboy….that is, as much as anything holds up when a cowboy touches it!
My all-time favorite is the Case Yellow handled large Stockman but in all reality the Bear & Son Cutlery Yellow Delrin and Rosewood Stockman and Case medium Stockman with the Amber handle are all just as functional. You decide which one you need. Or maybe you're like me, I had to have all four!
---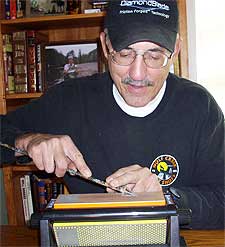 About Tom Claycomb:
Tom Claycomb has been an avid hunter/fisherman throughout his life as well as an outdoors writer with outdoor columns in the magazine Hunt Alaska, Bass Pro Shops, Bowhunter.net and freelances for numerous magazines and newspapers.
"To properly skin your animal you will need a sharp knife. I have an e-article on Amazon Kindle titled Knife Sharpening for $.99 if you're having trouble."
Some of the links on this page are affiliate links, meaning at no additional cost to you, Ammoland will earn a commission if you click through and make a purchase.