U.S.A. –-(Ammoland.com)- The Colt Defender is an accurate and reliable pistol that has been setting the standard for compact 1911s since it's introduction 18 years ago. We had a chance to try one out, finally and were pleased with the results.
One of the first handguns we learned to shoot well was the Colt M1911A1. It may have been a rattling battling, used and abused pistola from the Armory at Parris Island while we were a nasty 17-year-old Marine Recruit, but when our Drill Instructor put one in our hands at the pistol range he told us:
"Searson, I don't want you to shoot that target. I want you to shoot that sign."
He pointed to an old red sign with a yellow number "1" on it indicating my shooting position on the line.
"Yeah, I hate that f&#*ing sign and your job is to destroy it, is that understood?"

"Sir, yes, sir"
Lining up the vestigal, well worn GI sights on the big number one, I squeezed the trigger and sent a chunk of the wood flying downrange.
"Holy S%*%! I didn't think you'd actually do it. Go ahead and blow the rest of it away."
I complied and when my sole experience with firearms to this point in time had been paper-punching with an M16A2 at 200-500 yards. I gained an appreciation of seeing what 45 ACP ball ammunition would do against a non paper target and have been a fan of the round and the platform ever since.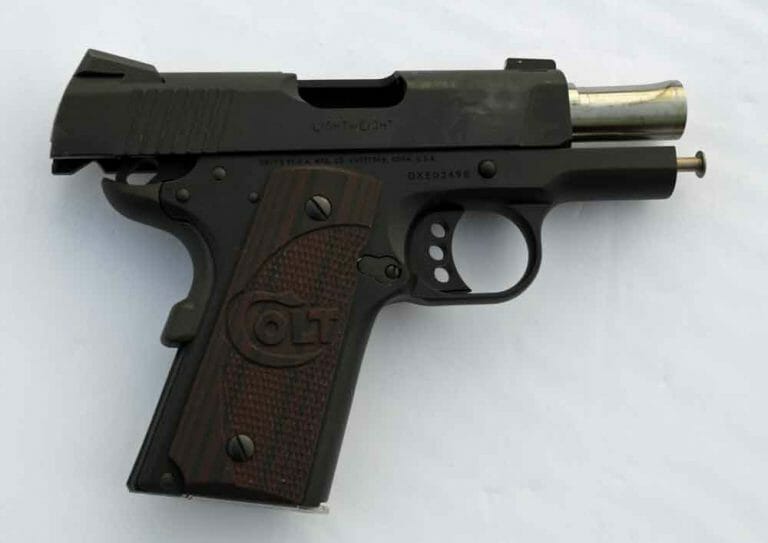 When we first obtained a carry permit, our choice was the Colt Officer's ACP. In the 1990s this was about as compact as you could get with a 1911 without going the custom route. However, that Officer's Model was not exactly an out of the box shooter.
We installed a Hart's Mercury filled guide rod, to keep it shooting level, opened the ejection port for reliability, sanded the rough spots and edges, Turned to Wilson Combat for a titanium hammer, firing pin, hammer strut and mainspring cap and Smith & Alexander for a stainless mainspring housing. Gone were the factory rubber grips as well as the factory magazines. By the time we were done, the only thing left stock on that little blaster was the frame and slide.
It may have been cheaper in the long run to go the full custom route, but as a budding gunsmith, we just upgraded as we could afford the next part. So when the Defender came out a few years after our carry gun was complete, we scoffed at having to pony up for a pistol that was only 1/2″ shorter than our latest masterpiece.
After shooting the new Defender, we regret that somewhat.
We say that because the Colt Defender represented a serious upgrade from it's slightly bigger brother, the Officer's ACP. According to Gun Guru, Massad Ayoob, Bill Laughridge of Cylinder & Slide supervised initial production and engineering in a consultant role on the Defender. Laughridge had been making cut down 3″ 1911s successfully for a number of years and every nuance of machining and smithing that went into his custom compact 1911s went into the Colt Defender.
When we unboxed the Colt defender that Colt had sent to us, the first thing that caught our eye was the checkered and engraved walnut grips. Then we saw the Novak type sights, and the three-hole trigger, upswept beavertail grip safety and most of the little touches we had put on our own Officer's ACP. Someone was definitely paying attention when they built this one.
The trigger broke at a little over 5 pounds. This is completely acceptable for a handgun of this nature.
Having learned our lesson for the 20th time about firing a handgun straight from the factory, we cleaned, degreased and lubed the Colt Defender completely.
There is no barrel bushing in the Defender, this is something we have always had mixed emotions about, but there must be a good reason in forgoing this part with a heavier barrel instead.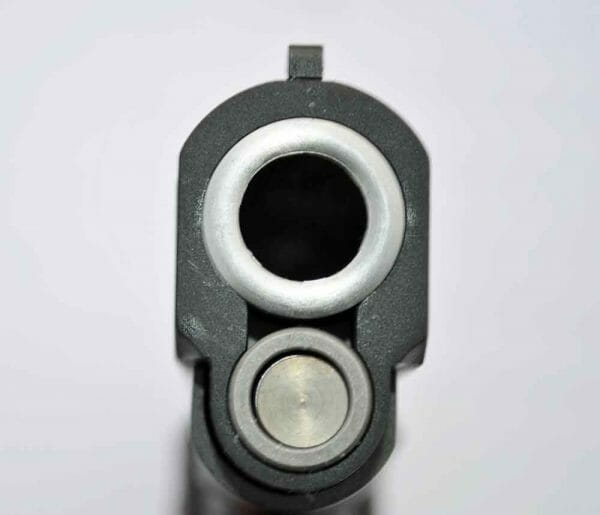 Our personal history has taught us that the 185 type loads perform best out of these shorter barrelled 45s. The shorter barrels do not allow the loads intended for 5″ pistols to burn off completely is our hypothesis. We base this on running a bowling pin match years ago with 230-grain bullets and watching our Officer's Model hit all the pins without knocking them down. when we switched to a lighter, but faster bullet, we did fine.
We ran Remington 185 Grain Golden Sabre and Hornady Critical Defense for almost 300 rounds without a single malfunction. Accuracy-wise we averaged about 3.25″ at 50 feet with not a single flyer. For a short barrelled pistol at close quarter distance you can do much worse.
As we stated earlier, with the benefit of hindsight, we wished we had held out a few years instead of having to customize that Officer's ACP, we should have gone with the Defender. As much as we love the old warhorse pattern of the 1911, we seldom carry one these days, but if we were to go down that road again, it would be with the Colt Defender.
Colt Defender 45 ACP Specifications:

Caliber: 45 ACP
Barrel: 3 inches
OA Length: 6.75 inches
Weight: 24 ounces (empty)
Grips: Checkered and Engraved Walnut
Sights: Novak Low Mount Carry
Action: SAO
Capacity: 7+1
MSRP: $1,098 ( less $$ online )
---
About Mike Searson: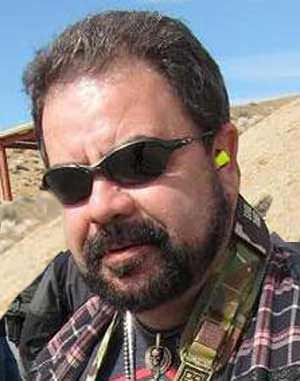 Mike Searson's career as a shooter began as a Marine Rifleman at age 17. He has worked in the firearms industry his entire adult life as a Gunsmith, Ballistician, Consultant, Salesman, Author and was first certified to teach firearms safety in 1989.
Mike has written over 2000 articles for a number of magazines, websites and newsletters including Blade, RECOIL, OFF-GRID, Tactical Officer, SWAT, Tactical World, Gun Digest, Examiner.com and the US Concealed Carry Association as well as AmmoLand Shooting Sports News.