Spotlight On the 2018 Firearms Industry Compliance Conference.
St. Paul, Minnesota –-(Ammoland.com)- If you make, buy or sell suppressors, or any NFA firearms for that matter, then this session is for you.
To be held during the FICC's pre-conference sessions on Wednesday, May 16, ATF Division Chief Alphonso Hughes and executives from Orchid Advisors will deliver a two-and-a-half-hour session focused on NFA Record Keeping and Forms – everything you need to know from A to Z. This course is designed for all FFL / SOT types and sizes, from start-ups to large industry members.
This unique environment provides a personal learning experience where industry members can interact and ask questions directly to ATF leadership.
Topics included in this year's NFA Pre-conference session include:
Identifying and understanding the construct of NFA weapons
How to complete and file pertinent NFA Forms such as Form 2, 3, 4, 5 and 9
Understanding when during the manufacturing process the Form 2 becomes relevant
Gaining a clear understanding of NFA Form 3 and 4 filing processes and wait times
Getting current on the world of Suppressors and the Hearing Protection Act
Over 20 Other Learning Opportunities
Amongst the other twenty-plus learning courses are courses designed for retail, distribution, manufacturing and import / export entities. For example, three of the courses will be focused on Electronic Bound Book technology, including "Integrating electronic Bound Books, e4473, NFA eForms with Retail POS systems" to be held on the afternoon of May 17.
About the Firearms Industry Compliance Conference
Orchid Advisors and the National Shooting Sports Foundation bring you the 5th Annual Firearms Industry Compliance Conference. Discounted access is available for NSSF members. Due to the limited seating capacity, registration is on a first come, first serve basis. Register today!
Limited sponsorship levels are available. Please contact Chris Tatulli, NSSF Director, Exhibit and Sponsorship Sales, at [email protected] or (203) 426-1320 ext. 214 for more information.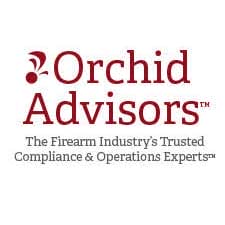 About Orchid Advisors
Orchid Advisors provides ATF and ITAR compliance services to manufacturing, distribution and retail FFLs. The firm offers FFL and Export licensing, deep record inspections, e4473 / NFA eForms and Electronic Bound Book software. In conjunction with NSSF, Orchid Advisors hosts the Firearm Industry Compliance Conference and operates the largest online ATF and ITAR compliance training platform available. Orchid Advisors' unique staff of former firearm industry attorneys, former ATF, compliance professionals, and software executives are passionate about eliminating FFL compliance risk. Visit orchidadvisors.com or the firm's software company, fflbizhub.com, today.
About NSSF
The National Shooting Sports Foundation is the trade association for the firearms, ammunition, hunting and shooting sports industry. Its mission is to promote, protect and preserve hunting and the shooting sports. Formed in 1961, NSSF has a membership of more than 10,000 manufacturers, distributors, firearms retailers, shooting ranges, sportsmen's organizations and publishers.