Opinion
Ft Collins, CO –-(Ammoland.com)- "The only thing more dangerous than ignorance is the pretense of intelligent ignorance. The former is teachable; the latter is not." ~ Criss Jami
This from a friend and student in Europe:
"Concerning the recent terrorist attack in France that took the life of a French Police officer.
If the French government could have concealed this event, it would have done so, so apologetic are they for Islamic terrorists.
We, the real Europeans, should not forget these dates:
732 (Charles Martel – battle of Poitiers where the Muslims were stopped)
1565 (Siege of Malta – where the Knights of Saint John stopped the Ottomans from further conquering Europe)
1571 (Battle of Lepanto – where a Christian fleet (Venetians and Spanish, among others) beat the Ottomans
1683 (Battle of Vienna – where the Ottomans lost the siege and were pushed back)
People are really scared here! Europeans are acquiring guns any way they can, although European governments want us all to be helpless, defenseless victims.
I pray that I can leave behind me a peaceful place for my children. But, I am not fooling myself.
We are being sold down the river, by our own governments!"
"Who expect any government agency, or corporate entity, to have an innate sense of morality will by severely disappointed." ~ Marshall
/John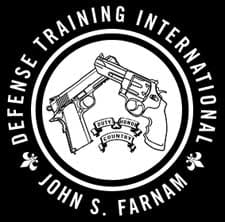 About John Farnam & Defense Training International, Inc
As a defensive weapons and tactics instructor John Farnam will urge you, based on your own beliefs, to make up your mind in advance as to what you would do when faced with an imminent lethal threat. You should, of course, also decide what preparations you should make in advance if any. Defense Training International wants to make sure that their students fully understand the physical, legal, psychological, and societal consequences of their actions or in-actions.
It is our duty to make you aware of certain unpleasant physical realities intrinsic to the Planet Earth. Mr. Farnam is happy to be your counselor and advisor. Visit: www.defense-training.com