Tom reviews the Spyderco Kitchen Knives
USA – -(Ammoland.com)- I always write Product Reviews on Hunting/Fishing/Outdoor types of knives, but I thought I'd digress and cover a couple of super handy, paring knives that I got from Spyderco.
Life is not all about hunting is it? We do have to spend a few minutes in the kitchen preparing meals, don't we? And if you're a knife connoisseur then you probably don't just use good knives in the field, you also want to use good ones in the kitchen.
I've dealt with Joyce Laituri at Spyderco for years. She's the greatest marketing girl in the world. Everyone loves Joyce. She has a great personality. Every year at the SHOT Show when we meet to discuss Spyderco's new products for upcoming year she and my wife get off on dog stories and they ignore me for the first 10 minutes. Then we get back to business.
Spyderco Kitchen Knives
A few years ago Joyce gave Katy one of the Spyderco Kitchen paring knives. It was the serrated, red handled Spyderco Kitchen Paring Knife 4.5″ KO5SRD model. This year she gave Katy the KO5BK model, which is basically the same knife but has a black handle and is not serrated.
Until we received the red knife I'd always used old boning knives or super cheap paring knives while in the kitchen. Using the KO5SRD was like going from the Dark Ages to the Age of Enlightenment. I will never use a Joe Cheapo again. In looking at reviews posted on Amazon it looks like I'm not the only one that feels this way.
Normally I cover one knife per Product Review but today I'm going to cover two at once by adding the Spyderco Plain Edge Paring Knife With 4.48″ Blade . That way if you like a plain edge or serrated you're covered. When slicing tomatoes to make salsa I like a serrated edge. The skins are tough and hard to cut even with a semi sharp knife.
In fact, it seems like cutting all vegetables and fruits is easier when you use a serrated edge. But, the plain edge knife is also super sharp and works fine too. In fact, when chopping cilantro, celery etc. the plain edge works better.
This will sound horrible, especially coming from me that teaches Knife Sharpening seminars all around the country but I don't remember ever sharpening the serrated knife yet, and I bet we've had it 3-4 years. I better do that as soon as I finish this article. While on that topic, I'll try to do an article soon on how to sharpen a serrated knife. It takes a few special tools but is not really that difficult. I'll try to write this article soon.
In case you ever wondered. Why does Spyderco make a 2-step serration, one large serration and two small serrations? I used to wonder that too. Here's the story. It increases the cutting edge by 24%.
But back to our paring knives. These are my two go-to knives now. In fact, they're the only two that are in my kitchen now.
Spyderco's involvement in kitchen knives dates back to the early 1980's and the beginnings of the company's knife production. After being discontinued a number of years ago, they are now back by popular demand and better than ever. Their current kitchen knives combine all the distinctive features of the originals with an improved handle material that offers increased durability.
The smooth edge K05 Paring Knife has a 4.48-inch drop-point blade that offers an excellent balance of control and cutting performance. This makes it incredibly versatile and adaptable to many kitchen cutting chores and utility applications. Like the original version, it features a premium MBS-26 stainless steel blade, ground exceptionally thin and meticulously heat treated for optimal edge retention. Its durable polypropylene plastic handle is injection molded directly onto the tang of the blade and features a distinctive "stepped" texture pattern that provides amazing comfort and control during use.
The K05 is available with a black handle and your choice of a PlainEdge or a SpyderEdge blade with a unique two-step serration pattern that protects the edge from dulling on cutting boards. The SpyderEdge version is also available with a red handle.
---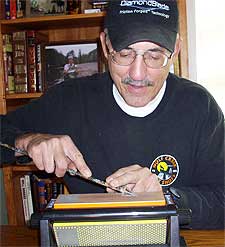 About Tom Claycomb
Tom Claycomb has been an avid hunter/fisherman throughout his life as well as an outdoors writer with outdoor columns in the magazine Hunt Alaska, Bass Pro Shops, Bowhunter.net and freelances for numerous magazines and newspapers. "To properly skin your animal you will need a sharp knife. I have an e-article on Amazon Kindle titled Knife Sharpening for $.99 if you're having trouble"
Disclosure: Some of the links below are affiliate links, meaning at no additional cost to you, Ammoland will earn a commission if you click through and make a purchase.