U.S.A. –-(Ammoland.com)- CMC's Match Precision Barrels are the ultimate upgrade drop in barrels for Gen 3 & 4 Glock 17,19 and 34 Pistols. Our Match Grade barrels are precision machined from Certified, DFARS compliant; pre hardened 416R premium grade stainless steel, to extremely tight tolerances and exacting details. 416R stainless steel is recognized for its corrosion resistance, machinability and high tensile strength; it is the industry standard for premium Match Grade barrel manufacturing.
CMC's propriety In house machining, production and Quality control inspection process's allow us to attain an ultra-precise barrel with enhanced slide fit & lock up for improved accuracy.
Our barrels are 6 groove, cut rifled, 1:10 Twist Right Hand, fully QC inspected, double honed (rough and finish) to produce the smoothest bore possible, with a Max Roughness Average (RA) of 12. Finished bore dimensions are held to +/- 0.0005″ tolerance from nominal groove and bore dimensions but the dimensions are uniform to within 0.0002 for maximum consistency, accuracy and quality.
SAAMI, Match Grade specification chambers, precision cut and finished to a maximum Roughness Average (RA) of 16. The pre hardened 416R stainless steel is stress relieved to an exacting recipe after rifling and final hardness is 38-42 Rockwell C before final barrel profile machining is completed.
Barrels are bead blasted to create a satin finish prior to plating and are available in 3 finish options.
Stainless , uniform Satin Blast Finish with ultra- low friction hBN (Hexagonal Boron Nitride) Bore & Chamber
Bronze TiCN, with ultra low friction hBN (Hexagonal Boron Nitride) Bore & Chamber
Black DLC, with ultra low friction hBN (Hexagonal Boron Nitride) Bore & Chamber
User friendly, our barrels are drop in; they do not require gunsmith assembly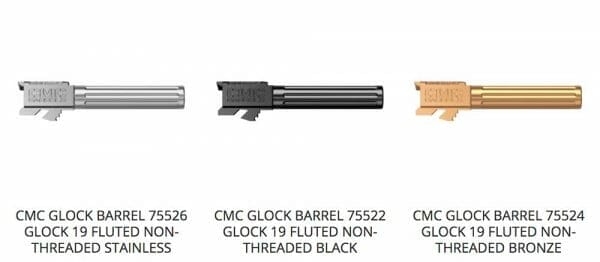 Our Barrels are straight fluted for aesthetic purposes
100% Manufactured in house, in The Great State of Texas
Glock17, 19 Threaded Fluted MSRP $210.00
Glock 17, 19 & 34 Non Threaded Fluted MSRP $199.00
---
About CMC Triggers
CMC's innovative, self-contained and easy-to-install AR-15 trigger groups, have been completely re-tooled to maximize production capacities, incorporate new design enhancements and reduce cost. CMC's AR-15 trigger groups have always yielded exceptional trigger pull dynamics for our tens of thousands of satisfied customers. However, keeping up with high demand has been difficult since introduction. CMC is confident the new production tooling and setup, incorporating the most advanced methods available, will not only yield the highest quality, but will also keep the supply lines full so every AR-15 shooter who places the highest demands on quality, function and reliability, will no longer have extensive lead times for obtaining these innovative trigger groups. And thanks to our multi-patented designs, a fine match grade trigger pull is now an extremely simple upgrade to implement. Install the fully self-contained, ready-to-go trigger group, safety check, and it's done. Visit: http://www.cmctriggers.com/