Foreword by Glen Tate
USA – -(Ammoland.com)- Julie Atwood is struggling with the day-to-day challenges of being a single mom. She works for a non-profit by day and clips coupons by night. The time in between is spent doing homework with her son. She wants a stable and secure life for him, but she needs a new start for herself. That won't come easy, though. Julie is recently divorced, financially stressed, and still reeling from a violent attack in her past.
She is determined to make it on her own, however. She learns self-defense skills and enrolls in a women's-only firearms class. That's where she meets a like-minded woman who helps take her skills to the next level. Julie's personal evolution continues as she uses her couponing know-how to stockpile essential food and survival supplies. She will become self-reliant—and never be a victim again.
The urgency of her efforts takes on new importance as society begins unraveling around her. America is divided. Conservatives and liberals are at war.
Then the newly elected president cuts funding to so-called Sanctuary States, including her home state of Oregon. Julie loses her job. Everyone who lives off the government gets desperate. Riots. Crime. Fire.
Julie needs to flee to the safety of her family cabin in Colorado's Rocky Mountains. Can she get there, though? There is an exodus of people, and the conservative states—now called Great States—have established border checkpoints. Refugees are being turned away. Will she be one of them? Will Steve, her ex-husband, let her take their son far away? Will he demand to go with them? There is a wildfire at hand. Civilization is crumbling. And Julie is running out of time.
The Divide is the first book in the A Great State trilogy.
Pre-buy the paperback.
Buy it on Kindle.
Shelby Gallagher is a pseudonym. Shelby resides in the Pacific Northwest. She writes from her first-hand experience working in and around state capitols and has observed why a collapse is coming and how it may unfold. She is a parent and active prepper.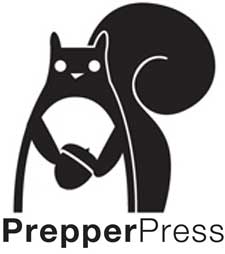 About Prepper Press:
We are an independent publishing house specializing in dystopian fiction and survival nonfiction, books and information that entertain and serve preppers, those preparing for events that could disrupt life as we know it and threaten survival. Uncertain times in a society heavily reliant on modern technology creates a need for every person to take a few steps toward independence and self-reliance. Should a major societal event happen, whether terrorist attack, plague or natural disaster, average Americans will need the knowledge and skills to help them survive if order fails and chaos ensues. Prepper Press publishes books and information that can help people survive in such situations. All of our authors are based in the United States. All of our books are published and printed in the United States.
For more information, visit: www.PrepperPress.com.