Opinion
John gives us his run down of the best five Tactical Flashlights. Did your favorite light make the cut?
Ft Collins, CO –-(Ammoland.com)- Flashlights!
My students are asking me about carry-flashlights, once more!
Carrying concealed pistols legally requires appropriate licensing, training, and correct mind-set.
Not everyone can do it, nor should!
However, there is no controversy surrounding the carrying of flashlights. There is no age requirement, nor is any kind of permit nor license necessary, and liberals haven't erected any "Flashlight-Free Zone" signs, at least as yet. Everyone should carry a tactical flashlight, all the time!
"Tactical" flashlights produce an output of 500 lumens or higher, so they are actually a non-lethal weapon.
"Utility" flashlights produce an output of less than 500 lumens. They are still useful, and recommended, but they are not powerful enough to function as a "weapon."
In the realm of tactical flashlights, look at:
1) Firstlight TMAX LE Tactical Flashlights. I carry my copy on my belt every day. Compact and easy to use. Always handy. Output is 700 lumens.
2) Surefire E2T Tactician Tactical Flashlights . Designed by my long-time friend and colleague, James Yeager, Surefire's E2T has an output of 800 lumens, but is very small and easy to carry.
3) Powertac E5 Flash Light . I use Powertac's E5 as a weaponlight with the PowerTac Slim OFF SET TACTICAL Weapon Mount on my FSM4. Output is 980 lumens, yet very compact.
4) ASP Turbo Tactical USB Flashlight . Output is 920 lumens. Everything made by ASP is top-drawer!
5) Eagletac T25LR LED Rechargeable Flashlight . A littler bigger than the above, but with an output of 1100 lumens!
There are other good choices, but these five currently top the my list of the best Tactical Flashlights.
Everyone in your family needs one!
Let me know in the comments if you have a better tactical flashlight I can to put to the test?
/John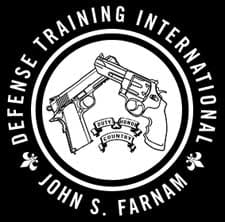 About John Farnam & Defense Training International, Inc
As a defensive weapons and tactics instructor John Farnam will urge you, based on your own beliefs, to make up your mind in advance as to what you would do when faced with an imminent lethal threat. You should, of course, also decide what preparations you should make in advance if any. Defense Training International wants to make sure that their students fully understand the physical, legal, psychological, and societal consequences of their actions or in-actions.
It is our duty to make you aware of certain unpleasant physical realities intrinsic to the Planet Earth. Mr. Farnam is happy to be your counselor and advisor. Visit: www.defense-training.com