By Dave Goetzinger
Safe security expert, Dave Goetzinger, reviews the best biometric gun safe options and finds only two make the list of passable firearms storage and security options.
USA – -(Ammoland.com)- As the guy who runs HandgunSafeResearch.com, I am constantky asked for advice on the best biometric gun safes more than anything else.
Recently, I broke into a couple of biometric firearms safes, opened them so quickly, in fact, that I decided the time had come to summarize my current findings regarding the market of biometric handgun safes. This won't be a comprehensive review of every biometric handgun safe on the market, just a review of my examination findings on ones I have previousley challanged, which I hope will be useful.
But first, the "Which fingerprint reader is better?" question.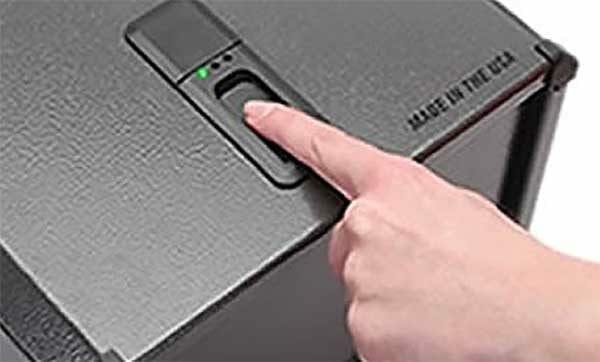 Biometric handgun gun safes typically have one of two kinds of fingerprint readers, an image reader or a capacitive scanner. The image reader requires you to place a finger on a tiny glass window that is lighted from beneath when it's reading your print. The capacitive scanner might be either a static scanner that you place your finger on top of or a swipe reader that you can swipe in one direction or two directions. These electronic components are all made in China, and though the technology is improving the parts are low-end, consumer-grade electronics.
That means you can expect quality-control problems with a certain number of safes, though I don't have an exact percentage to offer. You can also expect these components to be easily damaged; they don't meet anything like military-grade standards. So, what can you expect? If you get two to three years of reliable performance from the biometric components installed on a handgun safe, you got your money's worth.
And which is better? In my opinion, optical readers are reliable. But they aren't compact and don't lend themselves to being installed on small devices, like portable gun cases. The static capacitive scanners on the market today are also entirely accurate, though the swipe-style scanner can be moody. All capacitive scanners can be temperamental if your fingers have cuts, dirt, or moisture on them.
Finally, remember that probability will always play tricks with your imagination when it comes to consumer-grade biometrics. The accuracy of these devices is far better than 50% but less than 100%. If you flip a coin for a few minutes, which gives you a 50% chance of heads or tails, you shouldn't be surprised at the occasional run of all heads or all tails. If you use the biometrics on a handgun safe for a few months, which hopefully gives you better than 75% accuracy, you shouldn't be surprised at the occasional run of misreads.
The market for biometric handgun safes:
Competition in the best biometric gun safe market is fierce, with Chinese manufacturers throwing together quick-and-dirty products in the hope of making a buck off of U.S. importers. The products are hybrid safes, the results of a mix-and-match approach to recycling designs, which creates unintended security flaws in each new hybrid handgun safe. Often the only "innovation" in these products is the design of a keypad or the contours of a box.
Best Biometric Gun Safe:
I've written about the Amarey HFGS-089 Biometric Gun Safe before, so I'll be brief. Somebody in China realized that a light-weight container, requiring no more than 4.4 lbs of steel and a cheap capacitive scanner, could make bank if it had decorative contours in the lid—in other words if it looked cool. That's the only thing deflecting attention away from how flimsy this device is. It has high-tech looking shapes embossed on the lid.
Generic Ivation / Stanley / Viking Biometric Gun Safe Clone
Several companies on Amazon are selling the same front-opening biometric safe that was initially put together for Viking Security. Viking hired a Chinese manufacturer to design a safe with an optical fingerprint reader, then released the safe in 2014. When Viking switched to a different Chinese manufacturer, the design went into circulation in the industry—as happens in China. Multiple manufacturers now produce this safe, and Ivation and Stanley are selling it.
Ivation is one of the brand names that belong to C+A Global, one of the largest retailers on Amazon. Stanley Black & Decker, an even more significant presence on Amazon, owns many of the tool brands you're familiar with, including Bostitch, Craftsman, DeWalt, Irwin Tools, Lenox, Porter Cable, Mac Tools, etc. What I find odd about these corporations is that, although they have the resources to hire the best industrial designers money can buy, they import generic safes.
As for the biometric safe in question, it's fitted with a little cross lock that can be opened with tools anyone can buy on Amazon. Several Chinese manufacturers I've spoken with won't sell safes equipped with this lock anymore. Between companies peddling recycled designs and importers that don't know what they're buying, this safe keeps getting into circulation.
Generic Ardwolf / Fortress / Ivation / Ollieroo / Stanley Clone
Ivation and Stanley join with other companies in selling yet another generic Chinese-made device, a top-opening handgun safe that comes in a keypad version and keypad-plus-biometric version. Ardwolf, Fortress, Ivation, Ollieroo, and Stanley all sell versions of the safe, which uses a swipe-style capacitive scanner for biometric recognition. I looked at the Fortress biometric version, the B-P2EA. My main complaint about the safe—in all of its variations—is that the sides of it are covered with plastic fittings that conceal holes passing right through the steel of the safe. The impression that the latching mechanism is off-limits is an illusion.
GunVault SVB 500 Best Biometric Handgun Safe
More people have contacted me with questions about GunVault's SpeedVault Biometric than any other handgun safe. Though roughly ten years old now and still using the same swipe-style capacitive scanner, the SVB 500 is probably the most popular handgun safe GunVault makes. Unfortunately, I had the safe compromised within 5 minutes of getting it out of the box.
If there is a lesson to be learned here, it is that manufacturers can get complacent. I compromised the GunVault's GVB 1000 in February of 2016, and the video nearly went viral. GunVault should have recognized the need to hire someone to vet their remaining product line for security problems. But they didn't.
I have the dubious distinction of being the first physical security tester to break Vaultek's handgun safes when they were released in September of 2016. Since that time, Vaultek has also met with a Bluetooth hack. Now, with its vulnerabilities addressed, this line of safes is far more secure than many on the market. Vaultek has incorporated static capacitive scanners into the devices, and the scanners are fast enough to recognize a fingerprint that's moving. On the video, I swipe one of the scanners with a rotating finger, and the scanner still accepts it.
But I need to qualify my remarks. I have reservations about providing a gun safe with the option of remote access. Vaultek fireamrs safes can be opened using a Bluetooth app, and the PRO VTi can also be unlocked with a key fob. To my thinking, a gun safe should require the gun owner to be in direct contact with the safe when opening it.
If I had a say in California's Firearms Safety Device standards—or the standards in any other state—I would prohibit remote access in a firearms safety device.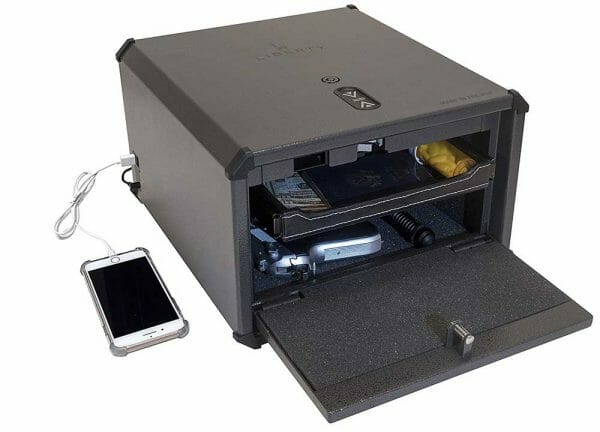 Of Liberty's Home Defender Series, the most popular safes are the 9G Products biometric safes, which use the swipe-style capacitive scanner. And I'm afraid I also have the distinction of being the one who broke the Home Defender Series, roughly a year after they were launched. As with Vaultek Safe, Liberty didn't patch up the problems. However, they fired back with something bigger and better, the HDX-350 Smart Vault.
I examined this gun safe in November of 2017 and posted a video covering its features. I like everything about this safe, though beginning in 2018 my policies regarding how I test firearm safety products have changed. In the past, I've only endeavored to learn whether a given safe can be opened without lockpicking. Now I make a point of showing manufacturers when they are using locks for which specific tools have been developed to open them.
Liberty, like most companies making handgun safes, has been using what is known as a 7-pin tubular lock. Without going into details that might bore some readers, most of these tubular locks are easily picked with tools that require no training to use and which are available to anyone online. The good news is that Ken Stacy, Managing Director of Liberty's 9G Products Division, is addressing the issue as I write this.
I have no other complaints about Liberty's 9G Products. The latching mechanisms installed in these safes—the HDX-150, HDX-250, and HDX-350 Smart Vaults—are the strongest I've come across. The security vulnerabilities I uncovered have been addressed. And what the safes may lack in the style department, they make up for with ease of use, strength, and actual security.
The last two biometric gun safes, while not perfect, get a thumbs up from me and are the two brands that one can kind of agree make the Best Biometric Gun Safe list.  If you are a safe manufacturer or fireamrs safe importer and what a honest, unbiased review of your gun safe please contact me at the website below.
About Dave Goetzinger
I began while writing a piece of investigative journalism titled "Safe Cracking Is Too Easy," published in the September 2015, issue of American Shooting Journal. The piece looked at defectively designed handgun safes, and was first posted online at ASJ on July 21, 2015, under the title "It's Too Easy To Crack Your Gun Safe."
About Handgun Safe Research
This site exposes the design defects and security vulnerabilities of popular handgun safes. Visit: www.handgunsaferesearch.com