Grand Rapids, Michigan USA -(Ammoland.com)- In my last article I detailed the story behind this rifle build and how I began bedding the action to the stock. Building a great bolt-action rifle isn't as easy as building an AR-15, but it is simpler than you'd think and very rewarding. A custom AR can be built by anyone, but a bolt rifle has a special mystique that harkens back to simpler times and dedicated craftsmanship.
This rifle uses parts supplied largely by my dear friends at Brownell's. The idea behind this project began when I watched a rather discouraged young man leave a gun store after being told that bolt actions were hard to build right and therefore his idea was a waste of time. I never did catch up with this kid, but I sincerely hope that he takes the plunge and builds a gun like this.
The rifle uses a Remington 700 barreled action with a threaded muzzle available from Brownell's. The action, despite what internet jockeys say, is a solid action that will yield great accuracy when attention to detail is applied.
In my previous article I detailed the simple process of using MarineTex to bed the Remington action into a Grayboe Terrain stock. Going from where we left off, we can jump right into the fun of assembling the rifle with some of today's best parts.
THE TRIGGER
Brownell's supplied me with the simply amazing Timney Calvin Elite trigger. The trigger has a two-stage pull like a classic military rifle and is user adjustable. Installing a Remington 700 trigger is easy and quick. The Calvin Elite essentially comes as a pre-assembled cartridge in a classy blue housing that 'hangs' off the action. Attaching it takes just a minute and it dramatically improves trigger pull and accuracy. I like the two-stage pull because I am used to competing with rifles like the 1903 Springfield and various Mauser rifles. I find that I am better with a two-stage trigger due to the fact that I enjoy the 'takeup' before the trigger breaks and think that it allows for better, less surprising shot control.
Despite what they tell you in the movies, your weapon firing should never be a surprise. Surprises are not good when shooting and you should always make a deliberate effort to fire. A trigger that is too light is a liability, not a benefit and the Calvin Elite allows you to adjust it to your desired comfort level.
The Calvin Elite is a state-of-the-art trigger and it is a must-have for anyone looking for an upgrade for a field or competition rifle. A two-stage pull, at least for me, is superior when it comes to shooting while standing or firing offhand. I would heartily recommend this model to anyone and it will always be the trigger I use for my own personal rifles from this point on.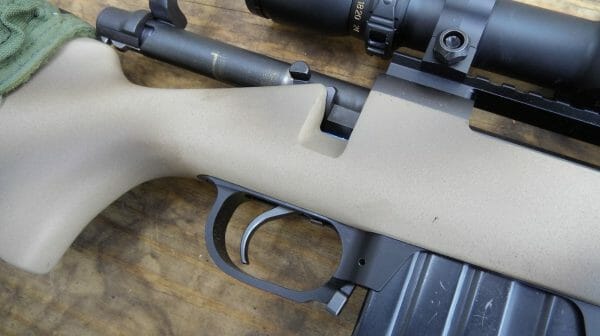 THE ACCESSORIES
To complete this rifle and make it shoot well, I selected some great parts that offer wonderful simplicity while not compromising on features and function. The first, and a total must for any rifle with a medium to heavy weight barrel, is a Harris BRM model bipod. The Harris bipod line needs no introduction and offers nothing but utility while adding only a few ounces of forward weight.
On the muzzle I decided to go with a SilencerCo ASR brake. I've used these brakes for a while now and have found them to be very effective and a handy mount for a suppressor should you have one laying around. The main complaint from soft-shouldered AR shooters these days is that .308 has too much recoil. The ASR brake cuts felt recoil by more than half and makes the rifle easy to fire. In fact, the brake is so effective that I barely move off target when shooting.
On top of the receiver sits a Warne rail and Mountain Tech rings. These rings are great and, having used Warne products for years, I am still impressed with the quality. They are a company that really knows how to attach a scope to a gun and their products are always improving in terms of both weight and functionality. I think that a modern scope should have the ability to detach for maintenance and cleaning while returning to zero, and these rings do just that. Using a wrench with appropriate torque allows you to return to zero with these rings within a half click or so, which is far better than many other traditional ring setups.
In the rings rests a truly delightful Sightron SIII SS 6-24×50 First Focal Plane scope. This is a large scope and offers a very practical Mil-based reticle and useful magnification range. In addition to a Mil-based reticle, the scope features 1cm/100m clicks that we know as 1/10 Mil. It would make no sense to have inch clicks on a Mil scope, and Sightron didn't make that mistake.
Today's scopes are getting very feature-rich and, as a result, are becoming more expensive and harder to use effectively. The nice part about the Sightron scope here is that it offers pure utility without the glaring problems associated with bells and whistles. Most shooters out there today can make excellent use of a simple 3-9x scope on their rifle and this scope follows that intuitive simplicity and translates it to a larger format that looks and functions naturally on a rifle like the one I built.
I found that the repeatability and optical clarity of this scope was top-tier. I've used dozens of scopes over the last few years and this one is second to none in terms of clarity and precision for the price. I think that the reticle is simple and easy to use while not being cluttered like some are today. I experienced no issues shooting the box test or any failures to track or return to zero.
SHOOTING
So how does it shoot? I took the rifle out at the range and broke it in. Personally, I don't believe in the shoot-one-clean-one barrel break-in method. I've been shooting precision rifle for years and I rarely, if ever, strip copper or carbon. Building up a consistent bearing surface is critical to accuracy and I think that it develops somewhere at 60-100 rounds in a brand new barrel.
I used some Alpha Mags ten-rounders I had on hand and also added a cheek rest that I used to use on my old hunting rifle. These aren't exactly new or shiny shooting accessories, but they work and they look great.
I started shooting with factory SIG SAUER 168 and 175gr match ammo. The first groups were wild at nearly 2 inches for five shots. As I shot the rifle over the course of a few weeks, weather permitting, the groups suddenly shrank to a ½-1MOA average. I took this as a good sign and readjusted to a new zero at 100 yards and began testing some new factory ammo and handloads alike. Both SIG loads generated the stellar accuracy I came to expect after testing it in their truly amazing and innovative 716 rifle.
Hornady's most recent ammo is their awesome Critical Defense 155gr FTX, which flew at an average of 2737fps for ten shots over my Oehler 35P chronograph at 35 degrees Fahrenheit. This is a brand new ammo and features some truly innovative bullet design for self-defense in the home. It also has serious value for medium game hunting. Being spring, I am unable to hunt deer, but I foresee myself using this ammo this coming fall. This load grouped into ¾ MOA at 200 yards and was pleasant and mild to shoot. It isn't designed as a long-range load, but it can hold its own against dedicated match loads thanks to the quality of Hornady products.
I decided to test some handloads consisting of a Hornady 168gr BTHP bullet over Varget powder in Lapua brass. This has been a match load I've trusted for years and it rang true in this rifle. I put five shots into a single hole at 100 yards with an average velocity of 2710fps. I took this load out to 1000 yards and was able to make easy and reliable hits on plates thanks in no small part to the fact that I had perfect trigger control using the Calvin Elite and easy adjustments with the Sightron.
In addition to this exercise, I took the rifle out to hunt coyote, but failed to see anything aside from some chickadees and other winter birds. Such is the nature of the game.
When it was all said and done, I had managed to, with help from Brownell's, build a sub-MOA rifle using parts available off the shelf. Today's bolt action market is growing at a steady rate and the Remington 700 and similar actions make up a large footprint of that. I would highly recommend starting your build with these or like parts.
That said, the combination of parts and ammo that are available to the modern home builder are truly dizzying. My advice to the home builder is simple: keep it simple. I wouldn't stress about truing an action or putting on a thousand dollar barrel on day one. Starting off with a barreled action like that from Brownell's is a great way to get started with the most challenging parts already finished. You shouldn't be discouraged by the difficulty of starting a project like this. Take your time and enjoy yourself. You'll have a far greater sense of accomplishment at the end of the day knowing that you built and bedded your own bolt action than you ever could simply slapping an AR together.
Special Thanks to
---
About Josh Wayner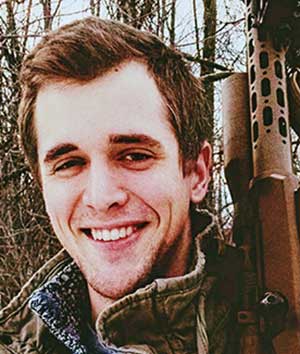 Josh Wayner has been writing in the gun industry for five years. He is an active competition shooter with 14 medals from Camp Perry. In addition to firearms-related work, Josh enjoys working with animals and researching conservation projects in his home state of Michigan.