Ruckersville, VA –-(Ammoland.com)- Ashbury Precision Ordnance Mfg was selected by the National Rifle Association (NRA) Friends of NRA, America's largest advocates for firearms owners and the nation's leading promoter and defender of the Second Amendment, to create a distinctive, limited-edition, signature tactical rifle as a tribute to former Secretary of the NRA and father of modern Marine Corps Scout Sniping Major Edward James Land Jr. USMC retired.
The APO Custom Shop was commissioned to build fifty (50) Custom SABER-M700 Major E.J. Land Signature Edition Tactical Rifles each individually numbered and bearing Major Land's engraved signature. These custom tactical rifles are crafted by Ashbury's Precision Weapons Section lead by a team of former USMC MOS 2112 Gunsmiths and 2111 Armorer. The project is being supervised at APO's Ruckersville Virginia plant by former USMC Rifle Team Equipment Shop Chief Instructor MSGT Gary Gregory who served under Major Land's command at Quantico, Marine Corps Base Virginia.
"I've spent seven decades involved with firearms," said Major Land. "From hunting, and marksmanship training, to shooting rifles as a competitor and instructor, to being a sniper in combat. I follow a few simple rules that have not changed over my career. Keep it simple, stick to the basics, and use technology to only supplement the basics. These rules have served me well and I feel we've incorporated this spirit in these NRA tactical rifles which bear my name."

"We are humbled to be selected by the NRA and approved by Major Land to undertake this custom tactical rifle project," said Matthew Peterson, Ashbury's Product Development Manager. "It's an honor and a privilege for Ashbury, and especially our contingent of USMC and Army Veterans, to work under the tutelage of Major Land on this project for the NRA. It's a rare opportunity to work with such a great American patriot, historic Marine Sniper, firearms instructor and defender of America's Second Amendment rights."

Major Land had absolutely no interest in Ashbury building a "Safe Queen".
This custom SABER M700 Tactical Rifle for Major Land was inspired by his visionary leadership and formation of the renowned USMC Scout Sniper program, conducting the first course since WWII in Hawaii in 1961. Major Land then confidently took the Scout Sniper program into combat operations in the Republic of Vietnam in 1965 where he successfully trained, mentored, lead and fought alongside some of the finest American military snipers in our nation's history.
"Major Land wanted this rifle to be based on the battle-proven, American-made Remington Model 700 bolt action receiver which has a long and storied history in the Marine Corps," continued Peterson. "It was important that his tactical rifle be a modern modular design, based on solid, reliable, American made components and be capable of sub 1 MOA or better accuracy chambered for the efficient 6.5 Creedmoor cartridge." Major Land had absolutely no interest in Ashbury building a "Safe Queen". He wanted a custom modern tactical rifle that exceeded the 2 MOA accuracy specification of his original Vietnam era Model 700 sniper rifles… and Ashbury delivered.
The custom SABER-M700 Major E.J. Land Signature Edition Tactical Rifle crafted by the APO Custom Shop began with hand-select current factory production, stainless steel Model 700 bolt action receivers. The receivers are brought into Ashbury's Shop and undergo a detailed inspection, truing and accurizing process that includes hand-fitting, lapping, and polishing of components. Each Model 700 receiver is then mated to and fitted with a tuned Rifle Basix trigger set to a crisp 3 lbs.
The newly accurized Model 700 receivers are then individually hand-fit to a select Proof Research match grade 1: 8″ twist 22″ barrel made of 416R stainless steel with a medium Palma contour chambered in 6.5 Creedmoor. "Proof Research's engineering team was excited to work with Ashbury Precision Ordnance on this project for the NRA and Major Land," said Larry Murphy, CEO Proof Research. "Providing APO's Precision Weapons Section with fifty exceptionally high-quality, match-grade barrels that yielded consistent high levels of accuracy and precision is a testament to Proof's advanced rifle barrel manufacturing technology."
The Proof Research barrel tenon threads, chamber, and muzzle are precision machined on CNC lathes to very precise tolerances. The muzzle of the rifle is suppressor ready, finished with a target crown, threaded 5/8-24TPI and fitted with a protective thread cap. This high level of rifle building craftsmanship is one of the hallmarks of APO's Precision Weapons Section and their proud USMC lineage.
The newly minted custom SABER M700 accurized barreled action is fitted with a 20 MOA scope base rail and mounted into the patented SABER RSA-A3 Alloy Series MOD-0 modular rifle chassis system enhanced with the advanced Magpul M-LOK accessory attachment system. The Quattro V17 forend incorporates M-LOK Picatinny accessory rail attachment points at 3, 6,9 and 12 o'clock for lights, lasers, and other accessories. The 6 o'clock forend position includes a bipod stud. The SABER RSA-A3 MOD-0 rifle chassis has an ergonomically adaptable Tactically Adjustable Shoulder Stock (TASS) with thumb screw cheek piece height, length of pull spacers and push-button recoil pad drop adjustments. The rifle comes paired with Leupold's new Mark 5HD 3.6-18x 44 mm riflescope with TMR reticle mounted in Mark 4 scope rings.
The TASS shoulder stock is fitted with a custom Limbsaver® premium recoil pad and lower butt hook for secure non-firing hand placement or optional monopod. The shoulder stock assembly is attached to the chassis center section with a robust tension adjustable double locking hinge, to fold the rifle reducing its length for transport and storage. The patented SABER modular rifle chassis is proudly manufactured in the USA by US military veterans and proud American craftsmen from aerospace grade alloys, and advanced carbon reinforced composites.
The SABER chassis for this NRA custom tactical rifle build features a re-position-able Magpul MOE hand-grip with a 17.5-degree grip angle (the same as the Major's favored M1911 pistol) a 5-rd Magpul AICS type polymer magazine and ambidextrous paddle lever magazine release. The barreled action is finished in a premium Cerakote H-190 Armor Black ceramic coating and the SABER chassis is coated in H-170 OD Green and weighs a comfortable 11.25 lbs.
In addition to the distinct honor of building this limited edition NRA tactical rifle that bears the signature of Major Land, Ashbury was also selected to build the featured sniper rifles for the 2016 USA Network Television action drama series SHOOTER which depicts a fictional renowned Marine Scout Sniper.
The custom SABER-M700 Major E.J. Land Signature Edition Tactical Rifle is offered exclusively through Friends of NRA National Sponsor program. For more information regarding how you can acquire this piece of history contact your local Friends of NRA field representative.
For more information about Ashbury Precision Ordnance Manufacturing line of precision rifles, custom pistols, and long range shooting accessories please visit our website AshburyPrecisionOrdnance.net. Interested in learning more about Ashbury's premium experiential Rifle sports activities? Please visit Cabela's CLUB "THE ASHBURY EXPERIENCE", APOExperience.com, APORiflecraft.com and APO-Outfitters.com.
---
About Ashbury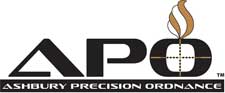 Ashbury International Group Inc. is a central Virginia USA based company, having more than 20 years of international experience as a prime contractor to government agencies, military, and special operations forces as well as manufacturer of commercial shooting sports equipment. The company provides logistics, engineering, training, ordnance manufacturing, systems integration and emergency preparedness products and services.
Ashbury Precision Ordnance Mfg. (APO), a division of the Ashbury International Group Inc., is a commercial firearms and shooting sports accessories manufacturer. APO manufactures SABER bolt action receivers and patented modular rifle chassis systems for popular factory and custom bolt action rifles. APO manufactures custom precision multi-sport, tactical, and hunting rifles in calibers from .223 to .408CT. The APO Custom Shop offers custom reflex sight installation on premium pistols and complete special order custom rifle and pistol builds for discriminating clients.
APO manufactures a high quality line of rugged electro-optic, weapon mounts, and TACT3 field tripods. The company also distributes a wide range of rifle sports accessories from match ammunition and ballistic software to the RSTA-II Tripod Shooting System, Long Range Accuracy Bipods and Snipers Field Tool Kits. APO offers complete long range shooting system solutions and Riflesports Lifestyle Experiences.
The Rapid Product Development Center (RPDC) provides engineering design and prototyping services. The engineering services group is Solidworks® CAD based with Simulation® FEA and FeatureCam® CAD/CAM machine programming software, 3D Printer-Fused Deposition Modeling (FDM) capable, a modern CNC precision machining shop and an experienced, well trained staff.