Pevely, MO (Ammoland.com) – Heizer Defense, known for their innovative line of powerful pocket pistols, was honored to make a recent donation to the NRA Museum on Sunday, May 6 2018.
Heizer donated three PKO-45 pistols to show the progression in the development of the pistol: the Proof of Concept model, the Experimental Model with Serial #XM1 and the Production Model with Serial #1.
The donation was made on Sunday, May 6 2018 at 2pm and filmed for the Curators Corner Episode on NRA TV. The pistols were presented by Tom Heizer and Hedy Heizer-Gahn, and accepted by Jim Supica, NRA Museum Director. Phil Schreier , Senior Curator of the NRA Museum, was also present for the donation.
"We were very excited to share the PKO-45's journey and history with the NRA Museum," says Eric Polkis of Heizer Defense. "These pieces of Heizer history will now be on display for enthusiasts and fans to enjoy."
---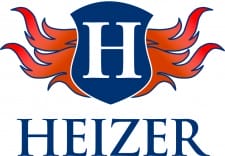 For more information on Heizer Defense, visit www.heizerdefense.com.