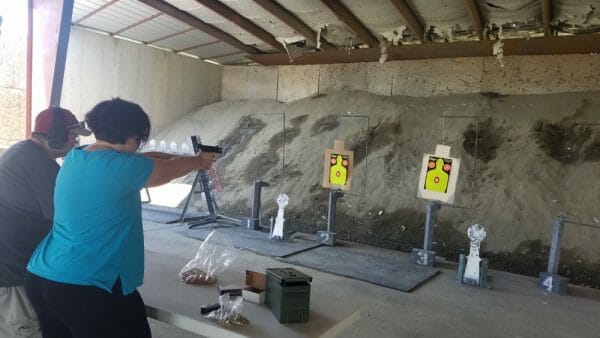 U.S.A. –-(Ammoland.com)- I was contacted by Bob Watkins of III% United Patriots of Virginia (3UPVA) to see if I would be willing to donate my time to hold a free NRA Basic Pistol class for new shooters.
His premise was simple. By holding this class for free, we could bring in people who usually wouldn't shoot, and wouldn't spend money on a shooting class. He believed if we could demystify firearms that maybe we could convert people to the pro-Second Amendment side of the debate.
I am a firm believer that getting people to shoot for the first time is one of the best ways to get people on board with the Second Amendment. I decided I would help him out and teach the class. What better way to spend a Saturday morning and afternoon than shooting and teaching others how to shoot.
Bob rented out a classroom space where the class would take place. We had about ten people show up to take the course. A quick survey found out that only two have ever shot a gun before. One was just there because her husband dragged her there because he wanted a gun. She wasn't on board with getting a gun, and neither of them has ever shot a firearm.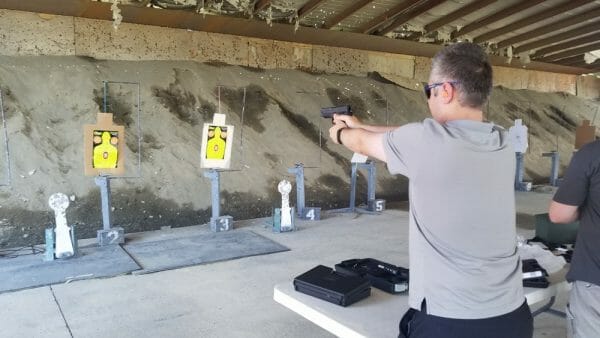 Before we even got into the NRA portion of the class, I let the guys from 3UPVA explain the purpose of the Second Amendment. There was about three of them that gave their take on why the Second Amendment is vital in a modern society. I think this take works a little better than just going over the historical merits of the Amendment.
By showing how the Second Amendment works in the modern world engages the thought process and taught the class how it is still relevant today. It was like being in church and hearing people giving testimony of their faith in their lives. There were historical references sprinkled in, but the members of 3UP used those to strengthen their stance for a modern need for gun rights.
I was inspired to share the story of my mother using a gun to fend off a home invader when I was a baby. That event was what made me such an ardent gun rights advocate. I wasn't planning on sharing the story, but I felt inspired to share it with the class. Keep in mind not everyone in the room was pro-gun.
We moved onto the learning the process. One thing I noticed with a free class is the people there were a little more intimidated by guns than the people I usually teach. After working with them, they started feeling a little more comfortable around firearms.
We did the standard NRA class training. During the breaks, I used the time to talk to the students in a lot less formal conversation about gun rights. During this time, we went over the procedures on how to buy a gun.
Most did not know about the steps that it took to buy a gun. They also were not aware that the same rules applied to dealers in a gun store applied to them at gun shows. It also seems that they thought that gun sales on the internet were entirely unregulated.
One of the most shocking thing to these new shooters was the arbitrary rules of the NFA. They couldn't figure out what made an 18-inch shotgun more dangerous than a 16-inch rifle. Also, Hollywood brainwashed them into thinking silencers made a gun totally silent. I explained that wasn't the case at all.
After the class, we headed out to the Range 82 in Midland, VA. Lee, the owner of Range 82, was totally on board with the plan to teach new shooters how to shoot to convert them into Second Amendment defenders. He is a staunch Second Amendment supporter and loved the idea.
At first, I could see how nervous that the new shooters were at the range. Back in the classroom, they felt relaxed practicing the skills they learned. Here, it was for real.
Instead of starting them out on a 9mm. I broke out my Smith & Wesson M&P 22c. I picked the most anti-gun person there that was dragged by her husband to a gun class. I figured she would be the biggest challenge I would have to convert.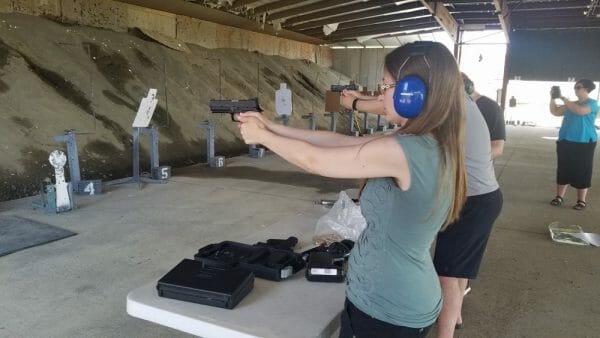 I walked her through loading the .22LR and putting the gun into battery. We worked on her grip and sight alignment. I walked her slowly through squeezing the trigger, and then it happened.
The gun went bang. The nervousness that was evident in the expression on her face disappeared and a huge smiled replaced the nervous look. Another round went off, then another. Every time her confidence grew.
She looked at me and said, "I like this!" She returned to firing.
One by one the students went through firing the .22LR handgun. One by one I could see them grow more confident with every shot. The object that was so scary in their minds was now demystified. They started to realize that guns are tools and not some evil killing machines.
Every time we took a break to replace a target, or for me to explain something I would throw in their little pieces of information that the nightly news isn't teaching them. Whether it was how often gun saves lives or the origin of the term "Assault Weapon," I wanted to pull back the curtain of the corrupt anti-gun media.
We moved up to the 9mm pistols. Being new shooters, most thought that the 9mm guns were going to have a massive kick. I could see them flinch a little bit before even pulling the trigger. I explained that they need to let the recoil be a surprise.
Their aim started to improve. More than that though, they were more comfortable handling a gun. They were still practicing all aspects of gun safety that was drilled into them all day, but they also were not as intimidated by the firearms. I left them with a strong respect for the gun.
We moved onto revolvers. Our "anti-gunner" absolutely fell in love with revolvers (and the Glock 19). Although at this point I couldn't call her an anti-gunner anymore. She was now on board with her husband getting a gun.
More than just letting her husband get a gun, she wanted her own gun. She was just trying to decide between a Glock 19 and a revolver. Her eyes were now open, and she is even seeking out more training classes.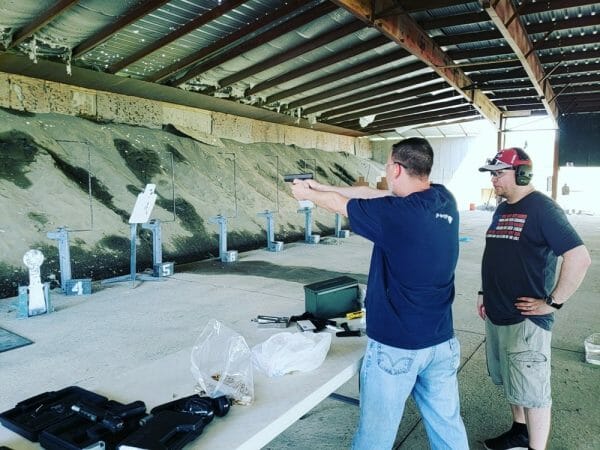 Bob's idea worked. 3UPVA wants to hold a free class once every three months in Northern Virginia and are looking to expand it to other parts of The Commonwealth. I think it worked so brilliantly here I would like to see other groups try it in their states.
For about $300 in ammo the return investment is well worth it.
3UPVA website is http://www.3upva.com
Range 82 website is http://ww.w.range82.com
---
About John Crump
John is a NRA instructor and a constitutional activist. He is the former CEO of Veritas Firearms, LLC and is the co-host of The Patriot News Podcast which can be found at www.blogtalkradio.com/patriotnews. John has written extensively on the patriot movement including 3%'ers, Oath Keepers, and Militias. In addition to the Patriot movement, John has written about firearms, interviewed people of all walks of life, and on the Constitution. John lives in Northern Virginia with his wife and sons and is currently working on a book on the history of the patriot movement and can be followed on Twitter at @crumpyss or at www.crumpy.com.