USA –-(Ammoland.com)- We just got back from the 2018 National Rifle Association Annual Meeting in Dallas, Texas. If you haven't yet been to one, the event is part product expo, part leadership speeches and conference, part education, part business, and a whole lot of fun.
It's the only gathering of 80,000 or so people where folks are overly polite and respectful to each other.
This year was no different. Even though Friday was chock full of the chaos associated with visits and speeches from both the President and Vice President, things were calm, cool, and collected.
To share just a small taste of the event, here are a couple of things that peaked our interest.
NoRA ("No Rifle Association") Protesters
Hollywood decided to show up, and in their own words, their objective was simple: to give awards to each other.
But seriously, their written goal was this: "We're going to show up at the NRA convention in Dallas and make them wish they stayed home."
Umm, OK. Apparently, the group led by Alyssa Milano, Alec Baldwin, Jimmy Kimmel, Ashley Judd, Patton Oswalt, and Julianne Moore to name a few of the "non-partisan" organization members believes that the NRA is a terrorist organization, so they decided to arm up and do battle by ……. holding a protest several blocks away while being bravely protected by armed guards. Shocked by the hypocrisy? Me either.
Oh, one more thing. If anyone actually knows who the hell Alyssa Milano is, there's no need to bother letting me know. I don't really care, and I'm sure you have plenty of better things to do!
Beretta APX Compact and Centurion
Beretta designed the new APX striker-fired pistol to compete in the Army Modular Handgun System trials a year or so ago. It's a nice pistol with some new features. This year, the company is expanding the line to better serve the armed citizen and concealed carry markets with the introduction of the Compact and Centurion models.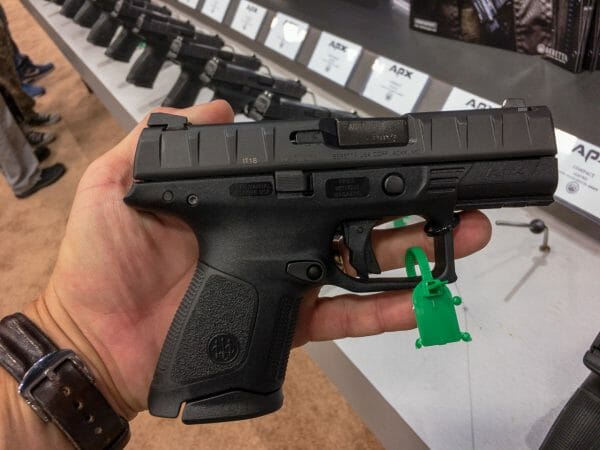 Both the Centurion and Compact have a barrel length about a half-inch shorter than the full-size APX (3.7" vs. 4.25"). The difference between the two new models lies in the overall height. The Compact has a shorter grip and height of 4.8 inches. I couldn't quite get a full grip on this shorter grip – my pinkie finger was partially on the front strap and partially below. The Centurion has a bit more space in the area, and I got a comfortable grip with no "extra" grip space below my pinkie finger. Accordingly, the capacities of the 9mm pistols vary by two with 13 for the Compact and 15 for the Centurion. Both models are also available in .40 S&W.
Beretta 92 Elite LTT
My first centerfire pistol was a Beretta 92FS, so I've always had a soft spot for that large, fat, relatively light, but exceptionally soft-shooting 9mm. Over the years, there have been a string of 92-series variants like the M9, M9A1, M9A3, Centurion, and Brigadier just to name a few.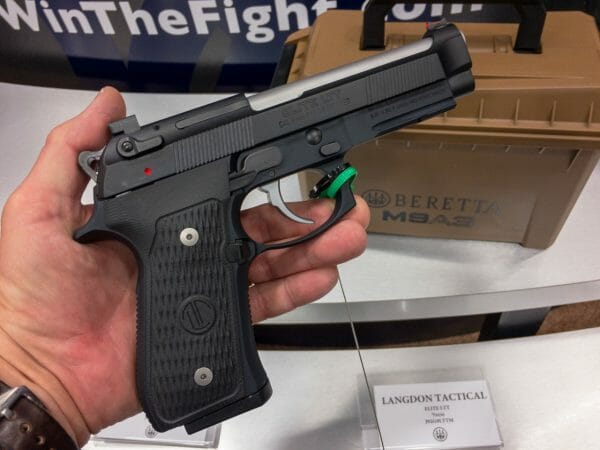 New this year is the Elite LTT model. It's a super-souped-up Model 92 that's simply gorgeous. Better yet, it's chock full of pure performance upgrades designed by Beretta guru Ernest Langdon. It uses an M9A1 frame but adds thin G10 groups with an all-new texturing pattern. They're fantastic. The barrel is stainless with a target grown, and the sights are all new as well. The front is a dovetail mounted fiber-optic which is effective on its own, but if you want something different, it's easy to replace. The rear sight is a black notch with serrations on the back to reduce glare and help your eye focus on the front sight. You'll also see the familiar frame mounted lever, but unlike the original 92s, this one is not a combination decocker and trigger disconnect, it's a decocker only. When you decock the pistol, the spring-loaded lever flips back into the ready-to-fire double-action position. I like that.
Smith & Wesson's claim for this new pistol is that it's supposed to be easy to use for personal or home defense. After checking it out at the booth, my take on the "easy" part is this. The .380 ACP chambering means that operational features like racking the slide require less spring power. As a result, slide manipulation for loading and clearing malfunctions is effortless. That can be a pain on small 9mm and larger compactg pistols. I didn't get to test this, but the company claims that loading the magazines is easier too. With a relatively low-recoiling caliber, handling won't be challenging or abusive to the shooter and the M&P 380 Shield EZ is large enough to get a proper grip. That will also help with controlling what recoil there is.
There's a new addition of a grip safety. Presumably there to provide extra security for concealed carry, I found it unobtrusive, and it's aggressive enough that it will engage without extra effort. I wasn't able to find a grip that didn't operate the safety without conscious effort. The trigger is soft and decent. It's not a "glass rod" break, but it noticeably better than the triggers of original M&P models. You can order the EZ with or without an ambidextrous safety if that's your preference.
I've been using a MantisX training device for about a year now and have found it to be the single best tool to improve the quality of your hold and trigger press skills. The rechargeable unit mounts on a forward rail and detects movement before, during, and after a shot. It works when dry-firing or when using live ammo at the range. Using Bluetooth, results are beamed to your smartphone where you can see results in a numerical score and graphical form.
The company has been updating the software to offer structured drill and tracking of your performance over time. Consistent with that initiative, you can now buy magazine adapters. These allow you to mount the MantisX on the bottom of the magazines. You no longer need a pistol with a rail. Better yet, the MantisX doesn't interfere with holster use in the baseplate position so that you can add full draws to your training program.
If you want to take your trigger control (and therefore accuracy) skills to the next level, check this system out. Highly recommended.
Lyman Cyclone Case Dryer
If you're a reloader who has jumped on the wet tumbling brass cleaning method, take a look at the new Lyman Cyclone Case Dryer. I've been using a Wally Mart food dehydrator, and while it works, it's full of annoyances. There are holes in the center of the trays for airflow and cases tend to fall all the way through to the bottom. The grates are also shaped for larger pieces of food instead of brass cases, so cases fully or partially fall through the plastic mesh as well.
The Lyman Cyclone isn't repurposed from a jerky making machine; it's all designed specifically for brass cases. No holes in the trays and the "mesh" is sized to work well with a wide variety of cartridge sizes. I'm getting one ASAP.
In with Oliver North
In a shift that surprised many, current NRA President Pete Brownell indicated that he would not be able to serve a second one-year term due to a need to focus on his family business. The new President is none other than Oliver North. Sounds like a great choice to me as there are few as adept at taking flack and returning fire with great effect. We wish him the best in his new endeavor.
Those are just a few of the thousands of news bytes from the National Rifle Association 2018 Annual Meeting. Next year the event will take place in Indianapolis. If you haven't been to an NRA AM, check it out.
---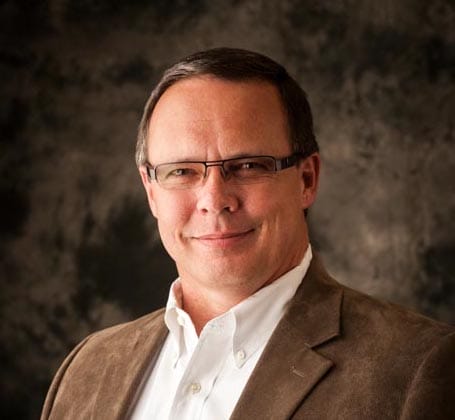 About
Tom McHale is the author of the Practical Guides book series that guides new and experienced shooters alike in a fun, approachable, and practical way. His books are available in print and eBook format on Amazon. You can also find him on Facebook, Twitter, Instagram and Pinterest.