U.S.A. –-(Ammoland.com)- Hog hunting can be fast-paced – with moving targets in tight quarters. Savvy hunters put the odds in their favor by using a shotgun to provide several advantages for success.
A shotgun is designed to be pointed and swung on a target, requiring quick reaction times. Using a shotgun can be the difference between taking home multiple hogs, or just one.
Trulock introduced its new Boar Blaster choke tube two years ago, and users have found the device pays for itself in hams and chops. The Boar Blaster was designed with a new type of forcing cone, providing on-target accuracy to 40 yards and beyond.
The design uses five parallel steps leading into the parallel section and gives tighter patterns with every brand of 00/000 buckshot the engineers could get their hands on. The result was patterns that consistently grouped pellets 20 percent tighter at 40 yards.
Buckshot in sizes "00 and 000", are more than adequate to bring down even the biggest hog. Shotshells pattern differently because they shoot at different velocities and have different pellet counts as in 2 ¾ and 3-inch shotshells. As a rule, Boar Blaster extended chokes with a constriction of .030 consistently provided the tightest, uniform patterns.
Patterning any shotgun with a variety of shot options is the best way to dial in for greatest accuracy. Assorted brands will perform differently, and the one that is most consistent in your gun, with the Boar Blaster choke, will put the smackdown on hogs when you pull the trigger.
To reduce recoil and decrease the recovery time for a second or third shot, consider using the 2 ¾-inch loads. Boar Blaster engineers noted that even though there are fewer pellets in 2 ¾-inch loads, there were consistently more pellets in the kill zone when using the Boar Blaster choke compared to other choke full choke results. The best advice-shoot and compare different loads-to find tighter patterns for quick kills.
Boar Blaster choke tubes are available to fit most popular 12-gauge shotguns. For more information visit here.
Availability includes:
Beretta and Benelli Mobile style choke BBBER12SPL
Benelli Crio Plus style chokes BBCRP12SPL
Browning Invector, Winchoke, Moss 500 style choke BBWIN12SPL
Browning Invector Plus style chokes BBIP12SPL
Rem Choke style chokes BBREM12SPL
---
About Trulock Chokes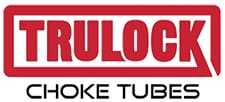 The staff at Trulock Chokes prides itself on providing excellent service and an excellent line of products. In the event you are not completely satisfied with your purchase you can return it for a refund or exchange within 60 days from the date of purchase – with other firms, the moment you open it, you own it.