When I began this article I realized that I have never professionally reviewed a .380 ACP pistol. It would be safe to say that my interest in the cartridge, until this point, had been somewhat academic in that I have spent a great deal of time looking into how the .380 influenced the design of other cartridges. All that changed when I wrapped my hands around the tiny, deadly Emperor Scorpion Sig P238.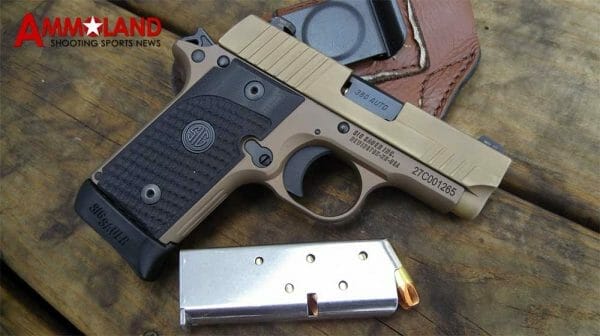 U.S.A. –-(Ammoland.com)- As you may have gathered in my opening paragraph, I am somewhat new to shooting the .380, but am not new to knowing it. In the last few years, I have looked at several up-and-coming cartridges and what they offer to the shooter, reloader, and consumer at large. The thing that interested me most was that the common denominator was that lightweight, ease of use, and low recoil were all major factors in the popularity of a given cartridge.
If you have been reading my .300 Blackout weapon and ammo series here on AmmoLand, you will know that I think that low speed pushes innovation in that there is more performance ground to cover and less power and speed to do it. It is this reason that I take particular interest in the .300 Blackout and now have taken a shine to the .380 ACP.
The thing about the .380 is that it, probably more so than other calibers, has introduced significant demographics of individuals, particularly women and newbies, to the world of concealed carry. The lightweight of the guns that chamber .380 are a big contributing factor and, unlike larger and more powerful guns, are easy to carry. It may come as a surprise to some of the macho dudes reading this, but it isn't comfortable or convenient for most people to carry a full-size 1911 or even a Glock 19, where something like the Sig Sauer P238 Emperor Scorpion is.
This brings us to the gun itself. I have been a Sig fan for many, many years and have been fortunate enough to try some of their most advanced weapon systems at ranges past 1,000 yards. The company continues to advance and push forward despite harsh press criticism, armchair disparagement, and YouTube bashing. Here is what I will say about what Sig makes: I'm a professional writer, competitor, and product evaluator. If you're not willing to push the limits like Sig is doing, you're going to get left behind. I would rather have Sig make corrections and continue innovating than to sadly stagnate or attempt diversification like so many others in the industry. I tested one of Sig's largest weapons, the .308 Win 716 DMR, last year and now have tested their smallest offering in this article.
All that said, the Emperor Scorpion P238 model is pure reliability and class. Oh, and it's accurate. Very accurate. The first thing that you will notice about the gun is the attractive black-and-tan appearance. The FDE color comes from a rugged PVD finish and hardcoat anodizing. The frame material is alloy while the buttery-smooth slide is stainless steel. The black G10 grips have an aggressive Piranha texture and aren't sharp or pointy like some I've seen and tested. The controls of the gun are also finished tastefully in black.
The handling characteristics of the weapon are of supreme interest to me in that they are very friendly to small hands and weak grips. The problem I see with so many guns out there is that they are not user-friendly to women, the small statured, and the disabled. Pulling the slide to the rear takes very little effort. I had several women and girls fire the gun and they all commented on the ease of use and low recoil- but more on that recoil later.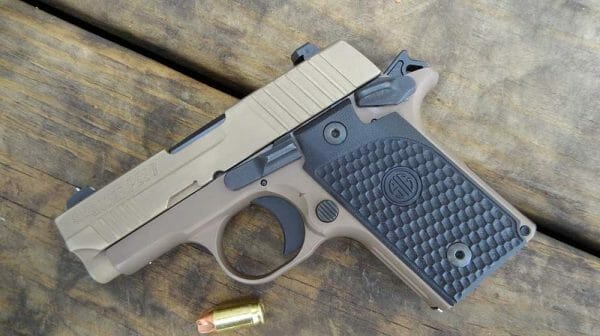 In addition to the easy to use and very, very smooth slide, the gun features a safety that does not lock the slide like on a 1911. The weapon can on safe and still pull the slide to the rear to unload the gun. This is a handy feature that I have found beings great peace of mind to those who I've talked to about this gun.
Firing is extraordinarily easy and the pistol has a very nice single-action trigger. The sights that come standard on the Emperor Scorpion P238 are SIGLITE night sights and yes, they are very bright. The nice, crisp trigger and easy to pick-up sights make for a great day at the range. There is almost no recoil to this little piece and, although it isn't quite like shooting a .22LR, it is eminently controllable and allows a constant sight picture.
I fired about 550 rounds of various brands of ammunition through the gun during my testing. During this testing, I experienced no malfunctions or failures of any kind. Honesty, the reliability and accuracy that the gun had to offer was outstanding. I wasn't expecting such an enjoyable shooting experience after having shot a great number of small guns, but this one really took the cake for me.
The chronograph data was obtained using an Oehler 35P at 45 degrees Fahrenheit while six feet from the muzzle. Accuracy is an average of three, five-shot groups at 15 yards from a rest.
| | | |
| --- | --- | --- |
| SIG SAUER 90gr V-CROWN | 987fps | 1" |
| Hornady 90gr AG XTP | 902fps | 1.25" |
| Hornady 90gr CD FTX | 923fps | 1" |
| Black Hills 60gr Honey Badger | 1100fps | .85" |
| Lehigh 65gr Xtreme Defense | 1170fps | .70" |
The accuracy I was able to get out of this little gun and its 2.7" barrel was extraordinary. It was so accurate that I walked it out to 25 yards and shot my 10" steel plate from standing. The thing was an absolute tackdriver. I was so impressed that I again sat down on a rest and shot paper at 25 yards, which yielded an amazing 3" group for five shots with Lehigh 65gr Xtreme Defense loads. The gun just wants to shoot and it is so enjoyable that it is easy to blast through box after box of high-quality ammo without realizing it.
There is really no brand I tested here that I wouldn't recommend. The ammo in my magazines right now? Lehigh or Black Hills in my gun and Sig or Hornady in my spare mag. It's all so good and easy to shoot that I really wouldn't flinch at carrying anything I tested.
So what I do I think of the .380 cartridge?
I hear quite a bit about the .380 round is underpowered or 'not enough for a crackhead', but I think that these things are unwarranted. A .380 in the belt is better than a .44 Magnum at home and I would absolutely prefer to have this gun than nothing at all. In fact, I've taken to carrying it instead of my more powerful options like my .38+P because of the low recoil and advanced ammo. The new, solid bullets made by Lehigh (and used in Black Hill's Honey Badger line) are huge in terms of performance and penetration ability. I will be testing these bullets across my articles as time goes on and evaluate the penetration abilities and accuracy across calibers, especially the .380ACP.
I have been carrying the Emperor Scorpion P238 for several weeks now in a custom lambskin holster and it has shown no signs of wear on the PVD finish. Going about my day with a gun that weighs about a pound loaded with eight rounds is a new experience for me and I discovered that I couldn't allow this gun to go back to the manufacturer.
There aren't many guns that I put my own money into and, friends, this is one that I will heartily recommend to anyone reading this.
If you find yourself fatigued by your big, heavy carry gun or not carrying at all because of your circumstances, I urge you to go to your local gun store and put your hands on one of these Sig Sauer pistols. If you have a wife, daughter, or girlfriend that is scared off by how hard your guns are to use, introduce them to the Emperor Scorpion P238. This gun is so easy to use and safe to handle that it could be the difference between life and death for those frustrated by other carry options.
For all my knowledge and research into guns and ammo, nothing is as good a teacher as experience. Be on the lookout for more .380 research from me in the future. Because of the Sig Sauer Emperor Scorpion P238, I am on the .380 train and there appear to be no brakes.
Special Thanks to:
Sig Sauer
Hornady
Lehigh Defense
Black Hills Ammo
---
About Josh Wayner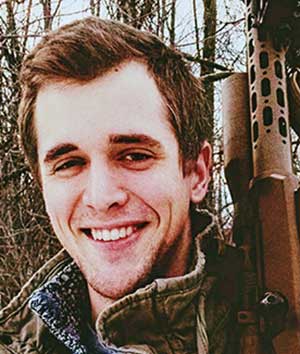 Josh Wayner has been writing in the gun industry for five years. He is an active competition shooter with 14 medals from Camp Perry. In addition to firearms-related work, Josh enjoys working with animals and researching conservation projects in his home state of Michigan.