GREELEY, Colo. —-(Ammoland.com)- Steiner Optics will bring the newest additions to its expanding line of tactical, military, marine and hunting optics to the 2018 NRA Annual Meetings and Exhibits, which runs May 4-6 at the Kay Bailey Hutchison Convention Center in Dallas, Texas.
Attendees who stop by booth (No. 6816) have an opportunity to preview Steiner's new S-Series Battle Sights, designed for easy and rapid target engagement, as well as the new TOR line of pistol laser sights and flashlights. The P4Xi, Shooting Illustrated's 2018 NRA Golden Bullseye Optic of the Year will also be on display.
Steiner's latest hunting specific riflescope, the H4Xi, and LRF 1700 range finding binoculars will be available for attendees to try out. The H4Xi features high-contrast optics with light transmission greater than 90 percent and an illuminated reticle.
Also viewable is the new M7Xi, the latest advancement in the successful M-Series line of military grade optics, which included the widely popular MX5i.
For more information about the 2018 NRA Annual Meetings and Exhibits, exhibitor map and other information, go to http://www.nraam.org.
Follow Steiner on social media, including Facebook at www.facebook.com/SteinerOpticsUSA and Instagram at @SteinerOpticsUSA.
---
About Steiner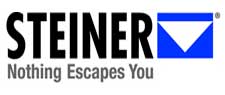 For 70 years, Steiner has made trusted optics for life's defining moments. The successful pursuit and capture of these moments demands the fastest and precise detection, location and identification of a distant objective. Weather the objective is wildlife, marine bearing, law enforcement or military combatant, Steiner products enhance an individuals most important sense, vision, so that on land or sea – Nothing Escapes You. For more information, visit the company website at www.steiner-optics.com.