U.S.A. –-(Ammoland.com)- A Democrat running for the House Seat in the Virginia 10th Congressional District released a video to show how easy it is to buy an "assault rifle" without a background check at a gun show.
Dan Helmer, a U.S. Army veteran, posted a heavily edited video of him at the "Nation's Gun Show" held at the Dulles Expo Center in Chantilly Virginia. It appears that Helmer used a hidden camera to document the exchange.
The "assault rifle" Helmer purchased was an AR-15. Being military, he should know the difference between a modern sporting rifle and an assault rifle (select fire weapon such as an M4). Helmer claims that the AR-15 is a weapon of war even though no military uses the AR-15 as their battle rifle.
Helmer edited the video in such a way that it makes it look like he purchased the rifle from a dealer. Dealers at gun shows are legally required to perform background checks on all their customers. If Helmer did buy the gun from a dealer without a background check, that dealer would be committing a crime. Ammoland once again reached out to Helmer to see if he purchased the firearm from a dealer or a private seller. Helmer refused to respond.
Another question Ammoland asked Helmer is that if he did purchase the firearm from a dealer why didn't he report the sale to the Virginia State Police which is on site of the "Nation's Gun Show." Helmer once again did not respond to our questions. Ammoland reached out to Virginia State Police, and they were unaware of any illegal sales that took place at the "Nation's Gun Show."
Ammoland also requested the raw uncut video from Helmer, but he is not releasing the uncut video to any media outlets. Much like the left's accusations against "The Veritas Project", it seems like Helmer could have used deceptive editing techniques in producing the video. Ammoland asked a video editor from Discovery Networks to take a look at the footage for their take on the editing.
The editor wants to remain anonymous for fear of reprisals at their work environment. They stated that the number of jump cuts (a scene with parts cut out) in the video would point to deceptive editing techniques. Using jump cuts in a video allows the video editor to display someone out of context easily. They stated the person who edited the video was not a professional due to the lack of properly using transitions.
The same video editor seems to think that Helmer might have used the term "assault rifle" incorrectly to garner a more significant effect.
"You can see he is making a conscious effort to use the term," they told Ammoland. "At the end he catches himself saying just 'rifle', so he quickly restates it as 'assault rifle.' I see that all the time when editing reality shows."
Helmer claims he rendered the rifle inoperable and will hand it into local law enforcement. He did not respond to any questions on how he made the gun unusable. Earlier the year another politician tried to make a rifle inoperable, but actually turned it into an NFA controlled short barreled rifle. This question is just one of many that he refused to answer for Ammoland.
There are many unanswered questions.
At the time of this writing, Helmer refused to answer anything Ammoland asked him.
---
About John Crump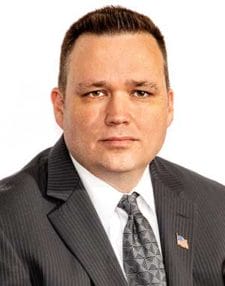 John is a NRA instructor and a constitutional activist. He is the former CEO of Veritas Firearms, LLC and is the co-host of The Patriot News Podcast which can be found at www.blogtalkradio.com/patriotnews. John has written extensively on the patriot movement including 3%'ers, Oath Keepers, and Militias. In addition to the Patriot movement, John has written about firearms, interviewed people of all walks of life, and on the Constitution. John lives in Northern Virginia with his wife and sons and is currently working on a book on the history of the patriot movement and can be followed on Twitter at @crumpyss or at www.crumpy.com.