Weldon Spring MO. – -(Ammoland.com)- Custom Metal Products, manufacturers of high-performance AR500 Steel Shooting Targets announces a sponsorship with Peacemaker National Training Center (PNTC). Custom Metal Products and Peacemaker share a combined drive to continuous improvement which makes this partnership a perfect fit for both.
"We are very excited to join forces with Peacemaker and support the wide variety of matches at PNTC" said HR Eddens, President of Custom Metal Products. "We are looking forward to working with PNTC on developing new target systems for Precision Rifle Series, Action Pistol, Multi-Gun, and the NRA World Shooting Championship."

Jennifer McCulloch of Peacemaker National Training Center stated, "Peacemaker is proud to announce the addition of Custom Metal Products (CMP Steel Targets) as a complex sponsor and the official target provider for PNTC. At Peacemaker, we continuously work to innovate our competitions, training and recreational experiences. CMP Steel Targets not only brings a great set of new targets to PNTC, but will develop new targets to meet our many needs in long range, rimfire, action shooting, NRA sports and multi-gun. We look forward to working with the CMP team to develop a new and unique experience for both recreational and competition shooting at PNTC."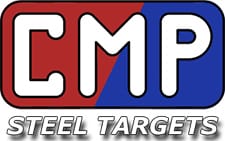 Custom Metal Products is a full-line manufacturer of AR500 hardened steel shooting targets for competition, recreational, law enforcement and military use. Our American made products include IDPA, IPSC, Dueling Trees, Gongs, Swingers, Hostage, Sniper, and Cowboy Action Targets. View all of our product details, including videos at www.CustomMetalProd.com or join the ongoing conversation on Facebook, Twitter, Instagram.
Peacemaker National Training Center is a DCJS approved facility and is also the most dynamic shooting sports complex on the east coast. PNTC's mission is to provide the responsible law abiding citizen with a world-class place to safely learn and practice the various legal disciplines of the shooting sports. PNTC typically holds more shooting competitions than any other facility, to include the NRA World Shooting Championship, as well as training classes and clinics for beginning shooters to professional competitors, as well as military and law enforcement agencies. PNTC is also a proud sponsor of HAVA, the Fisher House Foundation, Wreathes Across America, the Lost Brigade and MCSF. PNTC constantly strives for excellence in all that we do and we feel that Custom Metal Products (CMP Steel Targets) is the perfect to provide the best and most innovative steel target systems in the industry.