Bend, Ore – -(Ammoland.com)- Nosler Inc. has announced a new addition to the company's popular firearms lineup with the release of their M48 Nosler Custom Handgun (NCH), a modern bolt-action pistol for enthusiasts seeking the utmost in function, design and performance from a handgun platform.
Designed from the ground up by the engineers at Nosler with input from some of the most successful handgun hunters alive today, the NCH utilizes Nosler's rugged M48 short action, sharing all of the same features that have made their Model 48 series of rifles a continued success.
"Over the last 40 years, I have shot every conceivable configuration of single-shot handguns, including high-end custom rigs. The new Nosler handgun will keep up with the very best of them" said Mark Hampton, renowned handgun hunter and writer. "In my experience, I have found this pistol to be extremely accurate, well-designed and user-friendly. The NCH will be most welcome with handgun hunters, target and steel shooters, or anyone looking to add an exciting dimension to their shooting experience."
Featuring an overall weight of 5.9 pounds, the M48 NCH is precision CNC machined from a single billet of 6061-T6 aircraft grade aluminum. The one-piece design of the aluminum mid-grip stock provides a completely rigid platform for the bedded action and free-floated barrel. The 416R stainless steel, heavy-contour Shilen barrel comes in a standard length of 15" with shorter or longer lengths of 12"-18" available upon request. Additionally, the barrel has been threaded at the muzzle for brake and/or suppressor options.
The Trigger was designed in-house at Nosler and is a manufactured 2-stage trigger that is fully adjustable for pull weight, engagement and over-all travel. The accompanying safety, also designed and manufactured in-house, is a push style cross-bolt style that positively blocks trigger movement.
Options and customizations allow the owner to make their NCH™ unique to their own personal taste and style, with choice of barrel lengths, Cerakote colors, optional muzzle brake, fluted or non-fluted barrel, as well as caliber. The NCH is entirely coated in NIC Industries Cerakote® finish and is available in a variety of standard colors options, however, customers have the option of selecting their own from the Cerakote® color library. The barreled action and stock are coated separately, allowing for two different color choices and over 4,750 color combinations. Additionally, the NCH™ was designed to accept standard AR-15 grips allowing the owner to choose from a wide variety of aftermarket grips to further customize the look and feel of the handgun to their liking.
The NCH is available in a variety of short action calibers well-suited to varminting, silhouette shooting, and hunting big game with initial offerings in 22 Nosler, 24 Nosler, 6mm Creedmoor, 6.5 Creedmoor, 7mm-08 Remington and 308 Winchester.
For more information on the Model 48 Nosler Custom Handgun or to start building yours today, visit www.nosler.com/nosler-handgun
---
About Nosler: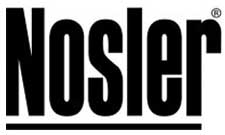 Founded in 1948, Nosler, Incorporated is a family owned company located in Bend, Ore. Nosler is most known for revolutionizing the hunting bullet industry with bullets such as the Partition, Ballistic Tip, AccuBond, E-Tip and most recently the AccuBond LR. With the company motto of "Quality First," Nosler manufactures premium component bullets, reloading brass, ammunition and semi-custom rifles for domestic and international customers making Nosler a comprehensive shooting products company. Nosler products are used worldwide by discriminating hunters, shooters, military and law enforcement professionals and sportsmen.
For more information, visit: www.nosler.com.