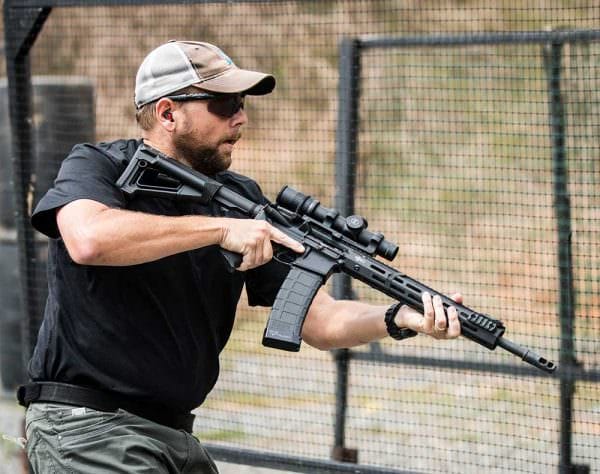 GREELEY, Colo. —-(Ammoland.com)- Burris Optics and Competition Dynamics are once again hosting the legendary Burris Team Shooting Challenge, June 22-24, at Douglas, Wyoming. Spots are still available for teams to sign up but are filling up fast.
The shooting match is an extreme test of physical endurance and practical field shooting of rifles, carbines and pistols with supporting activities. Two-man teams will be required to navigate rugged desert and mountainous terrain while locating, ranging and engaging rifle, carbine and pistol targets from compromised shooting positions under time constraints. Partners must also demonstrate proper communication skills with each other and the range officers.
Live fire demos, side matches, zero check and team check-in is set for Thursday, June 21 with a mandatory shooters meeting set for 1700. Online registration ends at 2359, June 20.
The match consists of teams doing three field hikes (long) and six discrete/timed stages. The field hike stages involve significant movement on foot while engaging rifle, carbine and pistol targets. The discrete stages will engage similar targets with a shorter hike but will be scored based on time spent plus penalties.
"This has got to be one of the toughest but most fun matches I have ever shot," said Hoser Freeman, a past competitor of the Burris Team Challenge. "Trying to find that wall of how hard to push movement and still being able to settle in to shoot was a great challenge."
To sign up and learn more about the 2018 Burris Team Challenge visit competition-dynamics.com/team-challenge-2018.
Follow Burris on social media, including Facebook at www.facebook.com/BurrisOptics and Instagram at @Burriscompany.
---
About Burris Company, Inc.

Founded in 1971 and headquartered in Greeley, CO, Burris Company offers a complete line of premium optics, including riflescopes and sights for hunting, competition, and law enforcement; plus handgun scopes, binoculars, spotting scopes, mounts and accessories. For more information on the complete line of Burris products, visit BurrisOptics.com.