Tom reviews the CRKT TSR Terzuola Survival Rescue Knife.
USA –-(Ammoland.com)- I'm not a prepper or survivalist but, I am up in the mountains a lot I guess so that means I have to be prepared at all times.
So wherever that places me on the chart so be it. My wife and I were up camping last week. Came home, shot in a few articles and then tomorrow I'm headed back up backpacking by myself for a few days and then will come home and take my wife fishing the next day down in the Owyhee's, which is borderline desert country. So the CRKT TSR Terzuola Survival Rescue (TSR) knife that we're going to discuss today fits into the world that I live in.
I don't carry big Rambo type of knives. I guess mainly because they're bulky and too heavy and I don't know what they can do for me that a 4-inch blade can't do. So that's a little bit of the background that I'll be coming from. Not a right or wrong. I have a lot of buddies that do like big bladed knives.
In my world, I'd use this knife for a survival/rafting/camping knife. I love folders and use them 99% of the time. But when boating/rafting I like to have a straight blade handy so I can cut loose an anchor in a panic situation, rope or if hung up life jacket. Just a two years ago I was rafting with a guy that makes rafts to get him some publicity. He told me the story of how his buddy had flipped and got swept under a log. His life jacket hung up on some snags. Luckily he was a big man and strong enough to rip it lose. He told me that story right after I got swept backward into a log that had fallen across the river. Things can happen fast on mountain rivers.
So with that said, I like to carry a straight bladed knife in a Kydex sheath for easy access in the above instances. The CRKT TSR Terzuola Survival Rescue sheath comes with a Tek-Lok attachment. They are very popular. You can use them to attach the knife to your belt or a lot of people like to strap their knife to their backpack or life jacket for fast access. A Tek-Lok makes it simple to do so.
The knife itself is somewhat of a drop point but they put a long sloping grind on the spine so it has a definite point, which I want. The blade is 4 ¼-inches long. The lanyard is a piece of parachute cord which you can use for various purposes or to tie the knife to a stick to make a spear. Between the handle and the cutting edge is a hole. So utilizing that hole and the one in the hilt for the lanyard you could tie it securely to a stick to make a spear.
The handle unscrews and can be rotated to reveal a hidden compartment that holds some fishing line, fish hooks, needle and thread. I used to wonder why people carried a needle and thread. And then. I was on a backpacking trip by myself and my pants got ripped. By the time I came out, they were shredded. That could have been prevented if I had been able to repair them the first day.
The sheath has some added features as well. It has a ceramic rod on one edge for sharpening your knife and on the other edge a magnesium rod to help build a fire. It also has a small piece of parachute cord woven into it. It also has a reflective stainless-steel plate on back for signaling. If you've ever been stuck somewhere waiting on Search & Rescue to come to find you then you know how valuable this could be.
So I like the knife and it will work for what it is designed to do. The only downside that I've found is with the scabbard. My knife fits super loose in it so it could fall out in a wreck. I used my trigger pull gauge and it only took 1-lb. to pull it out.
CRKT TSR Terzuola Survival Rescue Knife SPECS:
Blade Length 4.350″
Blade Edge Plain
Blade Steel 8Cr13MoV, HRC 56-58
Blade Finish Satin
Blade Thickness 0.115″
Weight 4.3 oz
Handle Glass Reinforced Nylon
Style Fixed Blade Knife w/Sheath
Sheath Material Sheath – Glass Reinforced Nylon, Black; Cord – Nylon, Black
Overall Length 9.25″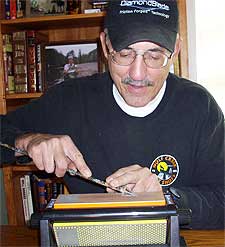 About Tom Claycomb
Tom Claycomb has been an avid hunter/fisherman throughout his life as well as an outdoors writer with outdoor columns in the magazine Hunt Alaska, Bass Pro Shops, Bowhunter.net and freelances for numerous magazines and newspapers. "To properly skin your animal you will need a sharp knife. I have an e-article on Amazon Kindle titled Knife Sharpening for $.99 if you're having trouble"
Some of the links on this page are affiliate links, meaning at no additional cost to you, Ammoland will earn a commission if you click through and make a purchase.