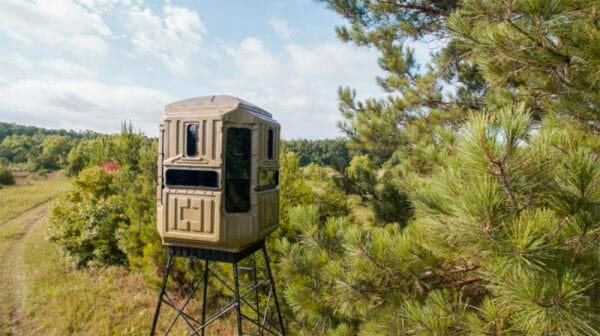 USA – -(Ammoland.com)- Serious hunters want every Advantage they can get. The Advantage Hunting Dual Threat Bow/Gun Combo Blind offers several including a means of comfortable concealment to make you a more effective and more successful hunter, whether hunting with gun or bow.
The n, tural tone of the light brown exterior helps blend your blind into any environment, while the black interior reduces your visibility to outside eyes. These features, combined with the heavy-duty polyethylene shell, folding gasketed polycarbonate windows and gasketed full-size door protect you from wind, rain, sun, and insects while further masking your movement, sound and odor. All this makes it less likely the keen eyes, ears, and noses of the game you hunt will know you're there. That means you'll see more game and have more opportunities.
Securely protected from the elements, you will also be more comfortable. As a result, you will be inclined to spend more time in the field and see even more game. You need not worry about missing an opportunity. The folding gasketed windows and corner viewing windows offer a full 360 degrees of visibility so you won't be taken by surprise, or limited in your shot angles.
That applies to bowhunters as well, who will benefit from the extra large vertical bow windows on each corner and 7-foot height clearance that allows you to shoot from a standing position.
Advantage Hunting's Dual Threat Bow or Gun Combo Blind SPECS:
2-Person Full Door
SIZE: 26.5 Sq. Ft.
60″W x 60″D x 94.5″H
WEIGHT: 235 Lbs.
CAPACITY: 500 Lbs.
DOOR SIZE: 35″W x 55″H (Trap Door Optional)
HEIGHT CLEARANCE: 7 Ft.
Lightweight materials and a through-bolt design with interlocking corners make for easy transportation. Yet the heavy-duty polyethylene shell and rot-proof, double-wall polymer floor are virtually maintenance free and will last indefinitely.
Whether your blind is placed directly on the ground or elevated on a Quadpod, you can set it and forget it. Polycarbonate folding gasketed windows and a gasketed two-person full-size door with a three keyed locking door handles keep out the unwanted and undesirable elements, ensuring your blind and its contents remain safe and secure.
For more information on Advantage Blinds' models, options, and accessories, check out https://www.advantagehunting.com/products.
For more information, please visit www.AdvantageHunting.com
---
Advantage Hunting Blinds are the leaders in rigid, portable, lightweight, scent-proof blinds. Our blinds are so technologically advanced in function and design that you can enjoy hunting more successfully and comfortably with less maintenance.
For more information, please visit www.AdvantageHunting.com