U.S.A. –-(Ammoland.com)- As long as I can recall, seeing an AR-10 pattern rifle come out of the box with better than one-MOA accuracy with match ammo was not common. With the introduction of Precision Rifle Series' Gas Gun matches, there has been more focus from manufacturers to release competitive semi-auto rifles. Today there is a smattering of rifles out there that can claim one MOA accuracy or better.
A Precision AR-10 Pattern Rifle?
The LWRCI REPR MKII Elite chambered in 6.5 Creedmoor is another option for those looking for an accurate AR-10 pattern rifle with premium features and a gas piston system.
Features:
The rifle is nicely outfitted with some of the nicest components on the market like a PROOF Research barrel and a Geissele trigger. LWRC made sure that while the rifle carries a premium price tag, the component list justified the MSRP. Other features like an efficient 4 port brake and a Magpul PRS stock start to hint at the level of accuracy that the rifle is capable of.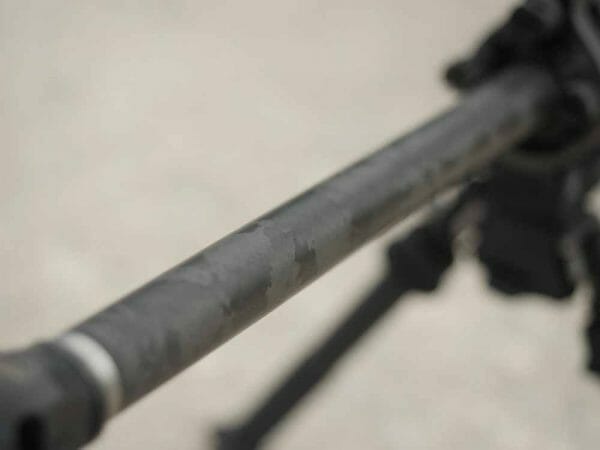 The PROOF barrel really is the crown jewel of the rifle, the carbon fiber wrapped barrel not only sheds weight but also helps keep barrel killing heat under control. The 22″ 1-8 twist barrel is really optimized for launching 6.5mm projectiles pretty dang far. The 22″ length isn't exactly optimal for 6.5 Creedmoor, but you aren't losing much velocity by leaving those two inches off.
The rifle is a bit on the hefty side at about 10 pounds, one would expect the rifle to be a touch lighter since competing rifles come in about the same weight with a standard steel barrel. I suspect that the increased weight is due to the piston system and the chunky handguard. Like previously mentioned, the LWRC REPR MKII Elite is gas piston operated, a true asset for shooting long range. LWRC used their ambi lower on this rifle which should make lefties very happy.
Range Time:
In order to get the rifle ready for the range I mounted a Riton RT-S Mod 7 5-25×56 scope and an Atlas PSR bipod with an American Defense mount. The combo really allowed me to stretch the REPR MKII's legs without much issue.
The wind was moving at a pretty good pace with some gusts thrown in there that even moved my video camera on a high-quality tripod. The conditions made shooting 1,000 yards and beyond a challenge for a shooter of my skill level but once I figured out that the wind was moving a bit faster through the slight depression about 600 yards down range I was able to land hits without much issue all the way to 1,400 yards where I got a first round impact on a 1 MOA target.
At 100 yards I shot a three round group that measured out at .532″ which works out to .508 MOA. In a bolt gun that would be considered very good but a semi-auto, that is nothing short of exceptional. The 120-grain American Eagle ammo from federal seemed to be the best performing out of the PROOF barrel even though the barrel is likely tailored for 140-grain loads.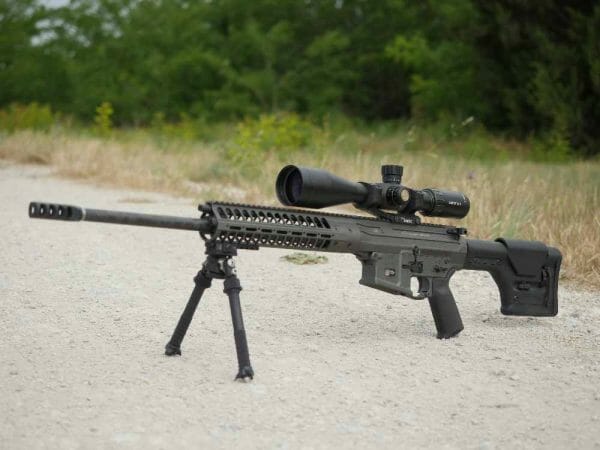 Conclusions:
Overall I really enjoyed shooting the LWRC REPR MKII Elite in 6.5 Creedmoor. Not only was the rifle outfitted with just about everything that I might have wanted, but the thing flat out shot well also! While I would prefer a longer rail I understand that it was kept short allow the end user to access the gas piston settings but more rail space would have allowed me to mount the bipod further out for more stability. The Magpul MOE plus grip is probably one of my least preferred grips but I didn't find it to be a hindrance. That said, I would absolutely switch it out if I were buying the rifle.
There aren't many firearms that I have had the pleasure to test that I honestly hated sending back, but this is one of them.
The LWRC REPR MKII Elite carries an MSRP of $4950 as tested. You can find all of the specifications on the LWRC website.
---
About Patrick R.
Patrick is a firearms enthusiast that values the quest for not only the best possible gear setup, but also pragmatic ways to improve his shooting skills across a wide range of disciplines. He values truthful, honest information above all else and had committed to cutting through marketing fluff to deliver the truth. You can find the rest of his work on FirearmRack.com as well as on the YouTube channel Firearm Rack or Instagram at @thepatrickroberts.