New Hampshire – -(Ammoland.com)- Last week I told you about how the New Hampshire Republican Party is being run by an anti-gun New Yorker, Todd Chewing who scheduled a candidate training session at the Common Man Restaurant.  These partisans just don't get it.
Party Chair Wayne MacDonald contacted me by telephone to "explain" about the Common Man restaurant.  Mr. MacDonald is backing anti-gun Todd Chewing.  Mr. MacDonald asked me if I knew that the Grafton County Republicans met at the Common Man.  I told him I did not know that, but it doesn't matter.  The party is using money that was donated to elect Republicans to rent space and buy food and beverages at a restaurant that is owned by a man who has consistently supported their opponents.  NHFC is concerned because Alex Ray also supports former Congresswoman Gabby Giffords' anti-gun organization.
Mr. MacDonald told me that Republicans are better than Democrats.  Maybe.  Here's a partial list of anti-gun Republican activities (from just New Hampshire) that I gave him; we want better than this:
HB 1463, the 2018 Range Closure Act, sponsored by three Republicans.
HB 1749, enhanced statewide firearms preemption, to prevent local gun bans.  Defeated by the House Republican leadership.
Republicans like to brag about the enactment of Constitutional Carry, but it was Senate Republicans,  led by Judiciary Committee Chair Senator Sharon Carson who defeated HB 1313 which would have extended Constitutional Carry to snowmobiles and ATVs.  What is ironic is that the Senate Majority Leader co-sponsored HB 1313 but made no effort to see it through to enactment into law.  In other words, he doesn't really support gun ownership and use.
And lets not forget that the Republican Senate Majority Leader Jeb Bradley is pushing red flag, gun confiscation legislation.
Make no mistake, these partisans, led by an anti-gun New Yorker, have no principles or commitment to Second Amendment Civil Rights.  They are committed to remaining in power.  This is why they are having a candidate training session at a restaurant owned by a far left, anti-gun activist.  Even after they were told that there were alternative venues not far from the Common Man.
John DiStaso wrote about this yesterday.  Wayne MacDonald seems to think he can campaign on the enactment of Constitutional Carry and deceive firearms owners into thinking Republicans are our friends.  The friends are those who sponsored the two pro-gun bills listed above and those who voted against killing those bills.  A very small number.
A longtime NHFC Member characterized Todd Chewing as follows:
"Those, who move to New Hampshire and then spread anti-firearm venom, need to be told to return whence they came. They've made a mistake. One, who hates the cold and loves the hot and steamy weather, should not move to New Hampshire.

A person, who loves bacon, should not move to Saudi Arabia. Almost all Saudis are Muslims. Muslims may not touch bacon, in any form. Possession of pork in Saudi Arabia is a criminal offense.

In short, those – who come to New Hampshire from New Jersey, New York, Maryland, etc., – and bring with them a hatred of firearms, have made a mistake. They'll be happier where prevail viciously repressive laws governing firearms."
I agree I think that Mr. Chewing would be far happier in his native New York.  You might wish to ask him (by calling his New York-based cell phone) why he scheduled a Republican Party training event at an anti-gun Democrat run restaurant: (516) 521-7926
Todd recently sent an email (we have captured the online version here) talking about "An Uncommonly Good Time.  Sure looks to me like anti-gun Todd Chewing has adopted the marketing slogan of the Common Man.  A complete buy-in.  Why would any Republican work to promote a restaurant that has signed on to Gabrielle Giffords campaign by using their slogan?
You may have seen the Union Leader editorial which was critical of our opposition to this choice of venue.  What the editorial writers seem to miss is this is NOT the same as a restaurant, which is a public accommodation, denying service to Sarah Huckabee Sanders.  This is about not funding those who would donate some of the profits from your meal to people who are 100% opposed to your stated platform.
Please continue to contact Ray Chadwick who is one of several Vice Chairman of the Republican Party; right now it looks like they're digging in but maybe you can convince him. You can call him at (603) 566-9129 or email him at [email protected]   Let him know that you might support individual Republicans who truly support Second Amendment civil rights but you will in no way support the party because the party will support even those Republicans who are hostile to Second Amendment Civil Rights.
Remember to be polite but firm when you urge these partisans to abandon their plans to host a training session at anti-gun Alex Ray's restaurant.
Thanks for your continued support!
In liberty,
Alan M. Rice
President – NHFC, Inc.
---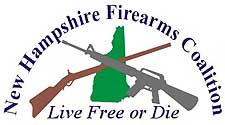 About New Hampshire Firearms Coalition:
The New Hampshire Firearms Coalition is New Hampshire's only No Compromise Gun Rights Organization. While many so-called "gun rights groups" work to curry favor with politicians and the media, NHFC is working aggressively to hold politicians accountable and to put a stop to gun control. Visit: www.nhfc-ontarget.org