EL DORADO, Arkansas –-(Ammoland.com)- Two Union County men were arrested last week after evidence was developed that they had attempted to burn an Arkansas Game and Fish Commission wildlife officer's truck.
The investigation into the incident led to the arrest of Harold S. Otwell, age 47 of El Dorado and Dustin A. Pate, age 31 of Junction City. Both individuals were arrested on June 27, 2018.
The attempted arson was discovered on June 24, 2018, after the Union County wildlife officer noticed an oily substance and indications that someone had attempted to light the liquid on his state-issued vehicle. The officer's vehicle was parked outside his residence when the incident occurred.
The investigation included the AGFC's Enforcement Division, Criminal Investigation Division of the Arkansas State Police and Union County Sheriff's Office. Evidence was gathered from the scene and forwarded to the Arkansas State Crime Lab for analysis.
Otwell has been charged with attempted arson and arson, both Class B felonies. If convicted, the charges carry a possible sentence of 5 to 20 years in the Arkansas Department of Correction. Otwell also could face an enhancement penalty for targeting law enforcement, which carries a possible sentence of 2 to 10 years in prison.
Otwell is being held in the Union County Jail with no bond. Pate was charged with conspiracy to commit arson and arson. Pate is currently being held in the Union County Jail on a bond of $25,000.
Maj. Brad Young, Arkansas Game and Fish Commission Enforcement Division Assistant Chief, said he believes the attempted arson was in retaliation for actions taken previously by a wildlife officer in the performance of his job.
"The AGFC has no tolerance for any attempt to retaliate against any wildlife officer because of actions they take enforcing the laws of the State of Arkansas," Young explained. "All the resources available will be used to bring to justice those who may attempt to cause harm to officers engaged in performing their duty," he added.
---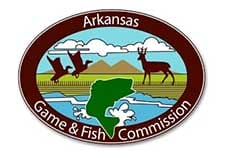 bout Arkansas Game and Fish Commission:
The Arkansas Game and Fish Commission plays an important role in keeping The Natural State true to its name. During the last 100 years, the agency has overseen the protection, conservation and preservation of various species of fish and wildlife in Arkansas. This is done through habitat management, fish stocking, hunting and fishing regulations, and a host of other programs.
For more information, visit www.agfc.com.