Utah's dove hunt opens Sept. 1 2018.
Utah – -(AmmoLand.com)- If you find a watering hole, the chance you'll take doves during Utah's upcoming dove hunt should go way up this year. Blair Stringham says bone dry conditions in the state make finding a watering hole more important than ever.
Once you've found a watering hole—or a field doves are feeding in—Stringham, migratory game bird coordinator for the Division of Wildlife Resources, says you should wear camouflage and place dove decoys in a place where they can be easily seen.
"Hunting doves over decoys is a tactic that's catching on in Utah," he says. "Using decoys can be a great way to put the birds right where you want them. I've found good success hunting doves this way."
Stringham says the dove hunt is a great hunt for new and young hunters. "The areas where doves live are easy to access," he says, "and the weather on opening day is usually warm and pleasant. Make sure you bring plenty of shotgun shells."
Stringham says the number of mourning and white-winged doves in Utah is down across much of the state this year. "But I still encourage you to get into the field," he says. "Even when dove numbers are down, there are still plenty of birds to hunt."
Stringham provides tips to help you find doves and increase the chance you bag some of these swift flyers. His tips apply not only to mourning and white-winged doves, but to Eurasian and African collared-doves too. "Collared-doves are found across Utah," he says. "There's no bag limit on collared-doves, and you can hunt them year round."
Stringham also provides some reminders for those heading afield for Dove Hunting.
Finding Doves
To find the greatest number of doves, look for fields that have grain in them—such as wheat or safflower—with water holes nearby. "Grain fields that have a water hole near them can be dove-hunting hotspots," Stringham says.
Concentrations of trees near grain fields and watering holes are another thing to look for. Doves will fly into these areas before roosting for the night.
Stringham says Box Elder, Millard and Utah counties are three of the best counties in Utah to hunt doves. Southern Utah is also a good choice. "The climate in southern Utah is warmer," he says, "so the birds tend to stay a little longer in that part of the state."
If the area you'd like to hunt is private property, Stringham reminds you that you must have written permission from the landowner before hunting the area.
Tip 1 – Scout before and during the hunt
Finding areas where the birds are watering, feeding and roosting are key to putting yourself in the right spot on opening day and throughout the season. To take birds, you need to be where the doves want to be.
Tip 2 – Wear camouflage
Once you've found a promising spot, it's time to blend into the surroundings by wearing camouflage clothes.
Tip 3 – Use decoys
You can take doves as they zip past, but placing decoys near a water hole or in a field the birds are using is an effective way to bring the birds to you for a better shot. A fence line, a tree that's lost most of its leaves or placing decoys on top of a pole, and then staking the pole into the ground, are great ways to place decoys where doves can easily see them.
Tip 4 – Practice shooting
Doves are speedy, challenging targets. Before you head afield, practice shooting at clay targets launched into the air. Even after practicing, bring plenty of shotgun shells—loaded with No. 8 or No. 7½ shot—with you. The hit-to-miss ratio on doves often leans toward the missed side.
Reminder 1 – Report banded birds
If you take a dove that has a leg band on it, Stringham encourages you to report the band number to www.reportband.gov.
Reminder 2 – Get a HIP number
Because mourning and white-winged doves are migratory birds protected by federal law, you need a Harvest Information Program number to hunt them. Getting a HIP number is easy and only takes a few minutes. Just log onto www.uthip.com, and follow the prompts.
Reminder 3 – Get the upland game guidebook.
---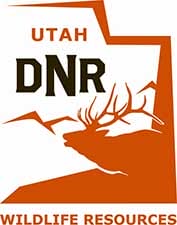 You can get more information about mourning doves, white-winged doves and collared-doves, including maps that show where the birds live in Utah, on pages 39, 50 and 51 of the 2018 – 2019 Utah Upland Game and Turkey Guidebook. The free guidebook is available at www.wildlife.utah.gov/guidebooks.