USA – -(AmmoLand.com)- I'm a bit of an AR fanatic.
If I were starting out as a shooter today, this would probably be the AR-pattern rifle I would choose. Aside from a rear sight or an optic, all you need to add is a rifle sling (see our Best Rifle Sling Review) and a light (see our Top 5 Carbine Weapon Lights), and you're good to go. This rifle gets my highest recommendation.
My first rifle was an M16A2 at 17, courtesy of the USMC. In the 30 years since then, I have built hundreds of them. My collection is composed of multiple configurations in numerous calibers from 22 long rifle to 50 Beowulf and nearly every one in between.
With the exception of two of them, all were built by yours truly.
Quite a few of those parts came from Palmetto State Armory. I have found this South Carolina-based company to be both affordable and ultra reliable and have been buying from them since they opened about ten years ago. I wanted to try out a few of their products and PSA was more than happy to oblige. Mainly, I wanted to lay hands on their ARs.
They sent us one of their PSA-15 MOE Freedom rifles chambered in 5.56, and it ranks up there despite the sub $500 price tag.
PSA 16″ M4 MOE EPT Freedom Rifle With MBUS Rear, Olive Drab Green
PSA-15 MOE Freedom Rifle – The Good
Build quality on the PSA-15 MOE (Magpul Original Equipment) Freedom rifle is excellent. There are no gaps between upper and lower receivers. True M4 feed ramps are present, and the barrel is 4150V Chrome Moly Vanadium Steel. The carbine has an adequately staked M16 bolt carrier, and we like the fit and finish on the rifle.
The Magpul green furniture gives it a unique look, and you cannot beat the utility of Magpul's products. MLOK rails can be added to the handguard for the attachment of light, lasers, bipods and other accessories. The buttstock even came with a QD (Quick Detach) swivel installed. The rifle is available with black or tan furniture; we just liked the look of the green.
As an iron sight shooter, we prefer the fixed front sight post, although some shooters who run dedicated optics or collapsible sight sets may not like this configuration. We wanted the accuracy and thought this would make an excellent choice for shooters who run either irons or optics.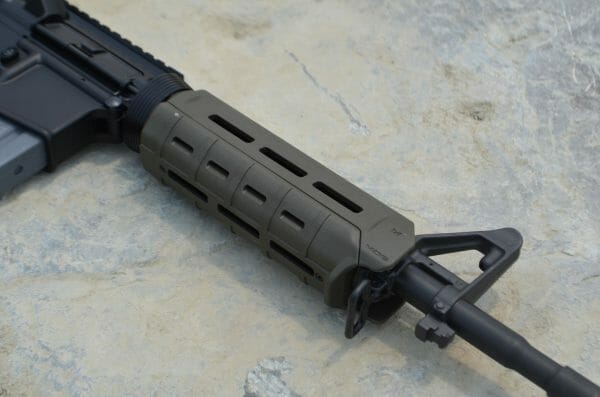 The trigger had a nice crisp feel to it, and when we pulled it out to see if it was an aftermarket type, it looked like a carefully polished Mil-spec trigger. This is a factory part that I usually recommend changing on most factory ARs, but Palmetto did such a beautiful job on these that I would suggest leaving it installed.
PSA-15 MOE Freedom Rifle – The Bad
It's an almost complete rifle. That is, there was no rear sight so if you think you can unbox this one and run to the range, you will need a rear sight or an optic mounted, first. It was easily remedied with a Magpul MBUS in matching green, however.
That was the only negative thing we have to say about this rifle.
At the range
We fired 300 or so rounds of Aguila 5.56 ammunition in either 55 grain or 62-grain bullet weights. We suffered no failures to feed, ejector function. The PSA-15 MOE Freedom rifle ran flawlessly. With irons, we were able to keep it under 3 MOA and may mount a Trijicon ACOG on it down the road to see if we can't tighten that up a bit.
PSA-15 MOE Freedom Rifle – The Reality
All in all, I was more impressed with this rifle than I have been with rifles from their competitors in the same price range. PSA seems to keep its prices down by building the rifles in-house with their components. The PSA-15 MOE Freedom rifle is lightweight, reliable and a perfect base gun to work with from a novice to a more advanced shooter. Plus it represents a great value considering the quality of materials and the rifle's performance.
PSA-15 MOE Freedom Rifle Specs
Barrel Length: 16″
Barrel Material: 4150V Chrome Moly Vanadium Steel
Barrel Profile: M4
Chamber: 5.56 NATO
Twist Rate: 1 in 7"
Extension: M4
Gas System: Carbine-Length
Gas Block Type: F-marked Front Sight Base
Upper Receiver: Forged 7075 T6 Aluminum
Upper Receiver Style: M4 flat top with feed ramps
Upper Receiver Finish: Hardcoat Anodized
Forward Assist: Yes
Dust Cover: Yes
Handguard Type: Polymer
Handguard Style: Magpul
MSRP: $499 w free shipping
Handguard Length: Carbine-Length
Bolt Steel: Carpenter 158, Mag Phosphate coated
Bolt Carrier Steel: 8620, Chrome Lined
Staked Gas Key: Yes
Lower Receiver: Forged 7075 T6 Aluminum
Lower Receiver Finish: Hard Coat Anodized
Fire Control Group: Single-Stage, Enhanced Polished Trigger (EPT)
Buffer Tube: 7075 T6 Aluminum
Stock Adjustment: 6-position
Stock: Magpul Carbine Stock
Length: 33″
Magazine: 30 Round Magpul PMAG
Includes: Magpul MBUS Front Sight, Black
MSRP: $499.99
---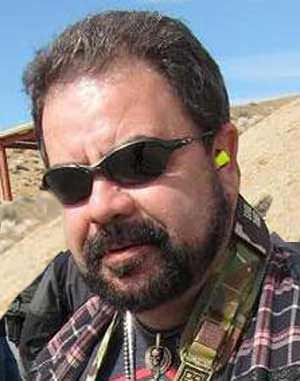 About Mike Searson
Mike Searson's career as a shooter began as a Marine Rifleman at age 17. He has worked in the firearms industry his entire adult life as a Gunsmith, Ballistician, Consultant, Salesman, Author and was first certified to teach firearms safety in 1989.
Mike has written over 2000 articles for a number of magazines, websites and newsletters including Blade, RECOIL, OFF-GRID, Tactical Officer, SWAT, Tactical World, Gun Digest, Examiner.com and the US Concealed Carry Association as well as AmmoLand Shooting Sports News.
Home page: www.mikesearson.com
FB: www.facebook.com/mike.searson
TWITTER: www.twitter.com/mikesearson
Some of the links on this page are affiliate links, meaning at no additional cost to you, Ammoland will earn a commission if you click through and make a purchase.