Whigham, GA –-(Ammoland.com)- Shooting clay targets is a game of focus and concentration, which is why competitive shooters hedge their bets by carrying an array of choke tubes. The competitive edge is gained by using the right choke tube to maximize the pattern of pellets downrange.
Trap, skeet, and sporting clays are different games, with targets coming in assorted sizes, colors, and shapes as they fly through the air, or skip on the ground. Clay targets can come whistling along at speeds exceeding 70 mph. Shot pattern size and density play a pivotal role in breaking them with regularity.
Trap and skeet targets are thrown with consistency and playing the choke game isn't as important as it is for sporting clay enthusiasts. That said, all clay target shooters can improve their game with an assortment of chokes.
Every shotgun needs to be tested with different shotshells and chokes to see exactly how they pattern. Trulock produces a wide variety of chokes specific to the clay markets with features to make them easy to use and change out. The extended chokes are shown to provide better patterns than those mounted flush with the barrel. They are easy to change on the course, without the need for tools. Constriction is clearly marked on each tube, making it easy to select the perfect choke with a single glance.
Skeet enthusiasts tend to select a skeet 1 choke tube. However, experimenting with a cylinder or improved cylinder may prove to work well in your gun for certain targets. Trap is shot on a longer range, so tighter chokes deliver a better pattern downrange. Most trap shooters start with a modified or improved-modified choke, but full and or extra full chokes are suggested for handicap trap.
Practicing with a tighter constriction will help focus a shooter's game, allowing the use of more open chokes in competition to provide the edge.
Sporting clays are thrown to imitate hunting situations, and there are no rules when it comes to chokes. A shooter can be changing choke tubes at every station to outcompete the competition with a sound strategy. Sporting clay shooters can use a close-range choke such as a cylinder, skeet or improved cylinder. A mid-range choke such as skeet 2 (light mod) or modified are ideal for the intermediate target range, whereas a longer-range choke such as improved modified, full or extra full choke will allow you to reach the far, hard to break targets.
The three most popular Trulock choke constrictions for sporting clays are skeet 1, skeet 2 (lite modified) and improved modified. These constrictions also work well on any sporting clay or 5-stand course.
Lead Shot Choke Chart:
| | Constriction | Percent |
| --- | --- | --- |
| Cylinder | .000 | 40 at 40 yds - 70 at 25 yds |
| Skeet 1 | .005 | 45 at 40 yds - 75 at 25 yds |
| Imp Cyl | .010 | 50 at 40 yds |
| Skeet 2 (light mod) | .015 | 55 at 40 yds |
| Modified | .020 | 60 at 40 yds |
| Imp Mod | .025 | 65 at 40 yds |
| Full | .030 | 70 at 40 yds |
| Extra Full | .040 | 73 at 40 yds |
| Turkey | .045 PLUS | 75 PLUS at 40 yds |
Choke tubes are tools used to improve shot patterns and success rates for smoothbore enthusiasts. Those who embrace the versatility and benefits of different choke tubes enjoy consistent and repeatable success in the field and on the clay range.
Trulock Choke Tubes: Constriction specialists that enhance a shooter's natural ability.
Explore the many options of choke tubes to fit most shotguns at trulockchokes.com.
---
About TRULOCK Choke Tubes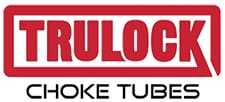 The staff at Trulock Chokes prides itself on providing excellent service and an excellent line of products. In the event you are not completely satisfied with your purchase you can return it for a refund or exchange within 60 days from the date of purchase – with other firms, the moment you open it, you own it.