Grand Rapids, MI USA -(Ammoland.com)- I'm not very much of a knife person when it comes right down to it. I usually have one with me, but I put about as much emphasis on it as I do the gas station sunglasses I buy when I inevitably lose or crush my existing set. Knives come and go with me and are usually lost when I set them somewhere and forget about them when I'm working on something. Enter the ESEE PR4, a knife that I've paid very, very special attention to.
I know that there are a good number of knife guys out there. I've trained with them, talked with them, and tried earnestly to understand the fascination, but I never really got past the idea of knives as common, everyday tools. Yes, I know that guns don't always go bang, but they usually do. You're reading the words of a gun guy here, not a true knife guy, so keep that in mind. Virtually all the knife reviews I do, including this one, will be told from an outsider's point of view. I am not in any way an expert or have knowledge about them like I do with firearms. If you encounter what you view to be naivety on my part, understand that I just don't look at things the same way you might.
What we have here for this review is the ESEE PR4. The PR4 is a medium sized knife by my standards at a length of 8.9". The basic stats aren't especially exciting, so I'll get them out of the way first. The knife is 1/8" thick and the tang runs the full profile of the grip. A set of sculpted Micarta grips adorn the tang and are finished in a medium brown color. The blade itself measures 4.19". The knife weighs in at 6.3 oz without sheath or cord attached to the grip. The metal surfaces are finished in a black oxide that looks quite nice. The only exception to this is the spine of the blade, which has a sharp edge for striking Ferro rods and the like. The knife comes with a brown leather sheath that has a loop for attachment to a belt.
I've put this knife through very hard use on my property in the last nine months or more. It has been a constant companion to me for my chores and has been present for nearly every outdoor task I've had from installing a solid wood privacy fence some 200 yards in total length, clearing brush, and general tasks like opening feed bags and tending the gardens. It has been abused and treated like a common tool, including standing in for a prybar. So how well has it held up?
The fast answer to that is that it has held up exceptionally well. I'm not a hardcore survival knife guy and I don't see a point in battoning my firewood when I have plenty of axes handy. Granted, there are some guys that really see this as necessary, so I tested it out. It worked well, but I feel that it is a last-resort sort of thing when better options aren't immediately available. This was about the only test I put it through that felt unnecessary to me.
Other than that, the knife has shown remarkable durability. I've only had to sharpen it once in about nine months, which is incredible to me. The edge never really lost its geometry or curled over, which is something that I've seen in cheaper knives time and again. I would say that it definitely blunted, but not to the point where it wouldn't easily cut. Keep in mind that I don't have a particular measure on how often the common man sharpens his knives. I have the opinion that a knife that dulls easily is a cheap knife and a knife that maintains a hard edge for a long time is worth it. This one is the latter.
As far as downsides to this knife, there aren't many. I will say that for my hand size, the grips are too thin and I'm not at all a fan of the cosmetics of the sculpting. I try to own or modify my guns to be attractive to the eye as much as I can. I hate it when I have non-coordinated mags and grips for my AR rifles and things like that. Picky? Maybe so, but most people spend more time looking at their guns than using them. These grips are a bit of an eye-sore to me and I feel that they would've been better if they were smooth and had a simple dimple texture for grip. This is a cosmetic gripe, but It's still something I always notice.
As far as general wear, the finish has done well. I've seen lots of blades have the finish come off after only light work, but this is different. The oxide has been worn off in many places, but it is a durable and resilient finish at the end of the day. I've had a chalky black-grey substance appear on the blade at times, which I believe is further oxidization, but I've not been able to verify that. I don't really cut food with this knife much at all except when I cut up the tomatoes I grow to feed to my ducks.
All in all, this knife is a solid purchase. I find that it is up to the challenge of hard work and keeps on cutting, which is what I look for in a good knife. This is not a cheap option and carries an MSRP of $190, although street price is about $100. If you're used to gun spending like I am, that seems cheap, but it is still a chunk of change. Overall this is a stellar knife for general use. Coming from my point of view, this is a solid knife and does what knives should always do. Check it out at www.eseeknives.com.
Specs (per the manufacturer)
Overall Length: 8.90"
Blade Overall Length: 4.19"
Cutting Edge Length: 4.0"
Thickness: .125"
Weight (without sheath): 6.3 oz.
Steel: 1095 Carbon, 55-57 Rc.
Blade Finish: Tumbled Black Oxide
Handles: Sculptured Micarta
Sheath: Leather Pouch
---
About Josh Wayner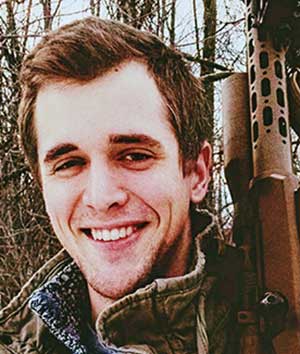 Josh Wayner has been writing in the gun industry for five years. He is an active competition shooter with 14 medals from Camp Perry. In addition to firearms-related work, Josh enjoys working with animals and researching conservation projects in his home state of Michigan.