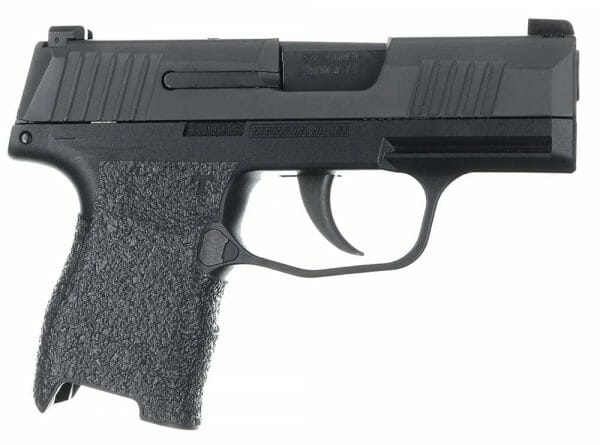 STEAMBOAT SPRINGS, Colorado – -(AmmoLand.com)- TALON Grips, Inc. produces adhesive backed, OEM quality grips for over 300 firearms from the leading manufacturers latest models to time-tested firearms. TALON Grips incorporate expertly made designs, proprietary materials, and precise manufacturing processes to produce innovative grips that enhance the user's grip on their firearm.
TALON Grips latest designs include grips for the following firearms:
Beretta APX Compact
Bersa TPR9
Bersa TPR9C
Desert Tech SRS-A1
Fort-12
Fort 17/18
Kel-Tec Sub 2000 Gen 2 Glock 19- Coming soon
Makarov PM
P80 PF940SC for Glock 26/27
Sig Sauer P365
Smith & Wesson Shield EZ
Springfield XD-S Mod.2
Taurus G2C
Taurus G2S
Many newly launched grips are made for guns that have aggressive grip texture incorporated in the polymer handle such as the Beretta APX Compact, Sig Sauer P365, Smith & Wesson Shield EZ, Springfield XD-S Mod.2, and Taurus G2C. Often the new aggressive grip texture that guns come with can be uncomfortable, especially for concealed carry. TALON Grips offers different grip textures, allowing the firearm user to customize the feel of the firearm so it meets their needs and preferences.
When leading firearm manufacturers come out with a new gun, TALON Grips will likely have a grip designed for that gun, often they are available at the same time as the gun is introduced. However, in most cases, new grip designs are driven by TALON's customers. The new Fort, Makarov, and Bersa grips were made due to demand by customers in Argentina and Ukraine.
"Customers' feedback drives many aspects of TALON Grips. Most grip designs are generated from our customer's requests, but even more important, the evolution of designs is based on feedback we receive from customers. If a TALON Grip can be improved upon it will be. "Said Mike Morris, President of TALON Grips.
Designing a TALON Grip
When creating a new grip, we have 3 specific goals in mind.
Effectiveness: Create a grip that provides an advantage to the user.
Durability: Design a grip that is durable.
Aesthetics: The grip must maintain the factory look and ergonomics.
From a distance, designing a new grip is straightforward: Provide as much coverage on the gun grip as possible, minimize seams in the grip, and make the grip look good. Execution of the goals is where the challenges lie.
Throughout the process of designing hundreds of guns grips, we have been able to refine and hone in on our goals. When a prototype grip is designed the truth is revealed at the range. Range time torture testing reveals any potential issues, so they can be addressed. Once the grip passes the range test it is approved and introduced to the market.
---
About TALON Grips
Utilizing the latest design and production technologies, TALON Grips produces the most innovative functional grips available. Never resting on what is considered good enough TALON Grips provides superior products that make difference at an affordable price.
The result is an unparalleled interface between users and their firearm in all conditions. Performance benefits include improved weapon retention, quicker target acquisition, more accurate follow-up shots, and better recoil mitigation.
TALON Grips was founded in 2009 by a law enforcement officer, competitive shooter, firearms instructor, and armorer to enhance shooter comfort, consistency, and weapon retention. The patented TALON Grips provide maximum grip coverage in custom designs for over 300 firearms. The precisely cut designs are available in rubber-black, rubber-moss, and granulate-black materials for different applications and user preferences.
Headquartered in Steamboat Springs, CO, TALON Grips are 100% made in the USA. TALON Grips are used by the US military, law enforcement, competitive shooters, and firearms enthusiasts. TALON Grips are available at select retailers or direct at talongungrips.com.
STICK TO YOUR GUNS!