USA – -(AmmoLand.com)- I recently received a request to review some knives from an outfit named Battlbox. I usually just review & test hunting & fishing knives but due to being outdoors I do cross over into survival types of knives sometimes. I don't usually do any knife fighting type of reviews but, just like the rest of you I live in a wicked world and out of necessity in the past have carried a knife for protection at times. So with that said, let's cover three knives that Battlbox sent me.
Editors Note : Battlbox is a subscription service that provides a great variation of camping, survival, EDC, and all around epic outdoor gear by mail once a month. Month to month this will vary as each mission is themed and will focus on a specific type of equipment. Battlbox has had 40+ missions successfully shipped to date. Take a look around at the review videos on their "What's in the Box" breakdown page. Also Battlbox has sent is a coupon code that our readers can use to get 10% off a box, code: "BBSAVENOW".
The first one we'll cover is the TOPS Fieldcraft knife designed by the Brothers of Bushcraft which is a coalition of men across North America focusing on sharing wilderness living skills of all categories. This knife was created from a culmination of their knowledge. The Fieldcraft knife has a 4 1/2inch blade. The spine is 3/16-inches thick and made of 1095 high carbon steel with a modified Scandinavian Grind. The MSRP is $133.99.
The knife comes with a canvas sheath that has a Kydex insert. The sheath has many options available to strap/tie it onto your waist, backpack or life jacket. The knife is 10 inches long in total, with a blade length of 4 1/2 inches. The design makes a compact, but an extremely serviceable knife. The Fieldcraft's blade is 3/16″ thick, and made of 1095 High Carbon steel. The cutting edge is a modified Scandinavian Grind, which is very useful for carving, skinning and other general woods work. With a Rockwell hardness of 56-58,
It comes sharp from the factory and is a nice-looking knife. The top half of the blade is a coated copper color, and it has a tan micarta handle. It is a stoutly made survival type of knife. The only thing that I would change is that on my survival knives I want a clip point, not a drop point. I only use drop points for skinning my big game animals.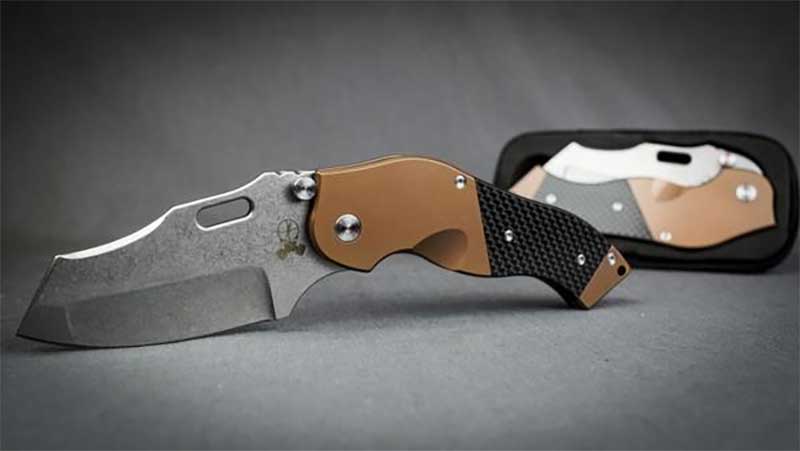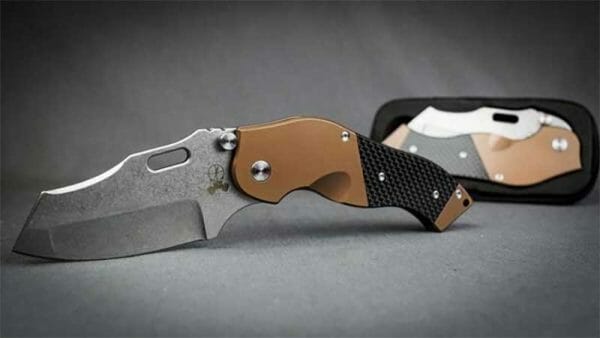 The second knife is the Sniper Bladeworks DMF Folder. This knife has a unique design that doesn't fit into my world, but if you want a thick bladed, heavy-duty folder, you will like it. The blade is 1 11/16-inches wide at the base and has a unique tip. The DMF folder is 8.5″ overall; the frame is stonewashed 1095 high carbon steel blade with a PVD brass coating and carbon fiber insert on the scales. I like the flavor the carbon fiber inserts gives to the appearance. The blade has a unique design, and overall the knife has excellent visual appeal.
It is a massive locking frame locking folder and has a thumb stud to aid in opening and a belt clip. It comes in a unique container that resembles a zippered glass carrying case. MSRP is $119.99
This BattlTac Double-Lock Karambit is constructed out of D2 steel and has a removable or reversible clip. It also has a double locking system. It comes with a thumb stud to aid in the faster opening, but it is awkward to use for me. The MSRP is $119.99 with free shipping at the time of this review. This knife's original intent was to slice and dice for self-defense. So your immediate conclusion upon looking at this knife is that it is a knife designed to be used for fighting.
I'm guessing it was designed to be used in a fist fight. It has a ring for your little finger (like on brass knuckles) and a hooked blade for ripping when you miss or on the follow-up hits. It is not designed for stabbing, so it is an up close and personal knife. But I don't plan on getting into a knife fight. From what I'm told they're not fun.
SUMMARY: As we close. These three knives are uniquely designed, and only the Tops Fieldcraft knife fits into my world. But for some of you readers with different tastes than mine, you may want to check them out they are all very well made.
---
About Tom Claycomb
Tom Claycomb has been an avid hunter/fisherman throughout his life as well as an outdoors writer with outdoor columns in the magazine Hunt Alaska, Bass Pro Shops, Bowhunter.net and freelances for numerous magazines and newspapers. "To properly skin your animal you will need a sharp knife. I have an e-article on Amazon Kindle titled Knife Sharpening for $.99 if you're having trouble"
Disclosure: Some of the links below are affiliate links, meaning at no additional cost to you, Ammoland will earn a commission if you click through and make a purchase.