U.S.A. – -(Ammoland.com)- "How could the man accused of fatally shooting three in downtown Cincinnati on Thursday, a person who had a history of petty crime – and possible mental health issues – purchase a gun legally in Ohio?" USA Today asked breathlessly in a Friday hit piece on the right to keep and bear arms masked as straight news. "Omar Santa Perez, 29, fatally shot three people and injured two others before he was shot and killed by police officers Thursday morning at Fifth Third Bank's corporate headquarters on Fountain Square."
The answer to the question — and contrary to the adage, there is such thing as a stupid one — is that "petty crimes" don't warrant stripping a citizen of fundamental rights. And "possible mental health issues" do not a proven danger to self and others make.
Not that USA Today and parent corporation Gannett Publications wouldn't like to see such tyranny imposed on all gun owners. They're the ones that violated their own ethics policies and endangered gun owners by publishing permit holders' names and addresses (followed up by hiring their own armed house guards).
They also approved of one of their "columnist's" demands to:
Repeal the Second Amendment … Owning a gun should be a privilege, not a right.
Declare the NRA a terrorist organization and make membership illegal.
Then I would tie Mitch McConnell and John Boehner, our esteemed Republican leaders, to the back of a Chevy pickup truck and drag them around a parking lot until they saw the light on gun control.
Talk about "affect[ing] change for the good in the communities we serve, to make life better for the people who trust us to know them and do right by them"!
"No evidence has surfaced yet that would suggest Santa should have been barred from owning a gun under federal or state laws," the paper ruefully admits on the Fifth Third murders. Then, after stumping for a mental health blanket dragnet to deny due process by imposing prior restraints on people who have not been convicted of anything, it makes another admission:
There's also no evidence so far that a "red flag" law would have helped in Cincinnati.
But that didn't stop them from dragging in an unrelated distraction about "President Donald Trump roll[ing] back an Obama-era regulation that required the Social Security Administration to report the names of people unable to manage their finances because of a mental health condition to NICS."
"Santa's record includes multiple low-level offenses," the "story" continues, unable to make a case that does not rely on conflation and innuendo. "If none of those crimes rose to the level of a felony, he would not have been barred from obtaining a gun."
That law would "bar" felons from "obtaining a gun"? Really? Somebody ought to share that revelation with Chicago.
"This has to stop – we have to find a way to stop the gun violence in this country," Fifth Third CEO Greg Carmichael asserted. "I don't have the answers, but we have to find a path forward."
Here's what he and what he and USA Today are not telling us. It's codified in Fifth Third Bancorp's "Code of Business Conduct & Ethics":
You may not possess any type of weapon in Fifth Third's facilities, at work-related functions or while performing Bancorp business of any kind. This does not apply to law enforcement officials and designated security personnel, or where preempted by applicable law.
It's not limited to employees.
A look at Fifth Third history shows Carmichael really doesn't have any answers. Neither do USA Today or all the other citizen disarmament zealots. That's because the only real solution is an American ethos that encourages the right of the people to keep and bear arms and denies to the evil the one thing they can rely on to enable their "success".
---
About David Codrea: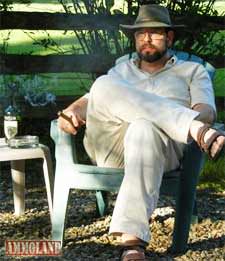 David Codrea is the winner of multiple journalist awards for investigating / defending the RKBA and a long-time gun owner rights advocate who defiantly challenges the folly of citizen disarmament.
In addition to being a field editor/columnist at GUNS Magazine and associate editor for Oath Keepers, he blogs at "The War on Guns: Notes from the Resistance," and posts on Twitter: @dcodrea and Facebook.