U.S.A. – -(Ammoland.com)- "Mass killings are still the one area where the other side can damage us," attorney and author David T. Hardy asserts via email. "I wrote this short book to demonstrate that we can actually go on the offensive in that area, that is, use mass killings as a demonstration of why gun control doesn't and cannot work.
"I also get in some hard hits on the mass media, and point out that gun owners have had success in stopping mass killings," Hardy adds.
The book he's referring to is Mass Killings: Myth, Reality, and Solutions, available from Amazon. In it, Hardy studies specific cases and, per the Amazon overview, "probes the mental states that make mass killers willing to kill (and usually to die), establishes what the killers are after, and outlines what we should do (or not do) to frustrate them."
"This book is an attempt to bridge the gap by condensing and organizing the work that has been done on the subject by criminologists, psychologists, psychiatrists, and others," Hardy writes in his introduction, and then he explains his approach:
We will first examine the nature of mass and school killings, and then attempt psychological profiles of the killers, and examine the role that the media may play in motivating them. Lastly, we will look at possible solutions, and assess the chances of each approach working.

For reasons which will be explained, the killers will not be named in this book.
That most mass media will not follow suit and instead share a "symbiotic relationship" with mass killers does not alter a fundamental truth. In addition to conditions like narcissim, psychopathy, delusional disorder and sadism, the killers share "a burning need for recognition in the form of fame or infamy, and anger that this recognition, this entitlement has been denied to him."
It will come as no surprise to readers familiar with Hardy's work in defense of the Second Amendment that among his solutions, he demonstrates "gun contol" will not work and armed defense will.
"Armed individuals and out-of uniform LEOs have a reasonably good track record for stopping mass shooting attempts," Hardy concludes, acknowledging "it's easy to mock," but then providing real life examples that demonstrate "good guys with guns do stop bad guys with guns. They can do it in schools, too."
I'm not going to give any more away since my intent here is to get you to read the book. You can go to Amazon, preview the book if you'd like to see more, and get a copy for yourself in paperback or via Kindle.
—
Disclosure: David Hardy has represented my interests in legal actions to obtain information from the government and is part of what a U.S. Attorney who came on board during the Obama administration has pejoratively described as "a tangled web of connections between a small cadre of firearms activists."
Also see: Second Amendment Author and Attorney Documents Lethal Government Actions
---
About David Codrea: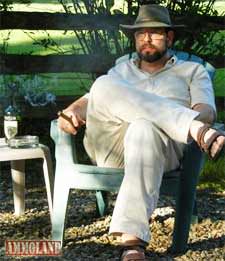 David Codrea is the winner of multiple journalist awards for investigating / defending the RKBA and a long-time gun owner rights advocate who defiantly challenges the folly of citizen disarmament.
In addition to being a field editor/columnist at GUNS Magazine and associate editor for Oath Keepers, he blogs at "The War on Guns: Notes from the Resistance," and posts on Twitter: @dcodrea and Facebook.