Custom knifemaker, Richard Derespina recently sent us one of his production Derespina Model 10 Karambit knife for a test and evaluation.
USA – -(AmmoLand.com)- Custom knifemaker, Richard Derespina recently sent us one of his production models for a test and evaluation. The Derespina Model 10 represents an inexpensive and highly usable fixed-blade karambit that makes for a great self-defense knife.
What is a karambit?
The karambit is a small curved-bladed fighting knife that was developed in Indonesia and the Philippines and has a dedicated following in the tactical and martial arts communities. Most custom knife makers and production companies produce a variant of this knife.
From a tactical point of view, the karambit's greatest strength is retention. Obviously, this is with regard to the versions that have a ring and the user has either their small finger or forefinger inserted in the ring. When gripped in such a manner, the user does not have to worry about dropping the knife in a fight or losing it due to wet or slippery hands. In a similar manner, the user can still pick up or use other objects if necessary without having to re-sheath, re-pocket or lay down their knife.
After retention, the karambit's next great asset is its ease of use. When gripped and indexed properly, the karambit acts as an extension of the user's hand. Striking with the karambit while held in the reverse grip is more like throwing a punch as opposed to a typical knife slash or stab.
This ties into the speed factor and when configured properly a karambit can be an extremely fast knife to deploy. Some fixed-blade karambits are carried in front break kydex sheaths so the user grabs the handle and pushes forward to deploy it as opposed to drawing it up or to the rear like a typical knife.
I have been enamored with the karambit for close to 20 years and one series of models that deeply impressed me were those made by custom knifemaker Richard Derespina.
About Rich Derespina
Richard Derespina made (and still makes) some of the most stunning custom karambits I have ever seen.
Rich started tinkering around with making knives in 1999. Soon after he started posting pictures on a knife forum of his very rough, hand tooled work.
These knives were made from BG42 steel and he profiled them with a Dremel, a small bench grinder, hand files and sandpaper. At the time he was working as a Knife sales person at a well-known Sporting goods store in New York City, before they went full retard on their knife laws.
In 2001 he was talking with the Strider guys about karambits and showed them a few of his pieces. A rep from tadgear.com was there and liked his knives; so the rep bought 3 pieces and thus began his custom knifemaking career.
"I had an extensive knife collection back in the 90s", Derespina says, "In order to really get into knife making I sold the majority of my collection to fund a real Bader grinder, media blast booth, drill press, and all the supplies necessary". To this day he uses those very same machines
He branched out into other knife styles but maintained a specialty in both karambits and Kris blades. His interest in those styles came from his experience with the Martial arts, specifically Kali and some JKD (Jeet Kune Do).
"My study of some martial arts throughout the 90s got me exploring the various weapons and weapons systems of Asia. However, I noticed a few design flaws that in our era could easily be adapted to those ancient weapons. Ancient weapons made with modern techniques and modern more user-friendly design attributes as well as modern materials".
Based on one of his custom models, the Derespina Model 10 is 6.5" overall and 0.21" thick with an ergonomic grip and full-size retention ring; it includes a custom ambidextrous hard sheath that provides around-the-neck or inside-the-belt carry options.
The factory edge was sharp, but I made it a little sharper with our Spyderco sharpening system and the blade tore up everything I threw at it from paper to aluminum cans.
It was a bit tight in its factory sheath, but hopefully this will loosen slightly over time.
Some folks like positioning the karambit sheath close to their carry holsters for a quick back-up weapon. Others prefer the opposite side of the body for defense against a gun-grab. Lastly, you can run a dog tag chain through the mounting holes in the sheath for a quick access neck knife.
I like the roomy full 1" ring of the hole. Some manufacturers make the ring a bit too small for most users, especially if the user is wearing gloves. I found this one to be just about perfect gloved and ungloved.
Fast in the hand and made from one of my favorite blade steels (D2) that holds a razor sharp edge, this knife is a winner. You can't beat the $99.95 price point either.
Derespina Production Model 10 Karambit Specs
Overall Length:    6.5″ in
Blade Length:    3″ in
Blade Thickness:    0.21″ in
Blade Material: D2
Blade Finish:    Satin
Edge Type:    Single Edged
Handle Length:    5″ in
Handle Material:    G10
Handle Thickness: 0.53″ in
Handle Color:    Black
Weight:    6oz
Sheath:    Kydex
MSRP: $99.95
---
About Mike Searson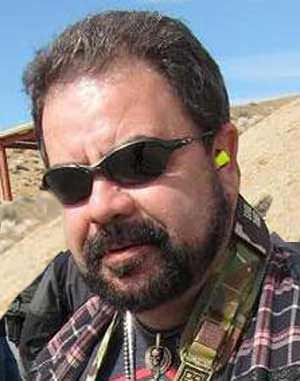 Mike Searson's career as a shooter began as a Marine Rifleman at age 17. He has worked in the firearms industry his entire adult life as a Gunsmith, Ballistician, Consultant, Salesman, Author and was first certified to teach firearms safety in 1989.
Mike has written over 2000 articles for a number of magazines, websites and newsletters including Blade, RECOIL, OFF-GRID, Tactical Officer, SWAT, Tactical World, Gun Digest, Examiner.com and the US Concealed Carry Association as well as AmmoLand Shooting Sports News.
Homepage: www.mikesearson.com
FB: www.facebook.com/mike.searson
TWITTER: www.twitter.com/mikesearson