Editors note, Van Harls next article reminded me of one of my favorite bands, the Bastard Sons of Johny Cash and their album Mile Markers and I thought would make a good soundtrack for Van's article.
USA – I was driving back from the farm when I stopped at a McDonalds to get a breakfast to go. When the associate at the counter rang me up and handed me my receipt, I noticed the number was 357. When the meal was ready, they called out "Order 357" and some people waiting turned to see whose breakfast it was.
There is nothing magical about the numbers 3, 5 and 7 but if you put them together, they stand for power. When I am at my farm, I carry a stainless 357 mag revolver. When I am hard at physical labor, I don't want to ruin the finish of a non-stainless handgun to salty sweat and grime. I want a handgun caliber that can handle anything that might occur in western Wisconsin that may present itself as a challenging danger.
So I am carrying my old stainless Ruger handgun, getting a McMuffin and they call out my 357 order. It had to be a sign. Or, at least the inspiration for a column.
I spent my last couple of high school years in northern Illinois. My dad's Navy career had me attending three high schools. Wisconsin had an eighteen-year-old drinking law, so everyone went up north, across the Illinois / Wisconsin border to socialize. You would jump on Interstate Highway 94 and head to Milwaukee.
I was slowly becoming a gun person in those early 1970s and continually learning about the different firearms and types of ammunition. With my many road trips up north, I was on I-94 a lot. As my knowledge of ammunition grew I noticed the mile marker signs on I-94 between the state line and the west side of Milwaukee were also the numbers of many of the most popular rifle calibers and cartridges.
The first mile marker on I-94 going north into Wisconsin is 347. The actual entry onto the highway should be 348 but is marked "0" for entering Illinois. 348 Winchester was developed by Winchester for their Model 71 lever action rifle. When I lived in Colorado, I was a Colorado Ranger, and my badge number was 348. As I pinned my badge onto my uniform shirt, I always slipped a round of 348 Winchester, a wildcat cartridge, into my pocket for good luck.
Passing mile marker 340, you, of course, think of the 340 Weatherby Magnum cartridge. I know someone who is in Alaska as I am writing the column who is hunting moose with a 340 Weatherby Magnum. I am sure if the bears don't get him and he has a successful moose hunt with pictures included, I will always think of him as I pass mile marker 340.
The 338 mile marker brings to mind the 338 Winchester Mag cartridge and many hunters I knew who carried that round in their rifles when I lived in Alaska. If you might run into a grizzly in Alaska, the 338 Win Mag was desired by many.
The 333 mile marker did not match up with a factory made round of ammunition, but it always reminded me of my old 1886 Winchester rifle chambered in 33 Winchester and the wild-cat cartridge of 333 OKH that Elmer Keith had a hand in developing.
Mile marker 327 which is also the exit for Caledonia, WI was not an ammunition caliber back in the 1970s, so it did not mean anything in those days. Now, whenever I drive by marker 327, I think of the relatively new 327 Federal Magnum and the Henry lever action rifles being produced in that cartridge.
The British had a cartridge called the 310 Greener, and Australia used the round as a training cartridge and called it the 310 Cadet. After WWII lots of the rifles and the 310 Cadet ammo was imported to the US.
As you drive through Milwaukee, you pass the Milwaukee Brewers stadium exit, which is also the VA Hospital exit. That exit and the mile marker is 308. Considering almost all the Korean War veterans and beyond, being served at the Milwaukee VA used the 7.62 NATO / 308 Winchester cartridge while on active duty, the mile marker is most appropriate.
There was a short-lived 307 Winchester cartridge and mile marker 307 leads to a back way into the VA Hospital.
The first centerfire rifle I owned was a Lee Enfield bolt action rifle chambered in the famous British military cartridge 303 British. I still have a rifle in that cartridge and think of that firearm every time I pass mile marker 303.
A little west of Milwaukee on I-94 you pass mile marker 300, and the 300 Savage round is recalled. A cartridge that my old Savage Model 99 lever action rifle is chambered in. Of course, there is also the 300 Winchester Mag or the 300 H&H Mag rounds of ammo.
The 284 Winchester cartridge is remembered when I pass the 284 mile marker, as well as the 280 Remington as I enter Johnson County, Wisconsin on I-94, near mile marker 280.
One of the few rifles that ever got away from me that I genuinely miss was a pre-WWI bolt action commercial Mauser in 275 Rigby Rimless. I used 7×57 Mauser ammo in it, but a South African, Bore War rifle collector had to have it and now it is history for me. There is a twinge of regret when I pass mile marker 275.
The 270 mile marker reminds one of the 270 Winchester and the 264 mile marker, of course, was a favorite of gunsmiths who had to replace 264 Winchester Magnum barrels due to excessive chamber erosion.
Just west of the Waterloo, WI exit there is mile marker 257, and that means 257 Roberts and 257 Weatherby Magnum.
Deerfield, WI has a 250 mile marker, and that means 250 Savage is remembered.
Probably one the finest rifle cartridges that I have never owned a firearm chambered in is the 243 Winchester. It is not hard to think of that round of ammo when I pass mile marker 243.
As you are almost to Madison, WI you pass mile marker 240 and of course there is the 240 Weatherby Magnum cartridge. I have been driving the I-94 route from southern Wisconsin to central Wisconsin since 1972. Now that I live in Wisconsin I drive it even more often and I still always think of rifle cartridges, the different calibers, the ammunition manufacturers, the rifles that are factory built and custom built and the stories that go with all these factors.
For a non-gun person driving the I-94 route I have described, the mile marker numbers are "just" numbers and nothing more. For a shooter, for a hunter, and for a sportsman they are modern tools of the trade as well as history.
Most firearms do not wear out from use if the gun is not abused. The death of an old firearm in many cases is due to the lack of ammunition. There are many good rifles that sit unused for decades or even a century, not because it is mechanically unable or unsafe to endure a modern hunt or some range time, it is the inability to find usable ammunition to keep the old gun in service.
The above cartridges that match up with the I-94 mile markers are still out there and in good supply.
The busiest stretch of road in Wisconsin is the I-94 highway between the Wisconsin / Illinois border and Madison, WI. If you drive it, be safe, and if you are a gun person, please enjoy a short lesson on the rifle cartridges that have shaped the history of our nation.
Remember it is the soap box, the ballot box and if need be the cartridge box that keeps our country free. To keep that freedom you as a private citizen cannot wait for the police and the military to do all the heavy lifting in a time of crisis.
If you have highway mile markers in your area that bring to mind a rifle or pistol cartridge, please feel free to comment, especially if you have a good story go with your mile marker/cartridge sighting.
Think of the I-94 rifle cartridge history lesson and if one of those mile marker/exits leads you to a gun shop, stop in and buy some fresh ammunition. It will only go up in price, but it will keep for years.
Ammunition, the coin of the realm when "walkers" are more of a concern than politicians.
Major Van Harl USAF Ret.
[email protected]
---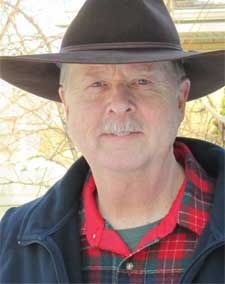 About Major Van Harl USAF Ret.:
Major Van E. Harl USAF Ret., a career Police Officer in the U.S. Air Force, was born in Burlington, Iowa, USA, in 1955. He was the Deputy Chief of police at two Air Force Bases and the Commander of Law Enforcement Operations at another. He is a graduate of the U.S. Army Infantry School.  A retired Colorado Ranger and currently is an Auxiliary Police Officer with the Cudahy PD in Milwaukee County, WI.  His efforts now are directed at church campus safely and security training.  He believes "evil hates organization."  [email protected]