Nashville, TN -(AmmoLand.com)-  It's time for a personal best at the Scholastic Clay Target Nationals in Ohio, with thousands of youngsters participating in the most successful youth shooting program of all time.
Plus, hand-building 1911s the old way at Les Baer Custom. It's the same process developed by pistol smiths in the 1930s, still used to create exceptionally accurate handguns.
Then, John and John Paul of JP Enterprises begin a rifle build-up for accuracy.
And Colt Pro Shooter, Maggie Reese has a rifle Pro Tip on Grip and Stance for fast transitions.  MORE INFO…
AIR TIMES FOR 2018
Wednesday 9:00 PM Eastern and Pacific, 8:00 PM Central. Shooting USA is listed as a one-hour show in your cable menu.
NRA $600 Life Membership Offer Is Back
Reduced from the normal price of $1,500 for Life Membership. This could be a Christmas gift idea to give the Grandkids. And any membership receives an NRA duffel bag, so there's actually something under the tree Christmas morning.
Click to get the Shooting USA Special NRA Sign Up Page
https://membership.nrahq.org/forms/signup.asp?campaignid=XR030121
Podcasts:
John has new Podcasts from the USPSA Nationals in Florida last week.  Find them on Podbean and iTunes at the link below.
http://www.shootingusa.com/LINKS/PODCASTS/podcasts.html
You'll also see video podcasts posted on the John Scoutten Shooting USA Facebook Page.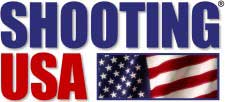 Get the Shooting USA Challenge Coin!
It's a limited-edition collectible noting 25 years of the first and longest-running gun show to appear on network television. The offer is combined with a personalized and autographed photo of Jim Scoutten, America's best-known firearms industry and gun sports reporter.
Watch Shooting USA on YouTube as long as you can.
Subscribe to the Shooting USA YouTube Channel to catch up on Pro Shooter Profiles, Pro Tips, History's Guns, and more!
Jim
Defending the 2nd by Example in the 25th Year