USA – -(AmmoLand.com)- The older that I get, the more I find myself favoring smaller, lighter knives. I'm not saying a little penknife. I like knives with a 3 ½-inch blade. But in today's world, a 3 ½ inch blade is small. It's not a right or wrong; it's just what I favor and what fits into my world. But since it seems like a majority of the bushwhackers and survivalist favor a larger knife, I thought I'd do a Product Review on the Puma SGB Buffalo Hunter knife.
I think the Puma SGB Buffalo Hunter knife would fit into a few different classifications. Before I get into that though, let me digress a moment. I believe it is essential for knife companies to list what Classification their knife falls into. Here's why I say this. If you're a newbie in the knife world, or maybe not even really a newbie because some of the larger knife companies such as Puma SGB, Buck Knives or Case XX Knives have so many knives they offer that it can be confusing as to which knife you should buy.
So I think it'd be good if knife companies had a box they'd check for each knife as to which classification it fit in, whether it be Hunting, Fishing, Survival, Bushcrafting, Tactical, etc. Of course, some knives would fit in more than one category.
But back to the Puma SGB Buffalo Hunter knife. I'd put it in the Showcase, Survival or Bushcrafting classification. And, I think it'd be a good knife for skinning larger animals such as a buffalo or cow. I must admit, it is a good-looking knife. It has a right, stout bolster which provides for a good finger guard. I like the pins in the handle, and I think the Puma emblem pin in the handle adds a bit of class to the Puma SGB's that I've tested lately.
I like the leather the recomended sheath, but mine came with a ballistic canvas sheath. I think that a heavy-duty leather sheath is old school and adds flavor to a knife. And I think you'd probably expect a leather sheath on a buffalo skinning knife.
The Puma SGB Buffalo Hunter has become their most popular selling knife since it was first introduced in 2014. But one drawback for me personally, is the recurve blade. Maybe I'm a hater, but I've never seen the use for a recurve. They're hard (weird) to sharpen. Many people list an attribute of a recurve is that they have more of a cutting edge than a straight knife. I agree with that statement on a serrated edge but on a recurve the increased blade length is miniscule.
But other than the recurved blade I could see using it. And as alluded to above, it is a classy looking knife. I'm just not sure that it fits in my world. The MSRP is $59.99.
As usual, we will close with the specs.
Puma SGB Buffalo Hunter Knife Review SPECS:
The Buffalo Hunter has an overall length of 10″ and a blade length of 5.7″.
It weighs 7.7 oz.'s.
The satin finished blade is made of 4mm 1.4116 German Cutlery steel and has a Rockwell hardness of 55-57.
The Puma SGB Buffalo Hunter is available in Stag, Micarta, White Smooth bone, Brown Jigged Bone and Jacaranda wood scale materials. All Puma SGB Stag and Bone handled knives come with top grain leather sheaths that are 100 percent vegetable tanned. Micarta and Wood handled knives come with a ballistic nylon sheath.
Lifetime Limited Warranty.
---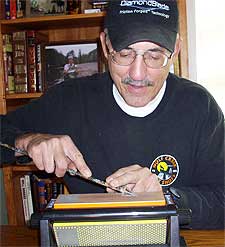 About Tom Claycomb
Tom Claycomb has been an avid hunter/fisherman throughout his life as well as an outdoors writer with outdoor columns in the magazine Hunt Alaska, Bass Pro Shops, Bowhunter.net and freelances for numerous magazines and newspapers. "To properly skin your animal you will need a sharp knife. I have an e-article on Amazon Kindle titled Knife Sharpening for $.99 if you're having trouble"
Disclosure: Some of the links below are affiliate links, meaning at no additional cost to you, Ammoland will earn a commission if you click through and make a purchase.