TANDEMKROSS Launches New "Ultimate" Trigger Kit for Ruger 10/22 in Partnership with Brimstone Gunsmithing.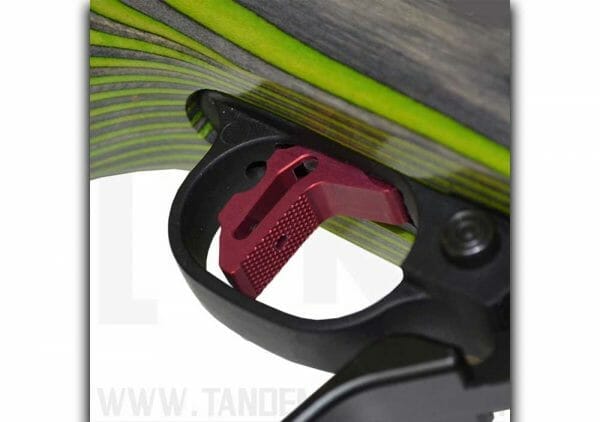 WEARE, NH – -(AmmoLand.com)- Innovative firearm accessories manufacturer TANDEMKROSS has joined forces with Brimstone Gunsmithing to produce a completely redesigned trigger kit for the Ruger 10/22.
In the "Ultimate" Trigger Kit for Ruger 10/22 every aspect of the trigger experience has been redesigned, with improvements to the trigger break, reset, and pre- and post-travel. The kit includes a flat-faced, textured trigger shoe, upgraded hammer and sear, trigger spring and pin and installs into the factory trigger housing.
"We are really happy to bring this new Ruger 10/22 trigger kit to the rimfire community," said TANDEMKROSS Product Development Director Jake Wyman. "The 10/22 is an iconic and high-performing rifle. With the new 'Ultimate' Trigger Kit, it becomes the ideal race gun. We're proud to have been able to work with Brimstone Gunsmithing on this project."
The "Ultimate" Trigger Kit features a very short pre-travel and adjustable over-travel. The trigger reset – one of the most important, but often overlooked, aspects for high-performance shooting – has been designed to be quick, smooth and consistent, even with a very light trigger pull. The trigger pull weight is below 2 lbs – perfect for competition shooters!
The upgraded 10/22 hammer and sear are made of hardened, impact resistant S-7 tool steel. By changing the geometry of the hammer-sear engagement, the "Ultimate" Trigger Kit is incredibly light, incredibly safe and reliable long-term.
"The design of this sear and hammer is the direct result of nearly a decade of doing 10/22 trigger jobs," said David Seth, owner and founder of Brimstone Gunsmithing. "I won't say we've seen it all, but after tens of thousands of trigger jobs, you start to get a feel for what works and what doesn't. The goal with this trigger was to design, from the ground up, a sear/hammer engagement that can withstand very light trigger pull weights for a long period of time, without following or getting light strikes. And then, of course, you need a sear that encourages fast and positive resets, with a very light trigger spring."
Click here to learn more about the "Ultimate" Trigger Kit for Ruger 10/22, starting at just $134.99!
---
About [ T A N D E M K R O S S ]
TANDEMKROSS is an aftermarket firearm parts company that manufactures solutions and improvements for popular firearms, making an already good gun GREAT! We strive to redefine firearm industry standards and we realize that innovation, exclusivity, and price point aren't enough. At TANDEMKROSS we took our commitment to quality a step further by offering a Hassle-Free Lifetime Guarantee on all of our products backed with excellent customer service.
Visit us at www.tandemkross.com.
About Brimstone Gunsmithing
Brimstone Gunsmithing is internationally-recognized for their Ruger® 10/22 trigger work, bringing traditional gunsmithing into the 21st century. Brimstone has more than a decade of experience working with individuals, law enforcement and larger companies on custom gunsmithing projects, and offers high-quality customer service.
Visit Brimstone Gunsmithing at www.brimstonegunsmithing.com.