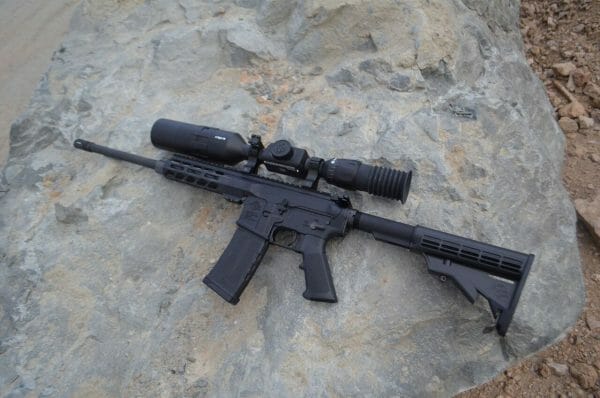 U.S.A. –-(Ammoland.com)- Rock River Arms recently sent us one of their rifles known as the RRAGE. This is a lightweight carbine with a 16″ barrel and a monolithic-style upper and hand guard.
This rifle is Chambered in 5.56mm NATO and uses a carbine length gas system with a low profile gas block. It sports a 16″ chrome-moly barrel with an A2-style flash suppressor.
The 6061T aluminum free-float handguard is M-LOK-compatible and has mounting points at the 3, 6 and 9 o'clock positions. The upper receiver is made of the same material and both the Picatinny railed flat-top upper and the top of the handguard line up perfectly to give the shooter a monolithic mounting platform for improved scope options.
Rounding out this build is a standard A2 pistol grip, a single-stage mil-spec trigger, and an RRA six-position tactical carbine buttstock.
The Good
What impressed me the most about this build was the unloaded weight of 5.7 pounds. That is a full 2.2 pounds less than the M16A2 we humped as a Marine grunt back in the 1980s.
The second factor was the way the upper receiver and top of the handguard matched up perfectly. You seldom see this in non-billeted upper receivers and RRA did an outstanding job in this regard. The barrel is completely free floated to provide the best in accuracy.
Thirdly is the price. While the AR market is still pretty soft two years after the election and cookie-cutter used ARs can be had for as low as $399 these days, RRA rolled this one out at $759.99. This is very affordable for a new off the rack AR.
The Bad
I found the monolithic rail a bit on the short side for adding back up iron sights. I am still a dinosaur that likes irons on my rifles so this may be a moot point for most shooters who refer to run optics only. I get that they wanted to keep the rail short for weight savings and probably 95% of the shooters of modern sporting rifles prefer a red dot or Holosight to irons so this will make sense for most of you.
However, if you like irons, you may wish to check out a set by Ultradyne, where the front sight attaches to the barrel threads instead of a rail section. As is, you might give up an inch or two of sight radius mounting irons to the top rail, not a huge deal for a 16″ carbine, but this rifle is really intended for an optic.
All that said, we had no other problems with this rifle.
Range Time
I chose to mount an ATN X-Sight 4K Pro 5-20X on the RRAGE. My main reason for doing so was due to the distance between the rings to see if the monolithic upper could accommodate the gap. It certainly did and if you have not played with one of these scopes, they are what I call the IPhone of rifle scopes.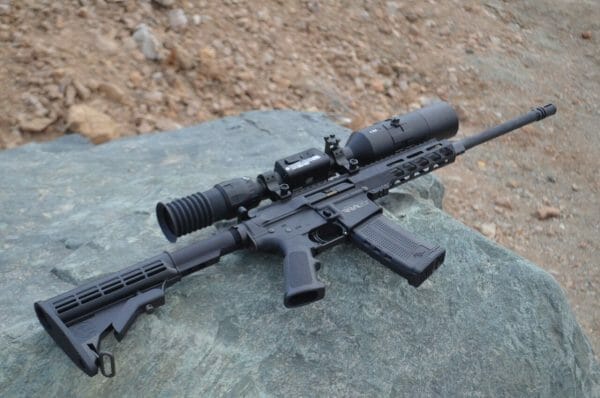 This is a digital day/night scope.
Standard optical night vision devices amplify ambient light from natural sources, such as the moon and stars, or manmade sources, such as distant streetlights through an intensifier tube, which projects an amplified image onto a phosphor screen before the eyepiece. Digital night vision, on the other hand, processes the external light within a coupling device and projects it to a liquid crystal display (LCD). As a result, digital night vision devices can be used in daylight, as well.
Most digital night vision devices feature several display settings that allow the rendering of the image on the LCD in green, red or gray. Green is typically the highest quality, red is used for preserving night vision and gray decreases the viewer's light signature when viewing. Instead of looking through a scope, it is more like looking through the viewfinder of a camera.
Zeroing the scope is completely different than a traditional rifle scope, and I mean that in a good way. However, it must be done at a range as opposed to boresighting in your backyard or workshop.
The shooter takes aim at the target and after firing the first round, you must move the reticle to your point of impact, press a button and set your zero.
Even better is the fact that the scope will store multiple "zeroes" for multiple rifles, so should you want to move from a 5.56 rifle to a 458 SOCOM or to a .308 bolt gun; you can do so with minimal shift in POI (Point of Impact).
The ATN X-Sight 4K Pro 5-20X incorporates smartphone technology like we have never seen before in a rifle scope from a rangefinder to an internal ballistics calculator. Imagine a scope that "knows" the wind, range, target angle, temperature, humidity, and as we mentioned, can be set up for different rifles. You no longer have to imagine, because now it's a reality.

In keeping with that smartphone spirit, the shooter can stream HD video directly from the scope, plus simultaneously record what they are viewing to the SD card inside. I am starting to think of this as the iPhone of rifle scopes.
The view looks a bit different than a standard glass optic. I was worried at first that turning up the magnification might pixelate the view, but it turned out that worry was unfounded. The view is crystal clear on every magnification setting.
This was the fourth rifle I have mounted this scope on and I was averaging 1.25-inch groups with Aguila 62-grain 5.56 ammunition at 100 yards. At times, I felt more like I was watching my shooting on television as opposed to through the scope of a rifle. While I was not able to shoot in complete darkness, I was able to do so in low light conditions, and removed the scope several times to check its return to zero. All was satisfactory on that front.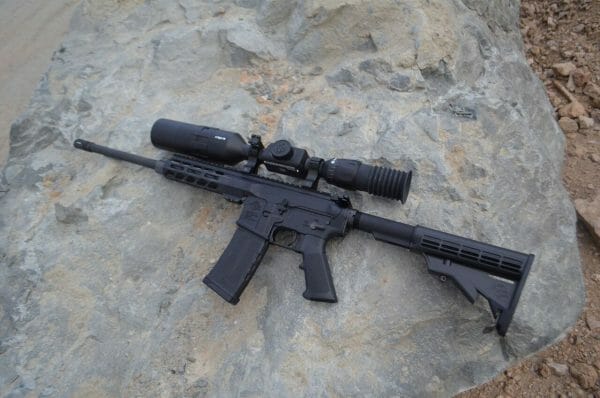 The Reality
The RRAGE is a solid performer if you are looking for a lightweight carbine and are determined on mounting an optic only. As that seems to be the trend these days, I think this would make for a fine entry level rifle for anyone looking for a home-defense or target rifle.
I liked the rifle so much that I decided to purchase this test gun from RRA and will probably use it as a dedicated night vision rifle with the ATN scope mounted.
CALIBER: 5.56mm NATO Chamber for 5.56mm and .223 Caliber
LOWER RECEIVER: Forged RRA LAR-15
UPPER RECEIVER: Extruded Aluminum A4 with Port Door/No Forward Assist
BARREL: 16-inch Lightweight Chrome Moly, 1:9 Twist
MUZZLE: A2 Flash Hider / 1/2–28 Thread
GAS SYSTEM: CAR Length, with Low Profile Gas Block
TRIGGER: RRA Single Stage Trigger
HANDGUARD: CAR-Length Free-Floated Aluminum with MS1913 Top-Rail, M-LOK™ Compatible
BUTTSTOCK: RRA Six-Position Tactical CAR Stock
PISTOL GRIP: A2 Grip
Weight: 5.7 pounds
Length: 36 Inches Stock Extended
MSRP: $759.99
---
About Mike Searson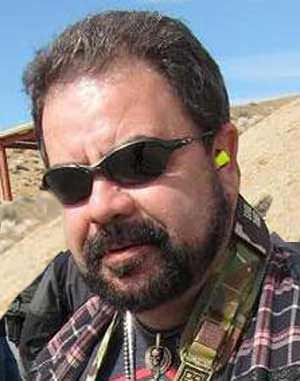 Mike Searson's career as a shooter began as a Marine Rifleman at age 17. He has worked in the firearms industry his entire adult life as a Gunsmith, Ballistician, Consultant, Salesman, Author and was first certified to teach firearms safety in 1989.
Mike has written over 2000 articles for a number of magazines, websites and newsletters including Blade, RECOIL, OFF-GRID, Tactical Officer, SWAT, Tactical World, Gun Digest, Examiner.com and the US Concealed Carry Association as well as AmmoLand Shooting Sports News.
Homepage: www.mikesearson.com
FB: www.facebook.com/mike.searson
TWITTER: www.twitter.com/mikesearson